Robson Green: I defy anyone not to cry, laugh and feel joyful watching Grantchester this Christmas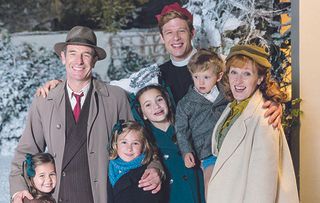 (Image credit: Colin Hutton)
Stars James Norton and Robson Green reveal the fun they had filming the first ever Christmas Grantchester special – and what to expect
It's a mild October day, but when we wander into the pretty Cambridgeshire village of Grantchester there's snow everywhere – James Norton is even rolling up a secret snowball to chuck at an unsuspecting Robson Green!
But of course we're not experiencing unseasonal weather, rather the magic of television has turned the picturesque spot into an enchanting winter wonderland. The transformation adds to the excitement for the first ever Grantchester Christmas special, ahead of a full third series next year.
James Norton, 31, who stars as Vicar Sidney Chambers, and Robson Green, 51, who plays Police Inspector Geordie Keating, both admit to feeling prematurely festive as they lark around in the white stuff, so it's not long before they're revealing all about their one-off Yuletide episode…
What's going on in Grantchester this Christmas? James: "Well, fortuitously we have set up the most amazing premise for a Christmas special as Amanda is a pregnant woman on her own with nobody to turn to. I mean, it's quite handy, it's almost like it was meant to happen!
"At the end of series two Amanda and Sidney confessed their love for one another and she left her husband, but obviously there's still a huge conflict for Sidney – does he choose his faith or the woman he loves? He's tortured so he turns to Geordie, but I'm not sure how good his advice is… which is very true to mine and Robson's relationship in real life!" Robson: "Geordie's trying to help Sidney, who doesn't believe he's a good enough man to be a father to Amanda's child. So the uniqueness of their relationship, the unspoken love is there and you also see how Christmas affects the characters we all care about. It's a real televisual event, I defy anyone not to cry, laugh and feel joyful as they watch." James: "There's lots of warmth and you'll leave feeling elated, but there's also that slightly dark, twisted side, which is what makes the show so great."
Are Geordie and Sidney big fans of Christmas? Robson: "Geordie's totally humbug – he cannot stand the in-laws coming round and he hates the brass bands. But there's a murder in this episode, which makes him want to go and see his friends and family. He comes round in the end!" James: "Sidney likes to think of himself as a bit of Grinch but he's not really, in the same way that he bickers with Mrs Maguire, but deep down there's a very heartfelt affection. He's concerned about Amanda, so he tries to shut himself away with a bottle of whisky and a bit of jazz, but he loves Christmas really and you'll see that at the end."
Is it still an honour to be asked to do a Christmas special? Robson: "Yes, we always wondered if we'd ever earn the right to get one and it was a real surprise when it happened. It's a testament to the series being incredibly charming and likeable, people come from Singapore and New Zealand just to take photos of us filming." James: "It's no secret that we all love working on this show, so to be given an extra month of filming and a chance to sing carols was great."
Is it exciting to see Grantchester under a blanket of (fake) snow? James: "It's quite weird in mid-October, so I tried to resist feeling Christmassy, but then I was filming in the vicarage, eating turkey and pulling crackers, so I couldn't help it. A chorister came over from Kings College in Cambridge to sing the solo in Once in Royal David's City and everyone just broke. The whole church was beautifully lit with candles and I ended up feeling so festive, I was ready for my stocking right there and then!" Robson: "That was an utterly spellbinding scene and the village looks amazing. We've got snow and a nativity, but we're having a problem finding three wise men!"
Are you Christmassy people? James: "I'm definitely all about Christmas cheer, I love it!" Robson: "I just hope this Christmas is better than last year's. I put my decorations up in early December and then at 6am the next morning there was a cataclysmic flood in Northumberland and my house was destroyed. There was salmon running down that river along with my three piece suite, so I couldn't really connect with Ding Dong Merrily on High. I'm still living in rented accommodation, but hopefully I'll be back in my home for this Christmas." James: "That was quite dark, but I think Robson's probably a bit like Sidney – he'll give it all the chat, but he's a softie really, a big old Christmas cheer man definitely."
What will you be watching over the festive period? Robson: "I hark back to the great TV, like Morecambe and Wise and Tommy Cooper. I always go to the cinema on Christmas Eve to watch It's a Wonderful Life and I asked to echo that in the Grantchester special. So I'm going to recreate that classic scene, running through the streets saying 'Merry Christmas' to everybody as Jimmy Stewart did in the movie. I'm really happy about it!" James: "We do watch some period dramas, and we'll watch Grantchester this year, but games take up a lot of time in our family. There's lots of charades and a murder mystery game called Mafia, which is all about lying and deception. You'd think I'd be good at that, but because I'm an actor they always assume I'm lying and I always get killed first. Once Mafia's taken hold and everyone's furious, that's the point we will turn on the TV!"
James, you're one of the favourites to take over as the new James Bond. Will you be getting a huge Hollywood role for Christmas? James: "I'm as clueless as everyone else! It's very flattering to be talked about in that way, but that's as far as it goes, and to be honest I'm a huge fan of Daniel Craig so I hope he does another one or two films. It would be a big decision, but luckily it's one I don't have to make. I'd actually like a cookery course for Christmas as I'm just getting into cooking. There's nothing I love more than a Sunday roast with friends and playing a game of Mafia!"
Get the latest updates, reviews and unmissable series to watch and more!
Thank you for signing up to Whattowatch. You will receive a verification email shortly.
There was a problem. Please refresh the page and try again.