Corrie's Bill Roache thinks of Ken as 'Marlon Brando in The Godfather'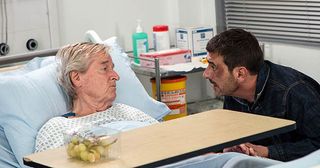 (Image credit: Mark Bruce)
Ken Barlow has had a stroke and needs to avoid stress. Not a chance, Bill Roache tells Soaplife, not with son Peter home and more troubled family on their way
Bill Roache talks to Soaplife about Ken Barlow's dramatic collapse and what the future holds for the growing Barlow clan in Coronation Street…
So, how did Ken have a stroke? "Ken was furious with Peter [Chris Gascoyne], convinced he'd been drinking again. They began arguing, then Ken realised he could no longer talk and he keeled over!"
And Peter sprang into action, didn't he? "Peter called the emergency services. Ken was rushed to hospital, and the doctors told Peter that his quick reaction may have saved his life because, after a stroke, it's essential to act fast."
So Peter caused the stroke? "Peter's told that while the argument may have increased Ken's blood pressure, for a man of his age a stroke could have happened at any time. Peter can't help but blame himself, though, and Tracy [Kate Ford] certainly blames him. Ken, however, doesn't."
Was it difficult acting like you've had a stroke? "A top neurological surgeon came in, chatted to me and supervised the filming to begin with. She told me the onset of a stroke is very sudden so I ended up dropping like a stone. Ken loses the power of speech and regains it only gradually, so I bit my tongue and talked through that to get the right effect."
How long is Ken in hospital for? "Several weeks. It's vital he has absolutely no stress, but that's the last thing that happens. Peter's return has stressed him out because he knows Peter only ever comes home when he's in trouble. Plus, Peter feels Ken's not been much of a dad to him.
"Tracy's a constant source of stress, then son Adam [Sam Robertson] and grandson Daniel [Rob Mallard] arrive and both have baggage. It's very, very dysfunctional and there are so many tensions bubbling away."
So the Barlow clan is getting bigger? "Yes. And it's wonderful to be at the heart of this dysfunctional family. I'm thinking of Ken as Marlon Brando in The Godfather – and while he's recovering from the stroke he sounds like him, too!"
Coronation Street, ITV
Get the latest updates, reviews and unmissable series to watch and more!
Thank you for signing up to Whattowatch. You will receive a verification email shortly.
There was a problem. Please refresh the page and try again.