Coronation Street's Alison King: 'I'm going to lose my marbles when Chris and Michelle go'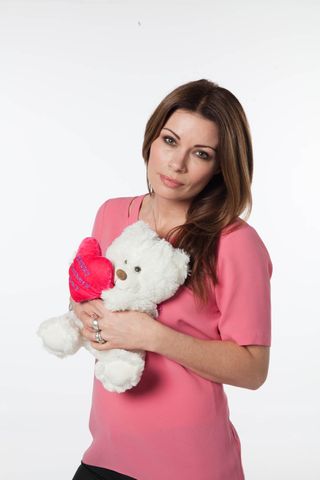 TV Times magazine talks to Alison King about her Coronation Street love triangle with Peter Barlow and the prospect of having his babies…
How do you feel about Carla's pregnancy?
"It is ace because I would never have expected it for her. Becoming a mother is Carla's worst fear. She is so scared about turning into her own mother and this is taking her through a whole range of emotions. She thinks she is better off the way she is, but then of course, hormones kick in and complicate everything."
Would you like to see her become a mum?
"Absolutely not. Alex Bain who plays Simon is enough to work with. Personally, for me as an actress, it is better if she doesn't have a baby. When you are carrying a baby around, it slows you down and scenes take longer. You are not really being yourself as you are concentrating on a little bundle. I do that at home, so I don't want to do it at work, too. However, if they decide to make Carla a mum, I will go with that and take it whichever way they want. I trust the writers plus I have played a pregnant woman before and love stroking the bump. If it happens, it will remind me of being pregnant with my daughter Daisy, which I loved."
What do you think about Tina's pregnancy scare?
"I would rather not talk about her! It's brilliant. Just as Peter thinks he has got all the plates spinning and under control, Carla drops her bombshell and Tina does too. It is a fantastic twist, especially as Tina really wants to be pregnant and Carla doesn't."
What's it like working with Michelle?
"I love it. She is like me, a little lad really. She doesn't do the dressy-up clothes. She is such a bloke and then we have got Chris Gascoyne to look after. I am married to him on screen and he is like my husband in real-life. We argue, we bicker, we love each other and I tell him what to do and where to stand. The nice thing now is, if I get sick of him, I can pass him over to Michelle. We all get on really well and have such hysterical giggles when we are over-tired. I am going to lose my marbles when they both go."
What will happen if Carla finds out the truth?
"I don't know, but I have run through that scenario in my head a thousand times. The three of us have. When it finally comes, I won't want to read it, as it will be different to the way I imagined it. Carla will be so shocked. She'll want to vomit. It will be the last thing she was expecting. It's the ultimate betrayal."
Are you enjoying it so far?
"I am absolutely knackered, but yes, I am really enjoying it. It's such an exciting story. I don't want Chris to go though. Peter and Carla are such a fantastic couple. They are exciting, dynamic and have a great sexual chemistry. They are so dangerous it's thrilling. I'm just hoping that Chris Gascoyne comes back!"
Get the What to Watch Newsletter
The latest updates, reviews and unmissable series to watch and more!