Samia Ghadie: My French sounds like broken biscuits, but Sylvain's family understand me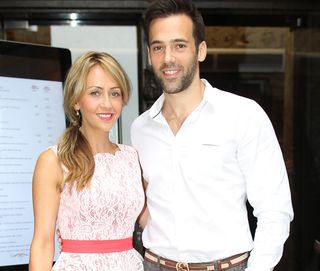 (Image credit: Eamonn and James Clarke/EMPICS E)
Coronation Street star and mother of two Samia Ghadie talks to Soaplife about her life with her former Dancing on Ice partner Sylvain Longchambon.
So how are the wedding plans going?
"They're all right. We're not the most organised of couples. But we've got a brilliant wedding planner. She's not stressed so I'm not stressed. We're looking forward to sharing the day with family and friends, and I definitely don't want a big meringue of a dress!"
Now you're back at work, how do you deal with childcare?
"We've got an amazing childminder. She's lovely. She's being really flexible which is what we need. With me on Corrie when needed and Sylvain working as a personal trainer, neither of us can be pinned down to set hours."
Did you have Mummy guilt going back to work?
"I think all working mums do. But we're lucky at Corrie. While we might be doing 12-hour days some weeks, at other times we're not in that much so we can be at home with our kids. There are so many of us with babies and young children on the Street right now. We should have a crèche!"
What's Sylvain like as a dad?
"He's very hands-on. It's always his job to take Yves [born last September] up to bed and, when we're out, he won't let me push the pram!"
Being French, does Sylvain have a different approach to parenting?
"Not really. My own dad was Lebanese so I kind of grew up in a different culture and language. I've always been used to it. Sylvain and my own family values are pretty identical. Sylvain is very family-oriented and his family remind me of my dad's family."
Will your son grow up speaking French and English?
"Yes, he will. Sylvain speaks to him in French. Freya [Samia's daughter] and I need to catch up. My French is all right. I can have a conversation now with his family without my heart rate rising if he goes out of the room. It sounds like broken biscuits to me, but they can tell what I'm trying to say.
"At Christmas, we had 20 of Sylvain's family over… They wanted to see the baby and we had him Christened while all the family was there. At one point in my kitchen there were 20 French people and me. I didn't have much choice but to speak French as they don't speak much English."
Can Sylvain cook?
"He makes French food, but it's not always the healthiest. He makes a delicious ratatouille, though, which is healthy. Sylvain's from Lyon – apparently it's the gastronomic capital of France. I always joke that for the first two years that we went over there, he'd always take me to the fast food chains. I'd say, 'Take me to a nice restaurant!' Fortunately, he's done that now!"
Coronation Street, ITV
Get the What to Watch Newsletter
The latest updates, reviews and unmissable series to watch and more!