'She knew - and she was saying goodbye.' Corrie's Beverley Callard recalls Anne Kirkbride's final moments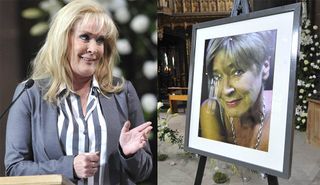 Beverley Callard (opens in new tab) has opened up on her Coronation Street co-star Anne Kirkbride (opens in new tab)'s final hours before her death on January 19 at the age of 60 following a battle with breast cancer.
Beverley, who calls Anne her "work sister", reveals how friends, family and colleagues gathered at Anne's hospital bedside after she collapsed from a stroke at her home the day before her death, during a battle with breast cancer.
Speaking with the blessing of Anne's husband David, in a bid to raise awareness of the work of Cancer Research, Beverley explains that she thinks Anne "knew" she was dying after being diagnosed with cancer the previous autumn.
In an interview with the Sunday Mirror, Beveley recalls she called Anne's home early one morning to find that her best friend was being rushed to hospital in Salford following a stroke.
The actress, who plays Liz McDonald - a best friend of Anne's character Deirdre Barlow - arrived at the hospital with her husband to meet Anne and David Beckett, Anne's husband of 22 years.
While Coronation Street fans remained unaware of Anne's cancer diagnosis, the actress's family, closest friends and colleagues were told the news that she was critically ill so they could have the chance to say goodbye.
Over the next two days, friends, including William Roache (opens in new tab) who plays Deidre's husband Ken Barlow, gathered at Anne's bedside.
"We took turns sitting with her, stroking her head and her hand," Beverley explains. "We kissed her and hugged her. We were talking to her all the time so she knew how loved she was, how much we cared about her and that we were all there for her.
"Without a shadow of a doubt, though, she knew what was happening." she adds. "She wasn't speaking but she was squeezing our hands so tightly that I know she was saying goodbye."
Beverley went on to talk about how she and Anne had a lot of fun on set, and sometimes joked their characters would end up in a relationship.
"They used to make us sit much closer to each other for filming than you'd ever sit in real life, and we'd be saying, 'OK, this is it, Deirdre and Liz are about to become lesbians'.
"We both had the most stupid sense of humour and I loved her because she was a very honest, loyal person... We used to joke we'd have to be friends forever because we knew too much about each other not to be."
Deirdre's departure will be addressed in Corrie scenes airing in July, when her on-screen husband Ken will be told that she has died of a suspected brain aneurysm.
Coronation Street (opens in new tab) continues on ITV, Monday, June 30, 7.30pm.
Get the latest updates, reviews and unmissable series to watch and more!
Thank you for signing up to Whattowatch. You will receive a verification email shortly.
There was a problem. Please refresh the page and try again.