Doctor Who guest star David Suchet: I said 'Yes!' before I'd even read the script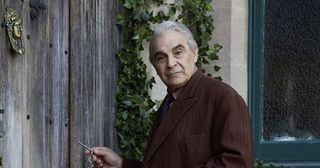 The Poirot star David Suchet tells us all about playing a mysterious villain in this week's episode...
Ever since he was a small boy David Suchet has dreamed of being in Doctor Who, and the star who won acclaim for his role as Agatha Christie's iconic detective Hercule Poirot is finally fulfilling that childhood ambition this week.
David will be playing a sinister rogue who calls himself The Landlord in a spooky episode of the classic sci-fi show, which is set in a haunted house that is full of secrets and strange creatures.
The tale opens with Bill and her student pals looking for somewhere to live for the new term and stumbling upon a rundown mansion owned by a strange gentleman.
David tells us more…
What can you tell us about your character, The Landlord? "The Landlord is charming, but like all charming people, what is lurking beneath the smile? Bill and her friends grow slightly suspicious of him and call the Doctor, which is when the truth about this strange house starts to emerge."
How pleased were you to play a part in Doctor Who? "I said yes before I'd even read the script! I've wanted to be in a Doctor Who my whole life. In my 47-year career as a professional actor it's the show I've wanted to do the most. It's the most iconic show on TV – and I'm including Poirot in that – so who wouldn't want to be in it?"
This is a great episode to be involved with as well… "I was even more excited after I'd read the script because Mike Bartlett is one of the most accomplished writers we could have. He's written the great Doctor Foster, but also some wonderful theatre. He's the one of the most extraordinary writers we have and to do a piece of work by him in a Doctor Who – gosh, what a lucky actor!"
What would a young David Suchet have said about you being in Doctor Who? "He'd have been over the moon! I was an early fan and then I moved away from it, but have returned in recent years. I remember as a young man being very frightened of the Daleks and hiding behind the sofa. I found that as a youngster, although it scared me sometimes, it was the fear that drew me in."
Who is your favourite Doctor Who down the years? "I'll go right back to William Hartnell because he was the first. It was like the people who first saw Sean Connery as James Bond, for them there was no other James Bond. For me after William and he was a hard act to follow. But Peter has been a fantastic Doctor and has progressed the character in a wonderful way."
Do you think there could ever be a female Doctor? "Well, who's to know, it's not beyond the realms of possibility in my mind. I have no idea of course, but I certainly wouldn't be against that at all."
What makes Peter so good as the Doctor? "He has the characteristics of Poirot actually. They'd both make very good dining companions, because Peter – like Poirot – can be full of condemnation, quite severe and rather frightening, just like Poirot. But they are both great moral compasses. When you're with them, no matter if you feel intimidated, you feel safe."
This isn't the first time you've worked with Peter is it? "He actually starred in a 1991 episode of Poirot called Wasps Nest and played a very strange villain in that one, I seem to remember he was dressed up as a clown. Then a year later we found ourselves in the same series, Secret Agent. We haven't seen each other for a few years, but it was a wonderful reunion and he gave me such a warm welcome. It's funny that he played an eccentric villain in my show and I now I will be in his."
What did you think when you first set foot on the set, a marvellous old mansion? "Well, I'm going to tell you a secret. The Christmas before I made this episode, my family rented a house near Cardiff and it was only when I started filming in August that I realised I was in the same house! The strangest thing was that I didn't realise until the third day of filming because I used a different entrance and the house was completely transformed. Then one day I used another door and thought; 'My goodness ,I know where we are!' and sent pictures to all the family."
There is a new series of Poirot in production, will it feel strange not to be involved? "Yes they are doing the ABC murders, which is in fact my favourite story and I will be watching with interest. It will be odd, but no actor should ever own a role and it's time to pass the baton on. I've been in every single story ever written of Poirot and for them to do it again is quite natural, he's an iconic character, like James Bond, like Doctor Who. It's not all about David Suchet and I'm glad to have moved on, I'm very proud and pleased with what I've left behind."
Who would you like to see stepping into your shoes? "That's not for me to say, but I wish whoever takes on the character great success and even more than that, enormous pleasure playing such a wonderful character. As long as they stay true to Agatha Christie's creation they will be fine!"
David Suchet stars in Doctor Who on Saturday, May 6 on BBC1
Get the latest updates, reviews and unmissable series to watch and more!
Thank you for signing up to Whattowatch. You will receive a verification email shortly.
There was a problem. Please refresh the page and try again.