Alice Through the Looking Glass | Mia Wasikowska's feisty heroine is back for more feats of derring-do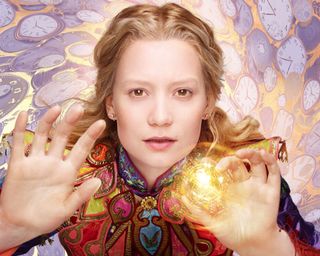 (Image credit: Courtesy of Disney)
Disney's 2010 Alice in Wonderland was dazzling to look at but weak on plot and the same is even truer of disappointing sequel Alice Through the Looking Glass.
Departing still further from Lewis Carroll's original tales, the film sends feisty, proto-feminist Alice (again played by Australian actress Mia Wasikowska) back to the surreal world of Wonderland, where her old friend the Mad Hatter (an overly hammy Johnny Depp) is wasting away from sadness at the loss of his family.
Putting things right turns out to be a very convoluted affair. Alice gets to perform further acts of pluck and bravado after pinching a time-travelling gizmo, the Chronosphere, from Sacha Baron-Cohen's half-human, half-mechanical Time.
Along the way, we learn why Helena Bonham Carter's homicidal Red Queen and Anne Hathaway's fey White Queen are such enemies, and reacquaint ourselves with, among others, gormless twins Tweedledum and Tweedledee (Matt Lucas), the Cheshire Cat (Stephen Fry), and caterpillar-turned-butterfly Absolem (silkily voiced by the late Alan Rickman, to whom the film is dedicated).
Compared with Carroll's brilliantly topsy-turvy logic, however, it all seems very muddled, and the whimsical charm of the books is definitely missing.
Certificate PG. Runtime 113 mins. Director James Bobin
Alice Through The Looking Glass out on 3D Blu-RayTM, Blu-RayTM and DVD Digital Download 3rd October (©2016 Disney).
https://www.youtube.com/watch?v=x3IWwnNe5mc
Get the latest updates, reviews and unmissable series to watch and more!
Thank you for signing up to Whattowatch. You will receive a verification email shortly.
There was a problem. Please refresh the page and try again.