The Purge: Election Year | DVD review - Horror thriller's dystopian future feels just around the corner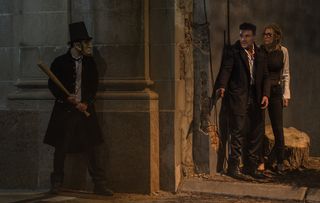 (Image credit: Michele K. Short)
James DeMonaco's horror thriller franchise takes a chainsaw to the American body politic with the scarily timely The Purge: Election Year.
In the present political climate, rapiers are out as a satirical weapon of choice. To be honest, these days, even sledgehammers seem pretty ineffectual. Instead, in a year when the US presidential election turned out to be surreal and savagely stupid, letting rip at the American body politic with a chainsaw appears the only recourse.
Writer-director James DeMonaco revs up his bloody saw with The Purge: Election Year, the third in his series of deliriously pumped-up, high-concept horror thrillers. Like its predecessors, Election Year is set in a dystopian near-future United States where all crimes, including murder, are legal on one night of the year. DeMonaco's movies are unmistakably blunt and unsubtle, but their vision of a society in which a wealthy elite games the system at the expense of the poor does seem ever more disturbingly prescient.
"Culling the country's lower orders"
In Election Year, the message is blatant. America's corrupt rulers, the New Founding Fathers of America, are using the annual Purge Night as a means of culling the country's lower orders. Pointedly, the NFFA are white, country-club types (Trump's cabinet, anyone?), while their victims are largely black and Hispanic.
Now, however, a blonde liberal senator is mounting a challenge. Eighteen years after losing her family to the Purge, Charlene Roan (Lost's Elizabeth Mitchell) is campaigning for the presidency, vowing to end the Purge for good if she gets elected. First, though, she has to survive Purge Night.
Unsurprisingly, the NFFA has assassination planned for her. Can her dogged head of security, Leo Barnes (The Purge: Anarchy's returning lead Frank Grillo now given a name and a new job) keep her alive until morning?
"Carnivalesque anarchy"
There's more than a hint of Escape from New York to the ensuing action as Leo and Charlie strive to evade by the squad of heavily-armed neo-Nazi thugs on their tail, while also avoiding the lethal intentions of sundry sadists, thrill-seekers and murder tourists hoping to make the most of the opportunities offered by Purge Night.
The duo do pick up various allies along the way, including a gun-toting shopkeeper (Mykelti Williamson) and his similarly tooled-up assistant (Joseph Julian Soria), as well as a Edwin Hodge's badass anti-NFFA revolutionary (another returning character) and Betty Gabriel's even more badass volunteer ambulance driver.
Like her, DeMonaco keeps his pedal to the metal throughout. The relentless pace means there's no room for nuance – and no danger of being in any doubt about who we should be rooting for. Compared with the carnivalesque anarchy on the streets, the main villains are a colourless lot (in more than one sense). But the comeuppance wrought upon a pair of lippy teenage shoplifters will probably still get you cheering.
Certificate 15. Runtime 104 mins. Director James DeMonaco
The Purge: Election Year is available on Digital Download and is released on Blu-ray & DVD on 26 December from Universal Pictures Home Entertainment.
https://www.youtube.com/watch?v=RXMp9fBomJw
Get the latest updates, reviews and unmissable series to watch and more!
Thank you for signing up to Whattowatch. You will receive a verification email shortly.
There was a problem. Please refresh the page and try again.