Barbara Windsor on BBC1 biopic Babs: 'This is the real me, warts and all!'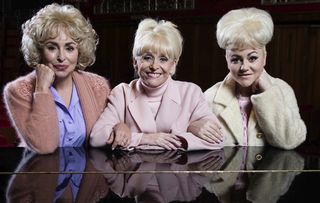 (Image credit: BBC/Sophie Mutevelian)
Dame Barbara Windsor tells us about revisiting her highs and lows in Babs, a new BBC1 drama about her eventful life...
Dame Barbara Windsor is undeniably a screen legend. About to celebrate her 80th birthday, she's delighted us with her chirpy Cockney characters in the Carry On movies and became iconic landlady Peggy Mitchell in EastEnders.
Barbara's early days in showbiz, as well as her tumultuous personal life, is the focus of BBC1's one-off drama Babs, which jumps back and forth between the decades. Barbara herself even appears in the drama every so often alongside the actresses playing her - Jamie Winstone and Samantha Spiro (pictured above with Barbara).
Here's what Babs told us when What's On TV met her on the south London set...
How did you feel when the TV biopic Babs was suggested? "I didn't want to do it! But I agreed because I knew the writer Tony Jordan wouldn't make me something I am not. He knows me very well from my EastEnders' days and I trusted him. This is warts and all. It's the real me, so I'm thrilled."
Will people who know you so well from the Carry On movies and EastEnders be surprised? "When I wrote my book I was quite honest about all that had happened to me, which was probably a bit silly as I got quite a knocking, but I'm just an honest little Cockney. I've made mistakes yes, but they're my mistakes. I'm very ashamed of some of the mistakes I've made, but at the time that's what I did. Maybe after watching this drama, people will understand me a bit better. I don't mind being known as a Carry On girl, though, because I'm very proud of the films and of working with the greatest people."
What's it like seeing Jaime Winstone and Samantha Spiro play you at different stages in your life? "The other day I got some fan mail and thought I'd been sent a picture of Jaime by mistake but it was me, it was unbelievable. I stood with her and Sam giggling to help them get my 'laugh', but now they do it better than I do."
How does it feel seeing your parents portrayed by Nick Moran and Leanne Best on screen? "Really weird. I had to stay away from set because I was going, 'You've made Daddy too good looking!' Leanne Best as Mum is just right. Mum wanted the best for me so she hated me doing the Carry Ons because I'd had elocution lessons and been on Broadway. She always said to me, 'Don't laugh like that, it's not lady-like'."
Watch the Babs trailer
http://www.youtube.com/watch?v=V185Ii19YHQ
Has watching periods of your life played out in Babs made you reflective? What was the best decade? "I don't know. I always think the decade I'm in is the best. I'm very happy and I always find good things – I'm making myself sound wonderful and I'm not. But each time in my life has been really good."
You're 80 this August, can you believe it?! "It's daft isn't it?! But I'm in a good place in my life, I've got a fantastic husband and I'm still working. But it's a bit difficult now I'm a Dame; I have to watch how I behave!"
How do you feel when you're stopped and recognised by fans? "I love it and the day they stop I'll be very unhappy. But that's my upbringing in showbiz – you've chosen to come into this business, people haven't chosen to be entertained by you, you've chosen to entertain them and earn money. So when you step outside you must never forget when they come up to you to be ready, so I am. It takes me ages to get a loaf of bread nowadays. People do say things like 'Get Outta My Pub!' or ask me to shout it. It's lovely."
Get the latest updates, reviews and unmissable series to watch and more!
Thank you for signing up to Whattowatch. You will receive a verification email shortly.
There was a problem. Please refresh the page and try again.