Jamie Borthwick keeps it real: 'Even when I got into EastEnders, I never saw myself as a proper actor'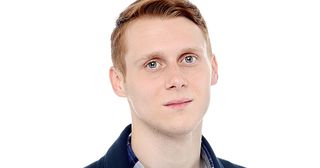 (Image credit: BBC/Kieron McCarron)
"Acting ambitions? I never really thought about that." Jamie Borthwick reflects on his 10 years in EastEnders
If Steve McFadden is the King of EastEnders then Jamie Borthwick must surely be the heir apparent. In a storyline earlier this year, which saw his character Jay put on the sex offenders' register for grooming 14-year-old schoolgirl, Linzi – the girlfriend he assumed was over 16 – had even the fiercest critics doffing their caps.
Anger, frustration, devastation; Jamie's performance had it all, as we saw Jay's happy life quickly fall apart.
The acclaim heaped on the actor during those dramatic weeks would cause many a young man to suffer from delusions of grandeur. But as TV Times chats to the 22-year-old, it soon becomes clear that he's as level-headed as they come.
What is your take on the tributes you've had? 'The praise was really nice and it still is nice. But to be honest, I don't pay too much attention to it. Once the storyline was done and it aired, I put it to bed and was ready to move onto the next thing.
You earned a lot of praise from fans. How did you feel about that? "I try to work hard and do my best, and I just wanted the story to be taken positively, which it has been. It was a good subject matter, I think; it got people talking."
It has been years since you've had your time to shine. How did you cope? 'There have been quiet periods, but it was just a case of having to be patient and waiting your turn, which I did. Thankfully, it's paid off now. The thing is, with a show like this, there's 45 or 50 cast members, so you can't be at the centre of it all the time."
How did your parents react when you told them you were going to drama school? "My mum just said, 'You're going to drama school!'"
Did your mum think you were talented? "I'd never done any drama, but I used to sing on the karaoke and she was like "He's a good singer, in' ee!"
What made you want to become an actor? "I'm useless at everything and I'm not handy, so I was never going to be a builder or anything."
Did drama school make you think ahead? "Whilst I was at Sylvia's [Young Theatre School], I really took to drama, but I never thought about where I was going, and thought if all else fails, I'd become a painter."
When you became part of the cast did you see yourself as an actor? "Even when I got into EastEnders, I never saw myself as a proper actor. It's only been in the last few years that I've seen myself as a professional."
Was it drama school or EastEnders where you learnt your talent? "It's probably a 70/30 split – 70 per cent is what I've learnt here. Until you're actually on a set and you learn how a camera works and how other actors work, it's hard to get an idea of it."
How do you prepare for your scenes? "I'm instinctive – I don't really know what I'm going to do until I say the lines. It's more natural that way, and I like natural."
Why does Jay want to help Ben? "Jay never had a chance to avenge his dad's death and Ben has this chance, so he wants him to take it."
What are your acting ambitions? "Acting ambitions? That's something I've never thought about!"
And non-acting ambitions? "I just want everyone I care about to be happy and healthy, and just to live life and enjoy being young. That's all I'm doing right now."
Finally, where do you see yourself in the future? "I'm a bit of a bore, really. I picture myself being 50 years old, on a boat somewhere on a river, with a nice glass of Coke, just sitting there and watching the sun go down. That'll do me; that's perfect."
Interview by Alison Slade
Get the latest updates, reviews and unmissable series to watch and more!
Thank you for signing up to Whattowatch. You will receive a verification email shortly.
There was a problem. Please refresh the page and try again.