Luisa Bradshaw-White: 'I'd never wanted to do EastEnders!'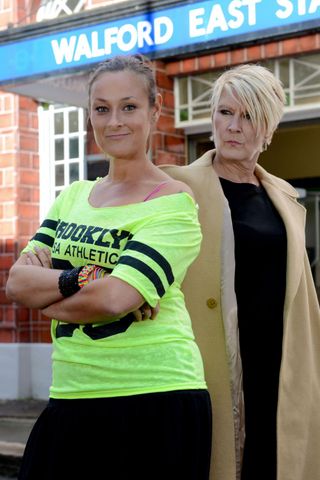 Luisa Bradshaw-White (opens in new tab) tells TV Times magazine (opens in new tab) why it was a role in EastEnders that persuaded her back to acting…
It's great to see you back on screen – we used to love 1990s hit This Life!
"I was only 19 when I was in This Life and all the attention was mental. There were all these parties. It was full on and it was very difficult to keep grounded. From the age of 15 I'd been recognised a lot and whoever I was with had to put up with it too!"
After starring in Holby City as nurse Lisa Fox, you seemed to disappear for a while…
"I took a massive break after Holby and that was my plan. It was even longer than I expected – I was off for eight years being a mum. I did do the odd thing, but so much stuff is filmed in Manchester and Cardiff and I wouldn't leave my family. Being a mum was a good part, and I am not handing it over now I am in EastEnders."
Had you always wanted a role in the show?
"I'd never wanted to do EastEnders. I always thought 'God no, I can't cope with that sort of fame' or 'They work too hard.' But all of a sudden, I got older and felt more chilled out."
You're coming into the soap as Shirley Carter's sister, Tina…
"The casting director said she had me in mind as her wild card for Shirley's sister – but then, the character was a 50-year-old who was overweight and past it. I turned up looking lovely to ask them if they had anything else for me and they rewrote the part! It is such a good part. Tina is really funny and has some brilliant one-liners. She and Shirley spend a lot of time shouting, but there is real love there."
Is their relationship tempestuous, then?
"They don't shout through anger, it's just what they do and the next minute they are talking normally or giggling. Tina has been living in Greece. Her daughter is Zsa Zsa, who has already been in the show. Shirley is older than Tina and brought her up alongside their brother, Mick, who is played by Danny Dyer."
Has the experience of being on the show been good so far?
"It flows and feels so right. I am amazed at how chilled out I have been. It feels lovely to have a little bit of my life back. Also, I always learn my lines at work, so that when I am at home, I can give my children my undivided attention. They are both at school and at the moment, it is working out very well. We can all cope with it and if there is ever a time when we can't, then I won't do the show any more."
What do your family think of you being in the show?
"They haven't bought into this. I am happy to publicise the show and talk about the role, but as much as I can, I want to keep my personal life out of it. So far, I am feeling really excited. You know how you get your phases in life, the big moments where you start all over again, it's like you are shedding your skin. I've just shed my skin and I have got a new layer."
Thank you for signing up to Whattowatch. You will receive a verification email shortly.
There was a problem. Please refresh the page and try again.