Emmerdale's Laura Norton: Losing three friends has made me determined to do all the things I dream of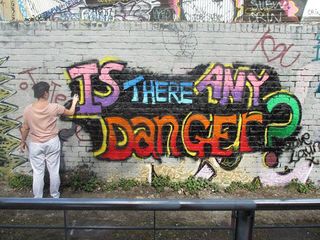 Singer, artist and Emmerdale star Laura Norton (opens in new tab) reveals to Soaplife the one thing she can't resist – and why she's so determined to live life to the full…
When she's playing loose cannon Kerry Wyatt in Emmerdale, Laura expects bad things to happen… But Laura's own life has taken a battering recently and this has had a profound effect on her.
Laura, 32, has had three friends die and as a result, she is cramming as much as she can into her already hectic life in which she acts, paints, draws and sings. Oh, and she's become a dab hand with a power drill…
"You never know what's around the corner," said Laura. "You're a long time dead, so I think you have to go out there and do all the things you dream of. Life is short."
Tell us about the effect of losing your friends?
"Well, the first one was a lad called Lee Halpin who I knew from Newcastle. You might have read about him. He was making a documentary about homelessness for Channel 4 [in 2013] and died when he was sleeping in the streets. They don't know what he died of. A friend and I did the Great North Run for Shelter as a tribute. I also lost a young lady I did some plays with and I was about to do a gig with the comedian Brendan Healy (opens in new tab) in February, but he passed away. It's so sad and was a real shock, but I'm more determined than ever to live my life to the full."
Are you doing anything else for charity?
"I'm involved in a big art exhibition in Newcastle, which is a memorial for Lee Halpin. I did some graffiti on a piece of wall with words he said to me. He had this phrase, 'Is there any danger?' I was worried my artwork might look awful, but I'm really pleased with it."
Laura's graffiti, in memory of her friend


Do you have a bucket list?
"There are two things I really want to do. I'd like to go to America for six weeks some time in the next five years and, one day, I'd like to have a family. I don't have a huge bucket list because my life is really rich already. I write, I draw, I sing, I play the piano, I've had drumming lessons. I'm doing all the things I want to and I love my job."
You're an established part of Emmerdale now…
"I love it. I can't actually believe it, but I'm going into my fifth year. It has changed my life. I am a braver actress and I've made so many brilliant friends. Having a regular job has also enabled me to buy my own flat and there was a time when I thought that would never happen."
Laura as Kerry in Emmerdale, with Denise Black as Joanie and Steve Halliwell as Zak
Do you share your flat?
"I live on my own now. I used to share a flat with Fiona Wade (opens in new tab) [who plays Priya]. We were the unlikeliest of flatmates as we are such polar opposites. I was worried about being on my own, especially as the flat is outside of Leeds, miles away from everyone, but I love it. I have spent the last year doing it up. My boyfriend bought us a power drill and I've been making bath panels, hanging mirrors, and so on. I've been in my element."
So you have a man in your life?
"I have met someone. All I'll say is that I'm having a mint time and I'm very happy."
And you've lost weight. What's your secret?
"I stopped drinking coke. I was completely addicted to it. I was waking up in the middle of the night, craving coke. Once I stopped, I lost a stone very quickly. Then, moving out of Leeds meant I wasn't eating out as much. I also did some work with a personal trainer for a few months. I have lost three stone since I started the show and it's all down to having a healthier lifestyle."
Do you have any vices?
"Giant chocolate buttons. If there's a bag of them in the fridge, I can never have just one."
What do you do in your spare time, aside from DIY?
"I love going to gigs. I've got tickets booked for Beyoncé and Coldplay. I'm also in a band called the Emmerdolls with Michelle Hardwick (opens in new tab) [Vanessa], Gemma Atkinson (opens in new tab) [Carly], Amy Walsh (opens in new tab) [Tracy], Gaynor Faye (opens in new tab) [Megan], and Dominic Brunt (opens in new tab) [Paddy], who plays the mandolin. We do a lot of charity gigs and have such good fun."
We hear you've just done a music video, too…
"Yes, my mate is in a band called Shields and I appeared in this video called Alive. I play a mysterious Goth girl. It's quite dark. It's about a serial killer."
Laura in the music video for Alive
Do you plan on staying at Emmerdale for a while?
"I hope so! Before I landed this role, I only did the odd episode on TV and I was always the murder victim or the bolshie Geordie girl. Kerry is an absolute joy to play."
Emmerdale (opens in new tab), ITV.
Get the What to Watch Newsletter
The latest updates, reviews and unmissable series to watch and more!