Emmerdale's Samantha Giles: 'I'm a witch... and my love spell seems to work!'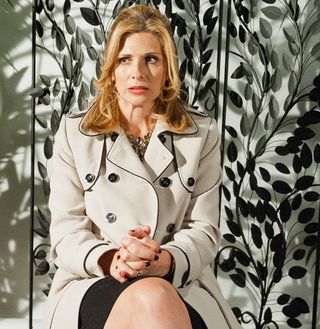 Emmderdale (opens in new tab)'s Bernice can be a bit batty… We wonder if that could have anything to do with Samantha Giles being a real-life witch!
Want a magic spell to make your life better? Emmerdale's Samantha might have just the thing… seriously. When Samantha's not playing feisty Bernice Blackstock, she's making and selling magic spells!
"I've been interested in the occult since I was young," Sam tells Soaplife, when we sit down for a chat… "I sell the spells through a Facebook page called 'Samantha's Spells'," adds Sam (opens in new tab).
Does this mean you're a genuine witch, Sam?
"I am a witch, but not in the way people understand it. I'm really a Wiccan, so no broomsticks or black hats. I've always been interested in mystical things and when I was out of work, after having Eve, I yearned for a more creative outlet. So I started putting together these little spell kits, which I then sold at psychic fairs."
How do your spells work?
"Well, there's a bit of cosmic ordering there, and they're supposed to help people focus. It's about being positive and believing that the spell is going to come true. But you have to be careful about what you're asking for… I won't sell a spell if I think a person is going down the wrong road."
Do you cast any spells on your own life?
"Before I met my husband, I cast a love spell. Two months later, I was in the theatre in Liverpool when Sean walked past me. I nearly passed out because he was so gorgeous. It took a while to bump into him again, but when I did I thought I'd better grab my chance. It must have worked, because we've been together for nine years now. But, really, I don't use the spells in my own life any more… They should be a last resort."
Have you given any of your spells to people at Emmerdale?
"I've given a few to crew members. The love spell is very popular… And it does seem to work!"
We've also heard you're a qualified holistic therapist…
"Yes. I did a diploma in holistic therapies, which includes Swedish massage, aromatherapy and reflexology. I did do some work as a therapist, but I was trying to do it in the recession and there wasn't much demand. I should have been a nail technician because they do really well – especially in Liverpool."
Why did you consider another profession in place of acting?
"When you have children, you have to be a bit more choosy about the jobs you take, because you can't go off touring. We were under pressure financially and I thought I was going to have to go back to temping in an office. Luckily, Emmerdale rang and asked if I'd come back. It was perfect timing and I've loved it. Bernice is a joy to play."
What's in store for Bernice?
"Well, I think we'll have to revisit Bernice's love life, as she'll be getting desperate. I suppose, at some point, she'll have to meet someone."
Emmerdale (opens in new tab), ITV. Click here (opens in new tab) for dates and times.
Thank you for signing up to Whattowatch. You will receive a verification email shortly.
There was a problem. Please refresh the page and try again.