Grizzly Bear Cubs and Me – BBC2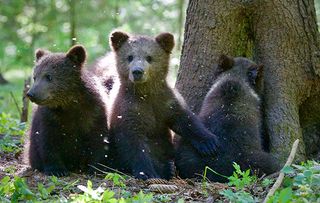 (Image credit: BBC/Hello Halo TV/Oak Island Fil)
Gordon Buchanan joins a pioneering family of biologists in Russia as they attempt to rehabilitate six orphaned bears in Grizzly Bear Cubs and Me
Gordon Buchanan visits a Russian family raising rescued bears
There's nothing like a few cute orphaned animals to have us reaching for the tissues, and Grizzly Bear Cubs and Me, a new two-part series from renowned wildlife cameraman Gordon Buchanan has the 'ahh'-factor in spades.
Gordon is spending eight months in the snowy Russian forests with the Pazhetnov family, who have devoted their lives to rescuing orphaned grizzly bears.
Gordon must become a mother bear to six abandoned cubs and prepare them to return to the wild.
But as he bottle feeds them, weans them and shows them how to climb, swim and forage for food, will he have taught them enough to survive the wilds of Russia?
Continues tomorrow.
TV Times rating: *****
TV Times caught up Gordon, 46, to find out more…
How did this inspirational project come about? I'd always wanted to film grizzly bears and then I discovered this phenomenal Russian family, the Pazhetnovs, who have devoted their lives to rehabilitating grizzly bears back into the wild and have rescued over 100.
What were your first impressions of the cubs you helped rescue? I thought, 'They're unbelievably cute but they make a lot of noise!' They sounded like velociraptors from Jurassic Park! I also couldn't see how these tiny cubs could ever be released back into the wild – they were so defenceless.
You had to bottle-feed them and clean their fur, how was that? Bottle-feeding isn't something that's instinctive to them, so it was a wrestling match and you'd end up covered in milk! I love getting close to wild animals to observe them but there's something different about physically nourishing them – it was really special.
What else did you do to prepare them for the wild? It was a process of giving them the opportunity to do the things their mothers would encourage, like climbing, swimming and exploring the forest to find food. A lot of it is instinctive for them, though.
We couldn't resist this clip that went viral. Sorry, it's not from Grizzly Bear Cubs and Me but we thought you'd like it anyway...
http://www.youtube.com/watch?v=Luo3KfObpfs
Get the What to Watch Newsletter
The latest updates, reviews and unmissable series to watch and more!
TV Times Highlights Editor
As TV Times Highlights Editor I get to hear about all the latest TV shows coming soon. Here at TVT HQ we are in the privileged position of selecting the best programmes from across all the channels and streaming platforms. Our mission is to make it easier for our readers to decide what to watch - and give them lots of choice of genres - all the latest shows, plus some nostalgic choices we call hidden gems, too. My career began with a postgraduate degree in periodical journalism (ahem, yes old school!) in 1991 and I've worked in TV media since 2000.