A Million Little Things season 5 episode 2: is Maggie being replaced at her job?
Maggie and Rom deal with some difficult conversations.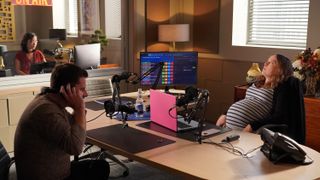 (Image credit: ABC/Darko Sikman)
NOTE: this post contains spoilers for A Million Little Things season 5 episode 2, "Think Twice." Catch up with our recap for A Million Little Things season 5 episode 1.
There are lots of unexpected things in the second episode of A Million Little Things' farewell season. While nothing too crazy happens just yet, we see some of these characters truly put to the test in their season arcs.
But then again, fans have come to expect nothing less from the series, which always highlights how difficult life can be. It's certainly going to be a long journey ahead.
Maggie and Gary on air
Maggie's (Allison Miller) pregnancy is getting rough as we see her struggle with very bad nausea and vomiting, which leads to her actually having to run to the bathroom during her segment. Gary (James Roday Rodriguez), not knowing what else to do, takes over, trying to fill the airtime until she returns. This leads to her boss, Colton, making a comment about having new voices in the mix as the audience actually loved Gary.
Maggie insists that she'll be back after her 12-week maternity leave, but Colton simply tries to sell her on the idea of staying home with her new baby. It leaves all of us with a bad taste in our mouths. But that's not all, we then see Gary's therapist interviewing to replace her.
Eddie and Greta's unexpected team up
We find out that Eddie (David Giuntoli) has been going over to Katherine's (Grace Park) house a little too often, which leads to some understandable frustration from Greta (Cameron Esposito). She later goes to apologize and actually helps him make a dating profile. He does go on the date, but it ends up being a disaster (caused by him) and leaves Eddie thinking about what's next.
Before the episode ends, we see him looking at a college website, hinting that he might want to go back to school since he never actually finished.
Walter's confession
Watching Rome's (Romany Malco) clear concern for his father is heartbreaking and despite more signs being shown, such as Walter (Lou Beatty Jr.) only getting seven out of 10 right on a cognitive test, forgetting where the parking ticket was and driving backward and blowing his tires, the older man continues to insist he is fine. His son does try to hide the fact that his car is already fixed, but his father is one step ahead of him.
Of course, that's when the worst happens. His father accidentally drives to his old house, the one he brought Rome back to the hospital from the day he was born rather than his current home. He admits he got confused because of their earlier conversation. The final sentiment we're left with is Rome's promise to be there and take care of his father regardless of what happens next.
Regina makes a mistake
While working the food truck, Sophie (Lizzy Greene) strikes up a friendship with Joseph, who Regina (Christina Moses) thinks is using drugs. With that in mind, when money is stolen from the register, she immediately blames it on the unhoused man. Sophie defends him and it is later revealed that he's innocent, the marks on his arm were actually from dialysis, which he was at an appointment for during the robbery.
Due to multiple complaints, the city clears the encampment where Joseph has been living and he's not even there to collect his stuff. It's the perfect reminder to never judge a book by its cover.
New episodes of A Million Little Things premiere Wednesdays at 10 pm ET/PT on ABC and are available on-demand on Hulu the day after they air live.
Get the What to Watch Newsletter
The latest updates, reviews and unmissable series to watch and more!
Sophia Soto has a passion for all things entertainment. She is a member of The Hollywood Critics Association and currently writes for The Nerds of Color. You can also see her work on What To Watch, Remezcla, Looper, Den of Geek, Young Hollywood and more. Some of her favorite shows include Grey's Anatomy, The Goldbergs, Riverdale and Roswell, New Mexico. She is a complete Marvel nerd as well!