A Million Little Things season 5 episode 1: Gary goes on an emotional rollercoaster
An unexpected death teaches our characters an important lesson.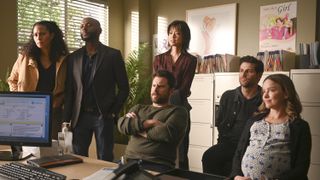 (Image credit: ABC/Sergei Bachlakov)
NOTE: this post contains spoilers for A Million Little Things season 5 episode 1, "The Last Dance."
A Million Little Things comes full circle in the premiere of its final season, as our group of friends suffers another loss. Thankfully, we also get some news that reminds us that there is light in every tragedy.
The opening scene is sure to be a tear-jerker as we see Gary (James Roday Rodriguez) supported by his father, Rome (Romany Malco) and Eddie (David Giuntoli) while getting chemotherapy. Maggie (Allison Miller) is then finally allowed to let her feelings out during a visit from Katherine (Grace Park) and Regina (Christina Moses).
We then jump seven months only to be transported to a funeral reception. It takes us a moment, but we eventually find out that Gary's father, Javier (Paul Rodriguez), has passed away with no real warning.
Gary stops wasting time
In season 3, we were told the story of Javier's war buddy, Douglas, and the man he was in love with, which helped give Danny the courage to come out to his peers. Gary managed to track down Gene months ago and planned to take his father to visit so that he could share the story of how Douglas had saved his life while they were serving. Unfortunately, he pushed it off too long and he never got the chance. Gary still goes through with it, with Danny (Chance Hurstfield) by his side. They all share stories of their lost loved ones, which ends in Gary finally breaking down over his father's sudden death.
It's an important moment for the character that allows him to continue his journey for the rest of the season.
Anna wants a fresh start
After being released from prison, Eddie says another goodbye to Anna (Erin Karpluk). After everything that happened with her ex-husband, she decides it's time to move away and start over. She ends up going to stay with her sister in another city.
Rome's father is forgetting
Gary asks Rome to go visit his father instead of spending the day with him, clearly missing his own. Florence (Karen Robinson) breaks the news that Rome's father, Walter (Lou Beatty Jr.), is forgetting things. Of course, he tries to make excuses, not wanting to believe anything could be wrong. But the signs are there and it's only a matter of time before Rome has to face what's going on. He does try to approach the topic with his father, but it doesn't go very far.
Florence shares that she cannot take this journey with Walter, already going through it with her husband. It's too much so she ends things.
Maggie does her baby registry
To take her mind off everything going on, Katherine takes Maggie to register for baby gifts. The sequence leads to a precious moment where Maggie returns a stuffed animal to a little boy, who has her laughing as he makes faces. However, she soon sees him and his father, which brings her to tears. Her worry about Gary is finally voiced. Katherine is quick to comfort her the best she can, promising that no matter what, she has a great team of moms and dads that aren't going anywhere.
These two characters rarely share scenes. In fact, this might be the first they shared together alone. It leaves fans wanting more of their dynamic going forward before the show ends, especially since Maggie needs the support.
The doctor appointment
Gary and Maggie are surrounded by love during their doctor's appointment in the final scene, the whole group waiting to hear the news. Thankfully, the doctor is very happy with how Gary's body is responding to the treatment. He says things could not be better. While the cancer will never be cured, it's treatable and Gary can live with it.
What better way to end the episode than a joyful celebration? While it might be a small moment, we see pure happiness when the soon-to-be parents accidentally reveal their baby will be a boy. Their friends are ecstatic.
New episodes of A Million Little Things premiere Wednesdays at 10 pm ET/PT on ABC and are available on-demand on Hulu the day after they air live.
Get the What to Watch Newsletter
The latest updates, reviews and unmissable series to watch and more!
Sophia Soto has a passion for all things entertainment. She is a member of The Hollywood Critics Association and currently writes for The Nerds of Color. You can also see her work on What To Watch, Remezcla, Looper, Den of Geek, Young Hollywood and more. Some of her favorite shows include Grey's Anatomy, The Goldbergs, Riverdale and Roswell, New Mexico. She is a complete Marvel nerd as well!