Beyond Paradise's Kris Marshall up for Death in Paradise crossover
Kris Marshall tells us why he was excited to return as DI Humphrey Goodman in the Death In Paradise spinoff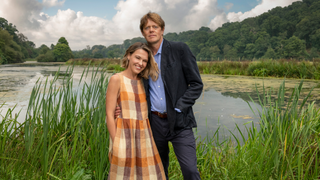 (Image credit: BBC)
Kris Marshall has revealed he'd be up for a Death in Paradise crossover as he talks to us about his new spin-off, Beyond Paradise.
After leaving DI Humphrey Goodman behind in 2017, he is bringing his much-loved Death In Paradise detective back to our screens in the new spin-off series Beyond Paradise.
The show follows Humphrey and his fiancée Martha Lloyd (Not Going Out's Sally Bretton) as they move to her hometown of Shipton Abbott in Devon, where Martha is hoping to realise her dream of opening her own café, and Humphrey is due to take over as the local police's new detective inspector. Temporarily living with Martha's mum Anne (The Durrells star Barbara Flynn), the pair have big plans for their future together — but will it pan out the way they pictured it?
We caught up with Kris on the set of the series to find out more...
Kris Marshall interview for Beyond Paradise
How did you feel about Humphrey getting a spin-off series when the idea was pitched to you?
"We first mooted it a couple of years ago, and I was really hopeful, but often these things don't come to fruition. Then towards the end of 2021, it seemed to really gain some traction, and then Tony Jordan wrote the first script. I wasn't sure how the show would manifest itself, and how it would stand alone, but I got the first script through and I was like, 'this is brilliant!'. It shares the DNA of Death In Paradise, but it's a completely different show. So, to answer the question about how I felt, I just felt absolutely thrilled and blessed, and thanks very much to everyone who put in all the work. It's great to be pulling on the linen jacket and playing Humphrey again — he's like a slightly dyspraxic old friend, he's just a joy to play."
So what has Humphrey been up to since he left Saint Marie?
"When he relocated from the Caribbean, he wanted to go where Martha was, which was London, so he joined the Met. I think they were starting to find life in London a bit too full-on, and also Martha wanted to start up her own business, which we alluded to in Death In Paradise. So they move to Shipton Abbott, where Martha grew up, and end up living with her mother! That brings its own challenges for Humphrey, and he's looking for somewhere to call their own place. You have that iconic beach hut in Death In Paradise, and we have something quite similar here, but it's not a hut. I'm not going to tell you what it is, because it's a bit of a spoiler, but it's wonderful!"
What can you tell us about Humphrey and Martha's relationship at this point?
"I don't want to say too much, but obviously there are challenges that they face coming down here — otherwise you wouldn't have much of a storyline! They have their problems, they have their troubles, but I think you root for them as an audience. I certainly do, reading the scripts. You want the best for them as a couple. Sally's such a brilliant person to act opposite and share the screen with, and I think the audience really love the couple, so they root for them."
What's his new team like in Shipton Abbott?
"The new team is fantastic, we've got some brilliant actors on board. Zahra Ahmadi, who is Humphrey's new DS, Esther Williams, has got a really lovely background in comedy, but she's a brilliant dramatic actress as well. And she's a local girl, she's from Plymouth, so the accent is absolutely bang-on! Humphrey is an odd pill to swallow when he first arrives anywhere, so there are challenges in that relationship as well, but Zahra is great and I'm really, really glad she's on board."
"We've also got Felicity Montagu from Alan Partridge playing Margo, she's hilarious, very deadpan, and Dylan Llewellyn from Derry Girls. Actually, the team is as important as Humphrey and Martha's relationship. If that doesn't work, then it doesn't matter how much you care about the relationship of the two core people in the cast, the show wouldn't work, so it was really integral we got that right, and I'm really pleased it seems to be working brilliantly!"
Can you tell us a bit more about what makes Beyond Paradise different from Death In Paradise, apart from the location?
"There are thematic differences — not every case is a murder, because obviously there's no 'death' in the title! And it's a lot more sort of bucolic, I would say it's maybe a little quirkier? But it retains the brilliant sort of whodunnit that I think is integral to the success of this show. I'll give you a flavour, and this should sort of give you an idea of the sort of theme we're going for. In the first episode, Humphrey has to deal with a case where a woman has been severely injured while she was home alone, and she insists that she's been pushed by a witch! That gives you an idea of the sort of cases we're dealing with!"
Could you see there being some sort of crossover with Death In Paradise in the future?
"Yeah, that would be great! There's scope for all kinds of things, the sky's the limit, really. All I would say is watch this space — I'm not going to say any more than that!"
Beyond Paradise begins on Friday February 24 on BBC1 and BBC iPlayer at 8pm
Get the What to Watch Newsletter
The latest updates, reviews and unmissable series to watch and more!
Staff Writer for TV & Satellite Week, TV Times, What's On TV and whattowatch.com
Steven Perkins is a Staff Writer for TV & Satellite Week, TV Times, What's On TV and whattowatch.com (opens in new tab), who has been writing about TV professionally since 2008. He was previously the TV Editor for Inside Soap before taking up his current role in 2020. He loves everything from gritty dramas to docusoaps about airports and thinks about the Eurovision Song Contest all year round.