EXCLUSIVE: Happy Valley's Amit Shah reveals next twist for killer Faisal Bhatti
Amit Shah tells us the inside story of the police investigation into Joanna's murder and more about playing killer chemist Faisal Bhatti.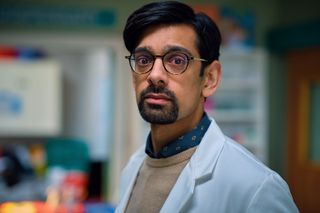 (Image credit: BBC)
Amit Shah has made quite an impression as drug dealing pharmacist-turned-rolling pin murderer Faisal Bhatti in Happy Valley season 3.
Now, following the gruesome discovery of drug addict Joanna's body, her abusive PE teacher husband Rob Hepworth (Mark Stanley) is the obvious prime suspect thanks to Faisal's clever crime-scene cover-up.
But as Happy Valley continues this Sunday on BBC One at 9 pm, Faisal is left feeling increasingly out of his depth and suffering from horrifying flashbacks.
Meanwhile, the cops aren't ruling out whoever was supplying Joanna with diazepam, which doesn't bode well for the flustered pharmacist. So will Faisal get caught for his crime? Or can he pin the murder on an increasingly unhinged Rob Hepworth?
Here, in an exclusive chat, Amit Shah reveals more…
Our exclusive interview with Amit Shah...
How would you describe Faisal Bhatti?
Amit says: "He's an intriguingly flawed character. He's someone who feels invisible in his day-to-day life and he craves some kind of control and importance and significance. When I was preparing for the role I instantly made connections to Walter White from Breaking Bad in the way that Faisal blends into the background, but then something happens that takes him down some very dark alleyways."
Faisal's murder of Joanna was so unexpected. How does the spiraling nightmare play out for him this week?
"He's in this limbo state and in hiding almost. He's very confused and he's having flashbacks. With the police now investigating, he's in this desperate situation that he's not really cut out for. He's made some bad choices and he doesn't know how to deal with the consequences."
He's tried to set up Joanna's controlling husband Rob for the murder. But does that begin to unravel?
"Yes, he thinks he's been clever and meticulous in coming up with an idea that will get him out of this very tight situation. But he's made mistakes, he definitely hasn't thought things through. Maybe he's got away with it. But maybe he's also still at risk of being found out!"
How did you find playing a family man who's so on edge?
"He's a very interesting character because he's an ordinary guy who has made some really odd decisions! As an actor it's such an appealing part of the job to play someone who's under pressure from so many different sources and who's having to juggle so many balls. Like with every character, I just tried to justify his actions and motivations. He's not a villain or a hero, he's just a regular person who has found himself in a pressure cooker environment."
Have you always been a fan of Happy Valley?
"Well, full disclosure, but I'd never seen any episodes before I went for the part! Credit to my agent though, because she said the character of Faisal would perfect for me and made me do my homework. She asked me to watch one episode, but 12 hours later and I'd binged the first two series, so I very quickly became a fan! What I love are all the different intertwining storylines and how the subplots, like Faisal's, are almost standalone stories in themselves. The viewers are really pushed to use their intelligence when watching Happy Valley. It's like a jigsaw puzzle!"
What was your first day like on set?
"Sally doesn't waste any time setting up plot points — you're just thrown into this world, but it was great! Everyone was so welcoming and I really enjoyed working in Yorkshire. The show has such a huge following there so there were often crowds of fans when we were filming the exterior scenes. They were so lovely and respectful, though. They just wanted to say how much they loved the show!"
You've been in shows with Siobhan Finneran before. Was it lovely working with her again?
"Yes, she's a dear friend. About ten years ago on Benidorm I played her brother-in-law, Vikram, who couldn't speak any English, and I also worked with her on the comedy The Other One. Whenever I work with Siobhan on a project I always know I'm going to have a good time and Happy Valley was no different. She's really down to earth and real.
What was it like working with Sarah Lancashire?
"The first time I met her was in the green room and I was almost falling asleep when Sarah walked in. I jumped up and kind of stood to attention! Luckily she just joked, 'at ease!' It was an honour to work with her. She's a producer on this series as well, so it really felt like she was looking after the whole cast.
How have you found the reaction from Happy Valley fans?
"There were some angry emotions after Faisal killed Joanna! I've had some odd looks on the tube, but because there's so much flu and Covid around I'm still wearing my mask, so I'm not sure people have recognized me. My parents have a health food shop and I've been helping out there recently, and there have been a few customers come in and say, oh you look familiar! I've just told them it must be because I've been working there on and off since I was 15!"
Happy Valley airs on Sundays at 9 pm on BBC One — see our TV Guide for full listings. You can also catch up on episodes on BBC iPlayer now.
Get the latest updates, reviews and unmissable series to watch and more!
Hannah has been writing about TV for national newspapers and magazines ever since the 1990s when she covered the soaps for Woman magazine — and she still prides herself on rarely having missed an episode of EastEnders. Since then she's written for various publications, including What To Watch, TV Times, What's On TV, TV & Satellite Week, Woman & Home, Psychologies and Good Housekeeping.
Apart from EastEnders, her other favorite shows include Succession, Unforgotten, Line of Duty, Motherland and anything by Russell T Davies. When Hannah isn't watching or writing about telly, you're likely to find her enjoying London's latest theatre shows, taking her campervan on a wet UK holiday or embarrassing her teenage kids.
Thank you for signing up to Whattowatch. You will receive a verification email shortly.
There was a problem. Please refresh the page and try again.