EXCLUSIVE: Happy Valley star Mark Stanley reveals what's next for Rob Hepworth following Faisal's attack on Joanna
Mark Stanley reveals the inside story following THAT shocking cliffhanger in Happy Valley and more about playing violent PE teacher Rob Hepworth.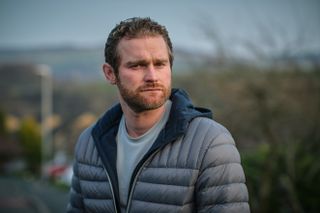 (Image credit: BBC)
Mark Stanley is really making a name for himself as unhinged, controlling and violent PE teacher Rob Hepworth in Happy Valley series 3.
We were all left stunned after last Sunday's murderous Happy Valley twist that saw drug dealing pharmacist Faisal Bhatti (Amit Shah) assault Rob's drug addict wife Joanna Hepworth (Mollie Winnard) with a rolling pin in echoes of the recent BBC One drama Sherwood.
But the crime results in some dark and dangerous repercussions for husband Rob as Happy Valley continues this Sunday on BBC One at 9 pm.
Not only does Rob find his world collapsing around him, but he also faces scrutiny from Sergeant Catherine Cawood (Sarah Lancashire) who is having her own family nightmares with convicted killer Tommy Lee Royce (James Norton).
So what will Faisal's attack on Joanna mean for Rob Hepworth? And will his years of abuse finally come to light?
Here, in our exclusive chat, Mark Stanley reveals much more…
Interview: Mark Stanley on Rob Hepworth and his Happy Valley misfortunes...
The last episode of Happy Valley on Sunday, January 15 ended on a cliffhanger when Faisal attacked Joanna. How does that affect Rob?
Mark Stanley says: "The frustration level really rises in him and he comes into conflict basically with anything around him. It's that sense of losing control. These frustrations eventually boil over, but I don't know if I can say any more than that. With the twists and turns of Sally Wainwright's imagination, you just never know what's next!"
What did you make of Rob Hepworth when you first read Sally Wainwright's Happy Valley season 3 scripts?
"He really sprung out to me. I've never played someone who's got such a short temper, who's so easily put on edge and I thought, yeah I'd really like to explore him a bit. I've also known people who've been put into domestic abuse situations and I think it's important we talk about it more. Rob's a great vehicle for that. He can be outwardly hated for what he does to Joanna."
Was it hard to get into Rob Hepwrith's mindset?
"Yeah, it was hard thinking like him. Rob's horrendous, he's really manipulative. He's that guy who'll smile with pleasure at someone squirming in pain because it makes him feel bigger. I found it pretty tiring playing him — he's such a long way off me I'm glad to say! But there were a couple of people I drew on in terms of how they react when challenged. I always find it fascinating that people like Rob have an outward ability to put a sheen on things but then feel emasculated in a strange way. Rob loses his temper about anything that challenges his control.
Were you a fan of Happy Valley before taking on the role?
"Yeah, I watched it when it aired and I worked hard for the audition because I really wanted to be a part of it. Then I made the mistake of watching it all again leading up to my first-day filming. It was like I'd been transported into this TV show. I couldn't shake the fact that it was Catherine Cawood was standing in front of me! But I absolutely loved being on set. Everybody was there for the same game to make incredible stories, and judging by reactions so far I think people are enjoying it!

What was it like working with Sarah Lancashire as Catherine Cawood?
"There's this northern irony and humor that runs through Happy Valley at the same time as the tragedy, and Sarah brings that to the show so brilliantly. I'd never worked with her before and we had to find real friction between these two characters. We kind of respected that we hated each other in the story! Catherine's got the ability to put her thumb on Rob and just crush him, so it was interesting to explore that.
You've been on our screens a lot lately. What are you most recognized for?
"Viewers really got on board with Trigger Point and The Thief, His Wife and the Canoe, so probably one of those two. I'm happy to say I haven't been approached by any Happy Valley fans yet. Because Rob's so horrible, I don't think they'll be coming to me with bunches of flowers but sticks to beat me with!
It feels like you're on a roll in terms of your career. What have you got coming up next?
"Literally the day after Happy Valley finished I flew out to Argentina and did a film called Los Colonos, or The Settlers in English. I was there for two months in Patagonia speaking Spanish, which I had to learn really quickly. It felt really adventurous. But I love the variation of this job!
Happy Valley airs on Sundays at 9 pm on BBC One — see our TV Guide for full listings. You can also catch up on episodes on BBC iPlayer now.
Get the latest updates, reviews and unmissable series to watch and more!
Hannah has been writing about TV for national newspapers and magazines ever since the 1990s when she covered the soaps for Woman magazine — and she still prides herself on rarely having missed an episode of EastEnders. Since then she's written for various publications, including What To Watch, TV Times, What's On TV, TV & Satellite Week, Woman & Home, Psychologies and Good Housekeeping.
Apart from EastEnders, her other favorite shows include Succession, Unforgotten, Line of Duty, Motherland and anything by Russell T Davies. When Hannah isn't watching or writing about telly, you're likely to find her enjoying London's latest theatre shows, taking her campervan on a wet UK holiday or embarrassing her teenage kids.
Thank you for signing up to Whattowatch. You will receive a verification email shortly.
There was a problem. Please refresh the page and try again.