Happy Valley star James Norton teases huge twist for the end of the final season
Happy Valley star James Norton on trouble in Calderdale as the hit drama returns.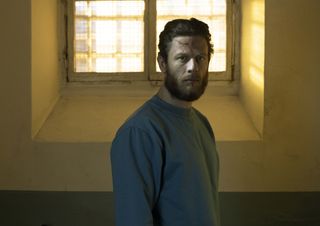 (Image credit: BBC)
Six years ago, BBC One's Happy Valley ended on a cliffhanger when twisted murderer Tommy Lee Royce (played by James Norton) received a handwritten letter in prison from his estranged son, Ryan.
Since then we've been on tenterhooks waiting for the BAFTA-winning series to return. But now it's finally back on our screens for its last-ever outing, and the stage is set for a real rollercoaster ride of a finale.
The series is once again written by Sally Wainwright and finds Sergeant Catherine Cawood (Sarah Lancashire) dreaming of retirement, while a now long-haired and bearded Tommy still languishes in prison.
But what Catherine isn't aware of is that her grandson, Ryan, now a surly 16-year-old, hasn't been entirely honest about his relationship with Tommy, the man Catherine refuses to acknowledge as his father.
Meanwhile, as Catherine is set to be thrown back into Tommy's twisted orbit, trouble is also brewing thanks to a fresh gangland murder investigation and a new cast of dubious characters, including Trigger Point's Mark Stanley as Ryan's hot-headed teacher Rob Hepworth.
Here James tells us more about what to expect in Happy Valley season 3...
Where do we find Tommy at the beginning of Happy Valley season three?
"So we pick up six years later and we find Tommy still in prison serving multiple life sentences. But he's changed, he's matured and there's a definite shift in his demeanor and temperament, and I think that's because for the first time in a long time he's got hope."
What journey does Tommy go on this time?
"Tommy's journey starts with him being calm and relatively pliant, very unlike the Tommy we've seen in the first two series. He seems quite affable and in control and I think that's probably because Tommy has information about something that we don't know about yet, but that information and that situation is giving him a sense of contentment. But Tommy's still an enigma and a puzzle and a delightful, terrifying mess and I'm genuinely still trying to work him out!"
Can you describe his relationship with Catherine?
"It's kind of everything for Tommy. Tommy has Catherine and Ryan, they're the two poles of his existence. Catherine doesn't ever want to think about Tommy, but once again he's forcing his way into her life and her consciousness. They're like old-fashioned epic adversaries pitched against each other, they're obsessed with each other."
How do you prepare to get into Tommy's headspace?
"It's been challenging because by his nature he lives in a very different space to me and most people I know. He lives on that kind of fringe of humanity and as a result, it's one of the more challenging roles I've had. But I did a lot of work looking into psychopathy and was introduced to some behavioral psychologists and criminal psychologists who were wonderfully helpful in excavating Tommy and the mindset he has."
How did it feel being back filming series three?
"I'm immensely proud of the series as a whole and immensely proud that I've had a part in it, and it's wonderful to come back knowing that there's such an appetite and love for the show. It feels great because people love it and we love making it. I've had so many people come up to me in the street over the years asking me when it's coming back, so to be able to say it's back and as big and bold as ever is wonderful!"
What can audiences most look forward to about the new series?
"I just think it's a great story, it's a great thriller, you've got fantastic characters driving it forward, and Sarah Lancashire giving the performance of her life. It's an absolute rollercoaster ride of a plot. Many people said during the first series that they'd end up behind the sofa with their hands over their mouths and hopefully the third series delivers on that. But the reason this series is particularly exciting is that it's the last, so everyone will be trying to guess how it's going to end. I've been trying to predict the ending for the last seven years — and it doesn't disappoint!
Happy Valley season 3 will launch at 9 pm on Sunday, January 1, 2023, on BBC One. We don't have a US release date yet but it will be shown on AMC+.
You can catch up with the previous two seasons of Happy Valley on BBC iPlayer and AMC+ now.
Get the latest updates, reviews and unmissable series to watch and more!
Hannah has been writing about TV for national newspapers and magazines ever since the 1990s when she covered the soaps for Woman magazine — and she still prides herself on rarely having missed an episode of EastEnders. Since then she's written for various publications, including What To Watch, TV Times, What's On TV, TV & Satellite Week, Woman & Home, Psychologies and Good Housekeeping.
Apart from EastEnders, her other favorite shows include Succession, Unforgotten, Line of Duty, Motherland and anything by Russell T Davies. When Hannah isn't watching or writing about telly, you're likely to find her enjoying London's latest theatre shows, taking her campervan on a wet UK holiday or embarrassing her teenage kids.
Thank you for signing up to Whattowatch. You will receive a verification email shortly.
There was a problem. Please refresh the page and try again.