Happy Valley season 3: where to watch, plot, cast, trailer and everything we know
Happy Valley season 3 saw Sarah Lancashire return in her iconic role of Sergeant Catherine Cawood for a final time.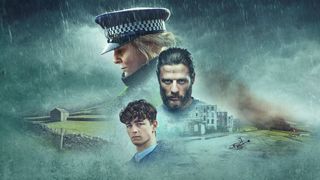 (Image credit: BBC)
Happy Valley season 3, starring Sarah Lancashire, was the final installment of Sally Wainwright's hugely successful BBC crime drama.
It was five years since the second season first aired in the UK, but now fans can finally watch the third season of the BAFTA winning crime drama.
Sarah Lancashire, James Norton, and Siobhan Finneran all reprised their roles in the new season, which was filled with nail biting tension and dramatic moments which could threaten their lives.
Talking about the new series, Sally Wainwright said: "I'm delighted to find myself back in the world of Catherine Cawood and her family and colleagues for the final installment of the Happy Valley trilogy."
Here's everything you need to know about Happy Valley season 3...
Happy Valley season 3 release date
Happy Valley season 3 launched at 9 pm on Sunday, January 1, 2023, on BBC One, and new episodes aired weekly until Sunday, February 5. Episodes are now available on demand via BBC iPlayer in the UK.
We don't have a US release date yet but it will be shown on AMC+. You can catch up with the previous two seasons of Happy Valley AMC+ now.
Image 1 of 4
How many episodes of Happy Valley season 3 will there be?
Sally Wainwright has written six more episodes of Happy Valley for the new season, and each will be around one hour long.
Happy Valley season 3 cast
Sarah Lancashire returns as Sergeant Catherine Cawood for Happy Valley season 3.
Her recovering sister Clare Cartwright (Siobhan Finneran) and nemesis Tommy Lee Royce (played by James Norton) are also back.
James Norton says: "To take on Tommy one final time is a wonderful and daunting privilege and something I've been looking forward to since we wrapped the last series, six years ago. I'm so excited to be working with the insanely talented Sally and Sarah again. Thinking we should all go on one last barge holiday, for old times' sake."
Siobhan added: "I'm so thrilled to be returning to Happy Valley as Clare, and delighted to now be able to answer the question: "Please tell me there's going to be another Happy Valley?" with a resounding "Yes there is.""
Amit Shah (The Long Call), Mark Stanley (The Girl Before), and Mollie Winnard (Four Lives) have joined the cast for series three.
Con O'Neill reprises his role as Clare's recovering alcoholic boyfriend, Neil Ackroyd, with George Costigan back as Nevison Gallagher and Charlie Murphy as Nevison's daughter and Catherine's colleague, Ann.
Furthermore, Derek Riddell returns as Richard Cawood, Karl Davies as Daniel Cawood, Susan Lynch as Alison Garrs, Rick Warden as Mike Taylor, Vincent Franklin as Andy Shepherd, and Rhys Connah as Catherine's grandson, Ryan.
What's the plot?
The BBC has given us an idea of what to expect from the third series of Happy Valley with an initial synopsis:
"When Catherine discovers the remains of a gangland murder victim in a drained reservoir it sparks a chain of events that unwittingly leads her straight back to Tommy Lee Royce. Her grandson Ryan is now sixteen and still living with Catherine, but he has ideas of his own about what kind of relationship he wants to have with the man Catherine refuses to acknowledge as his father. Still battling the seemingly never-ending problem of drugs in the valley and those who supply them, Catherine is on the cusp of retirement."
Below you'll find episode summaries of the new drama, so consider this a spoiler warning if you're not caught up!
What happened in episode one?
Catherine responds to a call about the bones discovered in a reservoir, and recognises the remains as those belonging to Gary Gogovski. A necklace belonging to Tommy Lee Royce is found in the concrete, tying him to the murder, but he names Chris Huxley as Gary's killer after admitting he was present.
Elsewhere, we're introduced to Rob Hepworth, a PE teacher who has been abusing his wife, Joanna. He discovers Joanna has obtained diazepam without a prescription and phones the police, and Catherine responds to the call. She places Jo under arrest and attempts to assist her and ask about her life with Rob, though she doesn't give up too much info and is released on bail.
Local pharmacist Faisal Bhatti overhears his daughters gossiping about Jo's arrest and he goes to meet Jo: he's been supplying her with the drugs, and wants to know if she took them out of all packaging so that they can't be traced back to him (Jo had left her latest course in the blister packs).
As it turns out, Mr Bhatti is dealing prescription drugs off-books to other residents, and this soon earns him a visit from Ivan and Matija, two men who come to warn him about his arrangement and threaten him into continuing to supply drugs but paying money to them instead.
In the meantime, Catherine also learns that her grandson, Ryan, has been visiting Tommy Lee Royce in prison and starts trying to work out which two people had been accompanying him.
What happened in episode two?
In a devastating twist, Catherine finally found out who had been taking Ryan to see Tommy Lee Royce, and it's quite the betrayal. The second episode revealed that Catherine's sister Clare (Siobhan Finneran) and her boyfriend Neil Ackroyd (Con O'Neill) had taken Ryan to HMP Sheffield four times over the past year, and they'd all been when Catherine was on duty.
With this information in hand, Catherine followed her sister to Sheffield and phoned her while she sat outside the cafe, watching angrily as she lied to her and claimed she was in Leeds. But Clare had nowhere to hide when Catherine entered the cafe and sat before her sister, which is where this episode ended. Fans are now waiting impatiently to find out how this goes down!
Meanwhile, Rob Hepworth continues to be a dangerous character, as he's inflicted more abuse on Joanna behind closed doors and has even started a vendetta against Ryan, accusing him of damaging his car and kicking him off the football team. But with Hepworth seemingly making a lot of enemies, are his days numbered?
Perhaps so, as Joanna revealed to Faisal Bhatti that she has plans to poison her husband so that she and her children can be free, but we don't know if she'll actually go through with it yet. We'll have to tune in to episode 3 to see how the story progresses.
What happened in episode three?
The anticipated episode 3 saw Catherine confronting Clare, now that she knew she had betrayed her and was taking Ryan to see Tommy Lee. Even more dark truths were revealed when Catherine discovered that Ryan had been writing to his incarcerated biological father since he was 10.
Ryan asked Clare's boyfriend, Neil to escort him on a prison visit, and ever since then Clare had allowed repeated visits to happen behind Catherine's back, with all of this information coming out during a tense, nail-biting 10-minute scene.
Elsewhere, a shocking, heated conclusion saw Faisal beating Jo to death with a rolling pin after she confessed she'd lied to him, where she explained Rob didn't know it was Faisal who had been illegally supplying her with diazepam, and he snapped and accidentally murdered her.
Faisal, panicked, then got a syringe to finish off Jo knowing that her abusive husband would be the prime suspect in her murder. In classic Happy Valley style, the whole thing's a mess, and we'll have to wait with bated breath for the next episode.
What happened in episode four?
What didn't happen?! The biggest event of episode four saw Tommy Lee Royce manage to escape from prison, after orchestrating an elaborate plan which saw him fleeing the courthouse and jumping on a bike, cycling off in a new disguise. With the show's biggest villain now at large, anything could happen.
Elsewhere, Joanna's body was tragically stuffed into a suitcase and left at her home, which was found by her husband Rob, who was heartbroken. Despite treating her appallingly throughout the series, it was clear he was devastated by her death.
Shockingly, Rob actually crashed into the back of Faisal and the two had a brief argument in the street, so he's come face-to-face with his wife's killer without even realizing it. Will the truth come out or is Rob about to go down for her murder?
What happened in episode five?
In episode 5, we saw the aftermath of Tommy's great escape where he was placed in a safe house thanks to the help of Darius Knezevic (Alec Secareanu), who picked him up and drove him to a remote location.
While there, Tommy lay low but managed to take advantage of luxuries such as alcohol, a TV and, crucially, a video game console which he used to communicate with Ryan after remembering his gamertag.
He tried to convince Ryan to go on the run with him, where he mentioned someone could set them up in Marbella, but Ryan was unenthusiastic and said he'd "think about it".
Meanwhile, Ryan was subjected to an angry rant from Ann (Charlie Murphy), who had a go at him regarding him visiting Tommy and trying to build a relationship with his biological dad. Ryan seemed shaken by this, but did it change his mind about Tommy?
Is there a trailer?
The full trailer for Happy Valley series 3 arrived on December 13, and it teases a tense final case for Sergeant Cawood leading her back to Tommy Lee Royce. Check it out here:
An earlier trailer can also be found here:
Get the latest updates, reviews and unmissable series to watch and more!
Staff Writer at WhatToWatch.com
Martin is a Staff Writer with WhatToWatch.com, where he produces a variety of articles focused on the latest and greatest films and TV shows.
Some of his favorite shows are What We Do In The Shadows, Bridgerton, Gangs of London, The Witcher, Doctor Who, and Ghosts. When he's not watching TV or at the movies, Martin's probably still in front of a screen playing the latest video games, reading, or watching the NFL.
Thank you for signing up to Whattowatch. You will receive a verification email shortly.
There was a problem. Please refresh the page and try again.