'The Long Call' — release date, cast, plot and everything we know
Everything you need to know about 'The Long Call', ITV's gripping new crime drama.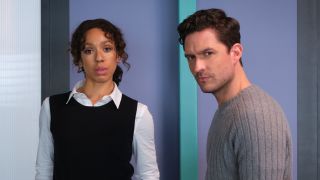 (Image credit: ITV)
The Long Call is a big new thriller showing on ITV.
Based on the best-selling novel of the same name (opens in new tab) by award-winning crime writer Ann Cleeves, this new crime thriller takes us right into the heart of a tiny religious community called the Barum Brethren.
After a body is found on a beach, locals begin to suspect the community had something to do with it. A former member turned detective leads the investigation and must grapple with his past to get to the bottom of the murder.
Here's everything you need to know about The Long Call!
'The Long Call' release date
The Long Call started on Monday 25 Oct. on ITV at 9pm in the UK. The series was stripped across four consecutive nights. It has now finished but is available on the ITV Hub.
Meanwhile, in the US The Long Call is available on BritBox.
'The Long Call' cast
The Long Call stars Ben Aldridge (Our Girl, Fleabag) and Pearl Mackie (Greed, Doctor Who) as DI Matthew Venn and DC Jen Rafferty respectively.
Juliet Stevenson will play Matthew's mother Dorothy, and Declan Bennett will play his husband, Jonathan. Martin Shaw will feature as the Barum Brethren's spiritual leader Dennis Stephenson, with Anita Dobson appearing as Grace Stephenson.
Also joining them are: Dylan Edwards as DC Ross Pritchard, Pearce Quigley as DCI Joe Oldham, Neil Morrissey as Christopher Reasley, Sarah Gordy as Lucy Craddle, Alan Williams as Maurice Craddle and Amit Shah as Ed Raveley.
What's the plot?
The Long Call follows DI Matthew Venn, who's returned to a small community in North Devon to live with his husband. He grew up in the Barum Brethren, but abandoned the strict evangelical community to go to university at 19. At this point, he publicly declared he no longer believed, much to his mother's dismay.
After a body is found on a beach near Matthew's home, a shadow of doubt is cast across the entire community. Matthew will work closely with DC Jen Rafferty, a fiercely determined single mother who moved to Devon to escape her traumatic past life in London.
Matthew's return forces him to readdress his difficult relationship with his mother, and the murder case will open up old wounds, and Matthew will uncover a deadly secret in order to expose the killer.
Talking about his character, lead actor Ben Aldridge explained to us: "We meet him at the start of the series having returned to his hometown where he had left — or kind of been exiled from — 20 years previously. It's complicated — he could no longer stay there, but also he was no longer welcome because he was raised in a very strict religious community that no longer aligned with his beliefs.
"We first meet him attending his father's funeral, which he is not allowed to be part of, and that's when he finds out about the dead body on the beach."
What happens in the first episode?
In the first episode of The Long Call, we're introduced to lead character DI Matthew Venn (Ben Aldridge) and his husband Jonathan (Declan Bennett). The couple live in North Devon, a place where Matthew returned to after being rejected by his family due to his sexuality and decision to leave Barum Brethren, the strict religious community he grew up in.
His life choices have disappointed his parents and caused a serious strain in their relationship. A body is found on a beach near Matthew's home, and the detective has to get to work alongside his partner DC Jen Rafferty (Pearl Mackie), a single mother who moved to Devon to escape her traumatic past life in London.
Both are battling their own inner demons but need to try and focus on the case at hand. The body is found with a single stab wound, so it looks like we're dealing with a murder case. The body is identified as Simon Walden (Luke Ireland), a man who served two years in prison for killing a child while drink driving, so he's an unlikeable character and there's a number of reasons why he might be vilified by the local community due to his behaviour and criminal background.
There's plenty of suspicious characters around, including church elder Dennis Stephenson (Martin Shaw). In addition to him, everyone in this close-knit community has a connection to the local Woolyard community centre including Lucy (Sarah Gordy), a young woman with Downs Syndrome who is seen deleting some of her text history, Caroline Reasley (Siobhán Cullen), the owner of a place where Simon formerly lodged, her father Christopher (Neil Morrissey), and his former housemate and artist Gaby Chadwell (Aoife Hinds).
All of these individuals knew Simon but of course, as it's episode one we're still no further forward to finding out who's behind it. There's been plenty of suspicious activity though such as a bank transfer from Simon for £200,000 the day before he disappeared. We find out he's also connected to the Barum Brethren after a Woolyard volunteer named Rosa took Simon to one of their meetings. The episode ends on a shocking note, as we see an as yet unknown girl making a distressed 999 call. It looks like she's an abduction victim, so hopefully we'll find out more in episode two...
What happens in episode two of 'The Long Call'?
DI Matthew Venn accidentally wakes up his husband Jonathan at 5:30am. Jonathan enquiries if there is any news surrounding the case, to which Matthew responds "None."
After the troubling abduction phone call from an unknown girl named Rosa from the Barum Brethren community, Matthew's mother, Dorothy and Rosa's mother Ruth turn up to Matthew's home with a discovery. They found a necklace hidden down the side of the sofa while they searched Rosa's belongings, saying "It doesn't belong to any of the family" and they believe it could be important.
We discover that the missing girl is 19-year-old Rosa Shapland, a volunteer at the Woodyard who has lived an extremely sheltered life and she had contact with Simon Walden in the weeks leading up to his death. They also exchanged text messages. The detectives believe that Simon's murder and Rosa's disappearance are linked.
The detectives investigate the other numbers who Simon had texted and find one from his colleague, another chef called William Strensham, who Matthew is familiar with. William revealed that he's in debt and that Simon offered to bail him out, but then couldn't give him the money as he needed it for something else.
When questioned if Simon had ever spoken about a girl named Rosa, William said he hadn't but had seen him talking to the girls at the day centre sometimes, branding his behaviour "weird."
Matthew and DC Jen Rafferty become suspicious of Lucy when they had no luck in finding information about Simon and Rosa's relationship after questioning her. Meanwhile, Ross makes a disturbing discovery and informs Matthew and Jen.
As they further investigate the murder and disappearance, a bible and laptop both belonging to Simon are discovered and they soon uncover that Gaby Chadwell, a fired cleaner, had an affair with Simon.
Matthew spoke to his estranged mum, who revealed that she had been following his career through the newspapers and opened up about her grief when Matthew left.
Meanwhile, Gaby and her housemate Caroline had a tense exchange after Caroline found out about Gaby's secret relationship with Simon.
Matthew gets a call saying that a woman on the bus thinks she saw Rosa in the woods and the team searches for her.
Luckily, they find her in the woods, alive, but with a laceration to her scalp. At the same time, Gaby announced that she was pregnant with Simon's baby to Dennis Stephenson.
Caroline had a revelation that she thinks her dad might have had something to do with Simon's death, due to finding an NDA agreement with Simon's name on his laptop.
The detectives unearth some suspicious messages on Simon's laptop and it ends on a truly chilling note as Matthew and Jen find sinister footage from the jewellery shop CCTV camera.
What happens in episode three?

WARNING SPOILERS!
Jonathan is stressed as he prepares a meal in preparation for Dorothy coming over. Meanwhile, after the previous episode's explosive findings, Matthew and Jen crack down on Caroline's dad, Christopher Reasley, as they found him on the CCTV footage purchasing the necklace Rosa had hidden in her bedroom.
The pair now believe that somebody was hurting Rosa and Simon could have found out, which is why he may have possibly been killed.
While Christopher is out on a run, Matthew and Jen ask him to come to the station for questioning. Christopher is reluctant but does as he's told. He explained that he had bought the necklace for his daughter, but gave it to Rosa because he felt sorry for her. He then went on to say that she was upset about something possibly caused by another student, and claimed that the argument he had with Simon before he died wasn't about Rosa. Christopher also denied knowing anything about the mysterious £200,000 bank transfer from Simon the day before he disappeared.
Lucy and Alfie act suspiciously back at the Woodyard after the announcement of Rosa's release from the hospital and Rosa struggles to remember the incident.
Matthew and Jen soon discover that the bank transfer was done by Gaby, who said she was "protecting it" as she didn't want him giving it away to the Woodyard, as he wanted to save it from going under due to a scandal. She also revealed that the night before he died, he went for a drink at the Newland Hotel to possibly meet someone.
Since Brethren women are trained to stay silent and listen, Matthew attempts to speak to Grace about Simon anyway, reassuring her that her husband Dennis wouldn't find out if she had said anything, but he doesn't have much luck.
Ross informs them that Lucy's sand-covered shoes found in Maurice's garage are a match to the footprint found at the murder scene on the beach, but when they question her, she just says, "It's not my secret to tell."
Despite Dennis urging her to not say anything, Rosa goes to the police and tells them a shocking truth. That she had been sexually assaulted by a man after volunteering at the Woodyard. Simon caught him in the act and saved her, but when they went to Christopher about it, he gave the necklace to Rosa in hopes to "shut her up."
Simon turned up to a meeting a few days later, telling Rosa that he could help her if she wanted to go to the police, as he had a secret recording on his phone of the man confiding in him about what had happened.
When Caroline confronted Christopher about the NDA, he said that Simon knew about an allegation made by Rosa, but Christopher believed that Rosa had "made something out of nothing," and thought it would be destructive not only to the Woodyard, but Caroline too.
The horrifying truth then comes out that it was in fact Caroline's boyfriend Ed Raveley who had assaulted Rosa and more harrowing secrets are soon spilled.
Ed is desperate and begs Caroline to help him, while Matthew exchanges harsh words with Dennis and the relationship between Dorothy and him soon begins to shatter once again.
When it turned out that Lucy had been supporting Rosa and Simon through what happened, it was finally revealed that the money was going to be used to save the Woodyard if it went under and that she was supposed to meet Simon at Crow Point to go to the police. But, when she arrived, he had been killed.
Matthew soon finds out that it wasn't just Rosa he was helping, but someone else too...
What happens in episode four?
WARNING SPOILERS!
With Ed in police custody, Grace goes to the doctor for some medication, but leaves, saying: "I shouldn't have wasted your time" after the doctor asks if her husband is supportive of her issues.
Matthew and Jen question Ed, but he denies any involvement with the murder. They then question Christopher about the sexual assault, who says that Dennis told him not to involve the police and he thought it was a "misunderstanding."
While Gaby opens up to Dennis, Grace listens in on their conversation and has flashbacks of Dennis' abuse and manipulation towards her and smashes a cup in anger.
Matthew and Jen begin to suspect Christopher and Ed for Simon's murder, but a phone call from a frightened and hesitant Grace helps lead to a key breakthrough.
Grace reveals to Matthew the extent of the abuse she faces from her husband, Dennis and that Simon was going to help her escape him by going to the police. This leads Matthew to believe that Dennis murdered Simon after finding out his intentions to go to the police. Even though Dennis was at Matthew's father's funeral on the morning of Simon's death.
After receiving a warrant to search Dennis' home, they find Simon's phone in his shed. But Dennis says that he found it at the church last week and Simon must have left it there. Dennis is then arrested for Simon's murder.
Meanwhile, Caroline finds out a heartbreaking truth about her mother's death.
Dennis is released as they don't have enough evidence to charge him and his alibi is confirmed on CCTV, leaving the police team frustrated.
A determined Matthew is desperate to find answers and goes to the one person who can help him- Dorothy.
Matthew turns up at the Stephenson's home searching for Grace, but he's assaulted and knocked unconscious by a furious Dennis.
Grace, exhausted and livid from the relentless abuse she's endured, finally cracks as she threatens to kill Dennis with the murder weapon he kept in the shed. But she's stopped by an injured Matthew, who then shockingly arrests her for Simon's murder.
The horrifying truth is soon uncovered, as Grace admits that she stabbed Simon after she slipped away from the funeral for an hour.
It was finally revealed that Dennis had manipulated her to kill him, making her believe that Simon was only helping her to get Dennis out of the church and take his place, which would put the whole church in danger. Therefore, the only way to resolve the problem was to kill Simon, which finally resulted in Dennis' arrest for soliciting the murder of Simon.
Is there a trailer?
Yep, one has landed...
Get the latest updates, reviews and unmissable series to watch and more!
Staff Writer at WhatToWatch.com
Martin is a Staff Writer with WhatToWatch.com, where he produces a variety of articles focused on the latest and greatest films and TV shows.
Some of his favorite shows are What We Do In The Shadows, Bridgerton, Gangs of London, The Witcher, Doctor Who, and Ghosts. When he's not watching TV or at the movies, Martin's probably still in front of a screen playing the latest video games, reading, or watching the NFL.
Thank you for signing up to Whattowatch. You will receive a verification email shortly.
There was a problem. Please refresh the page and try again.