EXCLUSIVE: The Gold star Emun Elliott teases season 2 details
The Gold exclusive — Emun Elliott teases the conclusion to the true-life crime drama and whether it could return for a second season.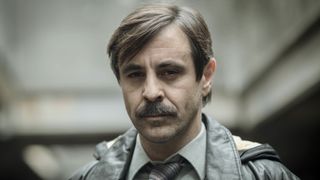 (Image credit: BBC)
The Gold is drawing to a close but in the season finale, will the cops finally bring everyone involved with the Brink's-Mat robbery to justice?
Dogged detectives Tony Brightwell (Emun Elliott), Nicki Jennings (Charlotte Spencer) and boss Brian Boyce (Hugh Bonneville) have money launderer Edwyn Cooper (Dominic Cooper) in custody, while the robbers' fence Kenneth Noye (Jack Lowden) and gold merchant John Palmer (Tom Cullen) are facing trial. But there's still plenty of bullion that also needs to be tracked down…
Here, Guilt star Emun Elliott exclusively tells What To Watch about the explosive finale to The Gold…
The Gold is concluding this week, what answers do the cops still need?
Emun Elliott: "As we get to the end of this cat and mouse chase, there's a lot to be uncovered. The police have to come up with results, and they'll do whatever it takes. But the gold's slipping through their fingers, every minute more is sold on, the clock's ticking. And they also come to a realisation…"
They try to get Cooper to spill the beans, but will he play ball?
Emun Elliott: "Cooper has the option of explaining what happened, but criminal enterprises would find a way of dealing with someone who's distributing that information, so he's stuck between a rock and a hard place. And Noye and Palmer are clever and try to slither through the net too…"
Have you enjoyed working with Charlotte and Hugh?
Emun Elliott: "It was a joy! Charlotte's fun and we were side by side in almost every scene and had instant chemistry. And Hugh's a gent. He's professional, relaxed and cheeky and takes lots of photographs!"
What was the most memorable part of filming?
Emun Elliott: "Getting to live in the 80s in this filthy era of smoke, bad coffee, terrible fashion and questionable facial hair! I smoked about five packs of herbal cigarettes every day and getting into that garb was hilarious!"
Could The Gold return for a second series?
Emun Elliott: "There's more to tell. The hope is that if viewers respond, then we'd tell the second half of the story. Or maybe we could investigate other crimes, that would be fun!"
Why do you think the case is still so intriguing 40 years on?
Emun Elliott: "It was the biggest gold heist in history and led to this spider's web of criminal enterprise. Sadly I didn't meet the real Tony Brightwell, as he's passed away, but I respect the risks the cops took because these were dangerous people they were trying to catch. And it's still partly unresolved, they never really found all the gold, and if you bought gold in the UK after 1983, there's probably Brink's-Mat bullion in it. It's this neverending story, it's outrageous."
What's next for you?
Emun Elliott: "I've just shot Paramount Plus' series Sexy Beast, which is a prequel to the Sexy Beast movie [the 2000 film starring Ray Winstone and Ben Kingsley as gangsters Gal and Don]. It's set in the early 90s and shows why Don, who I play, became a psychopath. Don's very different from Tony Brightwell!"
The finale to The Gold will air on Sunday, March 19 on BBC One at 9 pm and on Paramount Plus in the US later this year.
Get the What to Watch Newsletter
The latest updates, reviews and unmissable series to watch and more!
Caren has been a journalist specializing in TV for almost two decades and is a Senior Features Writer for TV Times, TV & Satellite Week and What's On TV magazines and she also writes for What to Watch.
Over the years, she has spent many a day in a muddy field or an on-set catering bus chatting to numerous stars on location including the likes of Olivia Colman, David Tennant, Suranne Jones, Jamie Dornan, Dame Judi Dench and Sir Derek Jacobi as well as Hollywood actors such as Glenn Close and Kiefer Sutherland.
Caren will happily sit down and watch any kind of telly (well, maybe not sci-fi!), but she particularly loves period dramas like Call the Midwife, Downton Abbey and The Crown and she's also a big fan of juicy crime thrillers from Line of Duty to Poirot.
In her spare time, Caren enjoys going to the cinema and theatre or curling up with a good book.