The Gold — release date, cast, plot, trailer, interviews and all about the true crime drama
The Gold on BBC One and Paramount Plus stars Jack Lowden, Hugh Bonneville, Dominic Cooper and Charlotte Spencer in a drama about the infamous 1983 Brink's Mat heist.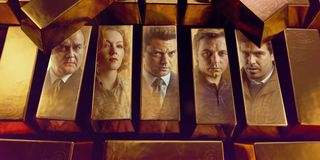 (Image credit: BBC)
The Gold, which is now heading to Paramount Plus in America in September, tells the real-life story of the gang who robbed the Brink's Mat security depot near London Heathrow and accidentally stumbled across gold bullion worth £26 million.
Starring Hugh Bonneville, Jack Lowden, Dominic Cooper, Emun Elliott, Charlotte Spencer and Tom Cullen, the six-part drama follows the events of November 26, 1983, when six armed men inadvertently carried out the biggest theft in history, plus shows the after-effects of this robbery that rippled on for decades.
The heist was a crime that had huge ramifications on London itself — including much of the Docklands developments in the 1980s — and left controversy and murder in its wake.
So here's all you need to know about The Gold...
The Gold release date
The Gold will be released in the US on Paramount Plus on Sunday, September 17. It will open with two episodes and then new episodes will be available weekly on Sundays.
The Gold was released in the UK on BBC One on Sunday, February 12, 2023, at 9 pm. UK viewers can still watch The Gold via iPlayer.
Is there a trailer for The Gold?
Yes, here's a trailer that shows how the famous robbery plays out on screen. Take a look below...
The Gold plot
The Gold is based on extensive research and interviews with some of those involved, The Gold tells the story of the infamous Brink's-Mat robbery. On November 26 1983, six armed robbers set off to carry out what was meant to be "a typical Old Kent Road armed robbery".
However, when they broke into the Brink's-Mat security depot near Heathrow airport they found gold bullion worth £26m. The robbers gained access to the warehouse, thanks to a security guard who was in on the crime, then poured petrol on the staff inside and threatened them with a lit match if they didn't reveal the combination numbers of the vault.
The theft became a seminal event in British criminal history and its legacy spread far and wide. The disposal of the gold bullion led to the birth of large-scale international money laundering and the illegal gains fuelled the London Dockland's property boom. It united blue and white-collar criminals and sparked a chain of events that led to murder.
Check out who plays who in the drama below...
The Gold cast
There's an all-star cast for The Gold, with four great leads...
Jack Lowden plays Kenneth Noye
Jack plays south London/Kent criminal Kenneth Noye who was involved in helping the robbers with the disposal of the gold bullion.
* Jack Lowden is currently is starring in Apple TV+ series Slow Horses and recently starred in BBC1's Small Axe. He played wrestler Zak Knight in the 2019 movie Fighting With My Family (see picture below) and appeared in BBC1's adaptation of War & Peace alongside Kit Connor. He's also starred in Wolf Hall, The Tunnel, Mrs Biggs and Dunkirk.
Hugh Bonneville as Brian Boyce
Hugh plays Brian Boyce the top Met detective who heads up the investigation by speical request of his superiors.
* Hugh Bonneville is a huge star of both TV and movies. He's been in hit movies such as Notting Hill, the Paddington films, Iris and To Olivia and is much loved for his role as aristocratic Robert Crawley in Downton Abbey, which is now a successful film franchise. Hugh has also starred in BBC comedies W1A and Rev plus Sandylands. in 2022 he starred in the Netflix horror movie I Came By.
Dominic Cooper stars as Edwyn Cooper
Mamma Mia! star Dominic plays dodgy solicitor/businessman also caught up in schemes to hide and invest the money raised by the stolen bullion.
* Dominic made his name in the stage and movie version of The History Boys. He also plays Howard Stark in Captain America: The First Avenger. He's also starred in Sense & Sensibility, My Week With Marilyn and The Devil's Double. He starred as James Bond author Ian Fleming in the Sky series Fleming and has starred in the superhero show Agent Carter.
Charlotte Spencer as Nicki Jennings
Charlotte plays eager young detective Nicki Jennings who helps on the investigating team.
* Charlotte, aka Charlie Spencer, is best known for her role as Esther in the ITV/BritBox series Sanditon. She also starred in Baghdad Central, The Duke, Line of Duty and the 2021 film Cinderella. She voiced the character of Nettle in BBC1's Watership Down and played Karen in the BBC1 miniseries Us.
Who else is starring in The Gold?
Among the other cast of The Gold are Black Mirror star Tom Cullen who plays criminal John Palmer while Emun Elliott (The Rig) stars as Met detective Tony Brightwell. Sean Harris (Mission: Impossible) is Gordon Parry, a criminal associate of Kenny Noye. Former Doctor Who Peter Davison is Assistant Commander Gordon Stewart of the Met Police and Josef Altin is Brink's Mat security guard Robert Wright and Adam Nagaitis (Red Rose, Chernobyl) is Brink's Mat robber Micky McAvoy. Ruth Bradley (Ted Lasso, Guilt) is Isabel Cooper (wife of Edwyn Cooper). Nichola Burley (Behind Her Eyes) plays Kenny's Noyes wife Brenda Noye.
Daniel Ings (I Hate Suzie, Lovesick) also joins the cast alongside James Nelson-Joyce, Ellora Torchia (Grantchester) and Stefanie Martini (Prime Suspect), Sophia La Porta (Four Weddings And A Funeral, Ripper Street), Dorothy Atkinson (Call The Midwife, Stonehouse), Adam Nagaitis (Red Rose, Chernobyl), Hadley Fraser (Gentleman Jack, Endeavour), Silas Carson (Doctor Who, Strike), Sean Gilder (Sherwood, His Dark Materials), Amanda Drew (A Very British Scandal, Wednesday), Sam Spruell (Small Axe: Mangrove, The North Water), Frankie Wilson (Call The Midwife, House of the Dragon), Paul Thornley (Treadstone, Silent Witness), Dan Li (Vigil, The Girl Before), Chris Coghill (Slow Horses, The Bay) and Micah Balfour (The Trial of Christine Keeler, White House Farm).
Interview: Hugh Bonneville on playing Brian Boyce in The Gold
You were at university at the time of the Brink's-Mat robbery, what are your memories of it?
Hugh Bonnevile says: "I remember thinking, 'What is going to happen next to this £26 million? What cunning thieves have put this together?' And, actually, it wasn't cunning planning, it was a lot of happenstance, but what happens next is the theme of the story."
Brian Boyce is keen to keep his team separate from other police departments, isn't he?
Hugh says: "Yes, being away from any normal police environment is important to Boyce in the investigation. They set up camp in a different place so that they can be on their own and, for Boyce, woe betide anybody who leaks information, or brings stuff in that they shouldn't. It's a very tight unit."
How does he approach the case?
Hugh says: "He's a man of principle and without him at the helm, the investigation might have gone in a different direction. He'd been brought in as a safe pair of hands because, at the time, there was talk of the police overlapping with the underworld. But he was determined to solve this crime through dogged police work."
You got to meet the real Brian Boyce, who is now retired. What was that like?
Hugh says: "A privilege. Neil Forsyth [who wrote The Gold] and I had a really informative lunch and spent a fascinating couple of hours with him. Trying to get him to talk about his approach to policing, but also specifically about Brink's-Mat was a real insight. And it's all there in the script with Boyce's distrust and suspicion, and his discipline."
Did you get a sense of what made him tick?
Hugh says: "His father, who worked in a market, dictated a sense of right and wrong in him and that's Boyce through and through. In later life, Boyce was involved in the Stephen Lawrence inquiry, and he investigated his own people because he wanted the police to be straight. Also, when he briefly took over the Flying Squad, there was this image of [ITV1's 1970s cop drama] The Sweeney with everyone hanging out in pubs and smoking. But he said, 'Right, we're going for runs every lunchtime!'"
The series has a lot of tense scenes, including car chases. Were these exciting to film?
Hugh says: "One thing about setting it in that period and doing car chases, is that the cars are 40 years old, and trying to drive them at great speeds through South London led to a lot of burnt clutches! There were moments when we just had to stand there wafting things and hoping it would calm down, but it was great."
Did you enjoy going back to the 1980s?
Hugh says: "Oh, it was great fun actually dialling a phone, youngsters don't know about that! And in one scene, we see a lock-up [garage], which is so atmospheric with the paint beginning to peel. That's what I loved, because the drama does have this element of the shiny 1980s, but you don't have to scratch far to find that it's crumbling…"
Interview: Jack Lowden on playing Kenneth Noye
What appealed to you about The Gold?
Jack Lowden says: "Greed is universal and classless. Also, I loved that the script is set around this famous robbery that tends to be glamorised, but it makes important social points. It's a spider's web where it goes. You care for all of them at some point."
How did you prepare to play Kenneth Noye?
Jack says: "I had an accent coach. I was born in Essex, which is hard to tell [Jack was raised in Scotland]! And I grew up obsessed with [BBC1 sitcom] Only Fools and Horses, so, basically, I'm trying to play a taller, blond-haired Del Boy! I also put on weight because I thought Noye needed more beef, so I worked with a personal trainer. It's lovely to hold yourself in a different way."
And how did you find the 1980s fashions?
Jack says: "The clothes were a joy to wear; they are ridiculous because of all the peacocking. I was constantly changing and wearing different gold watches and rings. It was great fun and made you think, 'Why don't I wear this now?!'"
Interview: Charlotte Spencer on playing Nicki Jennings
Charlotte Spencer delivered a stand-out performance as brittle but vulnerable aristocrat Esther Babington in ITV1's period drama Sanditon. Now, the rising star is tackling another compelling and very different role as down-to-earth South London detective Nicki Jennings in The Gold. Here she reveals more about her character and part in the story...
It's 40 years since the Brink's-Mat robbery, why do you think it still captures the imagination?
Charlotte Spencer says: "It doesn't happen anymore. If anyone steals money now, it's all done over the internet. In a way, like them or hate them, you've got to have a lot of gall to go and physically rob a bank. They were the last bank robbers. And it's like a western.
Nicki is a fictional character but she is inspired by several female detectives from the time isn't she?
Charlotte says: "Yes, she was based on three women who were involved in this and who have been merged into one. What I love is that it isn't about the fact that she's a woman in the police force. I think women back then just got on with it and I really admire them for that. You saw [in episode one] when Nicki picks up the phone and someone says, 'Can I speak to a detective, love?' and she's like, 'You're speaking to one!' It just rolls off her.
As Nicki tries to locate the gold and the robbers, we see that her own past growing up in South London still troubles her…
Charlotte says: "Yes, what she is worried about – and this is why it is so well-written – is her background and where she comes from and the fact that her dad is a criminal. But at one point she says, 'I don't think we should only nick people that speak like me.' My accent in this is from my Cockney mum who comes from Essex, you can thank her for that!"
What did you enjoy about shooting the scenes where the cops are all working as a team to find the thieves?
Charlotte says: "You'll see as the series goes on that I got to work with such amazing men in this. Nicki is really the only woman in the squad, but the guys that were around me, they were just the nicest people. It was so easy to feel like part of the team because at all points I felt equal to all these men, it was just wonderful. I can't thank them enough. We just had such a great time."
The banter between Nicki and Tony in particular adds some much-needed lightness to the drama doesn't it?
Charlotte says: "Oh, Emun is probably the nicest person ever to work with. He put up with me! We got on so well that we would joke around in between and actually there are things that they kept in with us just messing about. There's a bit where Boyce gives us our orders and then we go [she raises her eyebrows and pulls a face] and it was genuinely us doing that as a joke behind Hugh's back!"
And what was it like filming on the investigation room set, which seems so evocative of the 1980s?!
Charlotte says: "I loved the phones, I just kept picking them up! I was obsessed with them because they had wires and I was twisting myself up like a child does when they are playing pretend. Even when I was not being filmed, I would find myself picking up the phone as if I was on it. It was amazing!"
Interview: Dominic Cooper on playing Edwyn Cooper
What can you tell us about your character, Edwyn Cooper?
Dominic Cooper says: "Edwyn is a successful solicitor with a successful solicitor's firm. He's rather polished, wealthy and happily married – seemingly he has the perfect life. But this slowly deteriorates and starts to crumble from the moment that he accepts working with and for criminals with the prospect of making a huge sum of money. His predicament is a result of his own greed. He is tempted by the devil and as a result of that you watch him become feeble. Having been so strong, righteous and correct, what we discover is that that's all false. I don't feel sorry for him, I think he's a fool, but I'm enjoying portraying someone who is given a choice and made a decision. Unlike the other characters, Edwyn is in a lot of different positions – he doesn't have one focal point so he tries to different techniques to get out of the situation he's in. He's really checkmated and I love that it's all a lie, yet he's got a façade of an absolute cool, held together, clever, witty, extravagant man. It's fun peeling away those layers. What I have to do is make sure that the temperature each time we see him is in the right place for where he's mental stability is. But I am relieved not to be him."
How is involved in Brink's Mat and how he actually helps to pull in the money?
Dominic says:"As well as being a successful solicitor, Edwyn has developed a bit of a side hustle, through a close link with the Masons, of helping the police force get slightly corrupt officers off once they have done something wrong. He's created this whole wonderful set of flourishing monologues, Shakespearian moments, that he does to confuse the not-so-bright constable. It's clearly been part of how he's made quite a bit of money and he's good at it. But this means he's got connections to the underworld and he knows a lot of criminals, and those criminals dangle the carrot of something very lucrative in front of him; the robbery and the gold. Edwyn has links to the property world and, at the time, vast swathes of London were undeveloped. So he essentially buys and sells massive bits of land to move the money very quickly and to clean up the money. It's a lot of money that they're needing to get rid of and property was a good idea."
What is Edwyn's relationship like with Sienna (Ellora Torchia)?
Dominic explains: "Sienna comes along at a time when Edwyn's marriage is becoming a bit difficult, so he just jumps ship. I think that's completely pathetic of him. So when very attractive young lady is selling him property he just thinks "oh here we go". But, what's beautiful about it is you actually do see him happy. Like really happy and actually a glimpse of what he would probably would have really wished his life to have been. He stupidly and naively thinks that maybe that can happen and he can escape to France with this lovely, young woman but it's all a lie. He hasn't told her anything so it ends and falls to pieces. It's a shame as there is a glimpse of something wonderful between them, but again the whole thing is a façade."
Can you explain more about your costume?
Dominic says: "I love the costumes I have, so much credit to Grace because she has such a mammoth task on this, especially as we cover so many years. I am very suited in this and my suits represent me, again emanating something that I'm not. So I have really gone for sort of classic, wonderful 80s suits, some double-breasted. I think most of the costume budget went on my suits which I feel terrible for but they are so, so stunning. But I am very envious of the costumes that I see hanging up in the trailer. But I am sure the other actors have spoken about them. They are absolutely fantastic."
Get the What to Watch Newsletter
The latest updates, reviews and unmissable series to watch and more!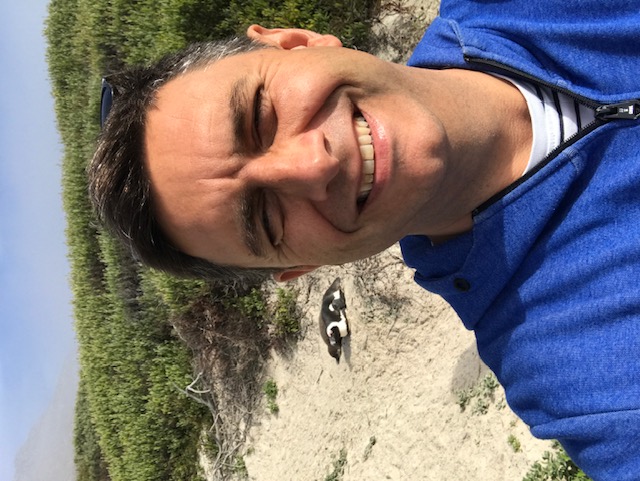 TV Content Director on TV Times, What's On TV and TV & Satellite Week
I'm a huge fan of television so I really have found the perfect job, as I've been writing about TV shows, films and interviewing major television, film and sports stars for over 25 years. I'm currently TV Content Director on What's On TV, TV Times, TV and Satellite Week magazines plus Whattowatch.com. I previously worked on Woman and Woman's Own in the 1990s. Outside of work I swim every morning, support Charlton Athletic football club and get nostalgic about TV shows Cagney & Lacey, I Claudius, Dallas and Tenko. I'm totally on top of everything good coming up too.