Wednesday on Netflix — all you need to know about the Addams Family spin-off
Wednesday Addams gets her own Netflix series starring Jenna Ortega, Catherine Zeta-Jones, Luis Guzmán and Christina Ricci.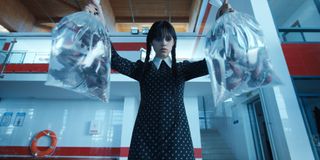 (Image credit: Netflix)
Wednesday on Netflix has arrived! She's creepy and she's kooky, mysterious and spooky and now Wednesday Addams has got her own show.

Wednesday is directed by Tim Burton and stars YOU actress Jenna Ortega in the title role, while Catherine Zeta-Jones and Luis Guzmán play Wednesday's famous parents, Gomez and Morticia Addams. Other famous actors include The Sandman's Gwendoline Christie and even the film version's star Christina Ricci (see below for their brand new characters to the franchise). The eight-part comedy-drama series will show the iconic character from The Addams Family in a whole new light.
So here's everything you need to know about Wednesday on Netflix…
Wednesday on Netflix release date
Wednesday will arrive on Netflix on Wednesday, November 23, with all eight episodes launching worldwide.
It's been a huge hit for the streaming service, holding the record for most hours viewed in a week for an English-language series on Netflix, with 341.2 million hours, even beating Stranger Things!
With numbers like that, will we be seeing a Wednesday season 2?
Is there a trailer for Wednesday on Netflix?
Yes Netflix has released full-length trailers for Wednesday. The first shows Wednesday starting off at the Nancy Reagan High School (complete with the late former First Lady's statue) where she's called a freak by the water polo team, but she soon unleashes a piranha attack in the pool! S
he gets expelled and her parents Morticia and Gomez take her off to the Nevermore Academy. Do take a look at all trailers below...
Another Wednesday trailer is set to an orchestral rendition of Paint It Black by the Rolling Stones as Wednesday Addams enrols in her new school and meets her roommate there, plus it shows the cameo character of Marilyn Thornhill, aka Miss Thornhill, played by Christina Ricci, who was of course Wednesday in the 1990s films.
Here are some of our favorite moments from the Wednesday trailer.
The first look at Jenna Ortega as Wednesday Addams was in the official teaser trailer. Not only do we see the infamous Addams kid, but also the family's trusty companion Thing — a live severed hand. Give this teaser a watch below...
This is in addition to another previous teaser that saw Thing warn everyone of a grave danger coming.
Enjoy this marketing ploy. pic.twitter.com/RBgB7TrV6KJune 1, 2022
Wednesday on Netflix plot
Wednesday on Netflix delves into the titular figure's days as a student at the Nevermore Academy in the small town of Jericho where she has both friends and enemies! She has to navigate new, and very tangled, relationships, master her emerging psychic ability and thwart a monstrous killing spree that's terrorized the local school. And if that weren't enough to contend with, Wednesday must also solve the supernatural mystery that embroiled her parents 25 years ago.
Who's who — our guide to the main cast of Wednesday
Wednesday Addams
(Jenna Ortega)
Wickedly cynical and allergic to colour, Wednesday attempts to master her psychic visions at Nevermore Academy but is side-tracked by a terrifying threat.
Morticia Addams
(Catherine Zeta-Jones)
A former high-achieving student of Nevermore, she hopes her daughter will follow in her fabulous footsteps. But is Morticia hiding a long-buried secret?
Gomez Addams
(Luis Guzmán)
Wildly passionate about his one true love, Morticia, he'll stop at nothing to protect his family. But what is his connection to Nevermore's murky past?
Pugsley Addams
(Isaac Ordonez)
Wednesday's brother is obsessed with violence but has a big heart and idolises his sister. How will he cope with his partner in crime at boarding school?
Principal Larissa Weems
(Gwendoline Christie)
The charismatic headteacher also happens to be Morticia's old roommate at Nevermore. Why does she have her beady eye on Wednesday?
Miss Marilyn Thornhill
(Christina Ricci)
An expert in botany and Wednesday's 'dorm mom', Miss Thornhill is Nevermore's first and only teacher without any supernatural powers.
Sheriff Donovan Galpin
(Jamie McShane)
Jericho's long-serving cop holds a grudge against Gomez Addams, which swiftly puts Wednesday on his radar when she transfers to Nevermore.
Wednesday on Netflix cast — Jenna Ortega on playing Wednesday Addams
Take a look at Jenna Ortega as iconic teen Wednesday Addams with the rest of her Addams Family, including Catherine Zeta-Jones and Luis Guzmán above.
Jenna says she's is excited to take the lead role: "Wednesday is currently a teenager, and we've never seen her as a teenager before. Her snarky, snide remarks might not necessarily sound as charming when they're coming from somebody who should probably know better than a 10-year-old girl. That was a balancing act. We didn't want to make her sound like every other teenage girl, but we also didn't want to make her too ignorant. And we've never seen her on screen this much. Any other time you've seen Wednesday, she's been the one-liner, the end of a joke, she always hits it, and I think that's what people really love about her. But in this show, every scene is Wednesday. There's an opportunity to give her a bit more dimension, and she becomes a bit more of a real person, which I don't think we've ever seen before.
"I watched the movies when I was nine years old, but didn't watch the 1960s TV show until later. I've been compared to Wednesday my entire life. I think it's because I tend to be very dry and monotone. But I was so nervous about playing her because I just wanted to do her justice. She's also a Latina character and that's never been represented, so I had an opportunity to give other girls that look like me some relatability."
Jenna reveals what was it like having Catherine Zeta-Jones play her mother, Morticia? "With a resumé and a talent like hers, I was a bit nervous. But she was so cool and normal. Wednesday's relationship with Morticia is one that a lot of girls and mothers will be able to relate to. She doesn't want to be compared to her mother and wants to be her own person. She's especially rebellious towards her parents."
Much-loved character Thing has a key part in this series so it must have been fun filming with a severed hand. Jenna says: "It was like working with any other actor, but when Victor Dorobantu, who plays Thing, wasn't on set, we had a suitcase full of severed hands that would stand in. We'd be like, 'Today, we want the flimsy one, or the stoic one.' But, honestly, Thing is Wednesday's best friend and she'd do anything for him. He's the unsung hero of the show!
Jenna is best known for her role as Ellie Alves in the second series of Netflix psychological thriller YOU. Ellie was a tech-savvy teen in the series, which starred Penn Badgley as an obsessive serial killer and bookstore clerk Joe Goldberg.
Jenna had played a young Jane in the cult show Jane The Virgin and took a leading role in the 2015 series Richie Rich, starring as Richie's gold-digging best friend Darcy. She went on to play Harley Diaz in Stuck In The Middle and was in the horror movie The Babysitter: Killer Queen as well as Yes Day. She's also voiced Brooklyn in the animation Jurassic World: Camp Cretaceous and won critical acclaim for her performance in high school drama The Fallout.
Wednesday on Netflix cast — Luis Guzmán and Catherine Zeta-Jones on playing Morticia and Gomez
Luis Guzmán is playing Wednesday's father Gomez Addams. Luis is best known for his appearances in the movies Traffic, Code Black, Boogie Nights, Magnolia and How to Make It in America.
Catherine Zeta-Jones plays Wednesday's mother Morticia Addams. Catherine is married to Hollywood star Michael Douglas and became famous for the British series The Darling Buds of May before going on to make a name in Hollywood for movies such as The Mask of Zorro, Entrapment and Chicago, for which she won an Academy Award in 2002.
Here's what Catherine and Luis have revealed about starring in Wednesday...
How did you approach playing these legendary characters?
Catherine says: "Morticia is such an iconic female figure, but I put my own twist on her. I didn't want to play her as a Halloween-costumed caricature; I wanted to find the root of her, in that she's a mother-of-two and extremely in love with her husband."
Luis says: "I've grown up watching Gomez and he was always a fun, endearing man, with so much love for his wife and kids. I wanted to honour that, but put my stamp on it. To me, Gomez is about love and passion, and that was relatively easy to do.
Are Morticia and Gomez still madly in love?
Catherine says: "They share true and unadulterated love, which leads to way too many public displays of affection and embarrassment for family members! They've been together since they were teenagers, so this shows their real history of love.
Luis reveals: It's definitely a pure kind of love. They have a language, which is passionate and full of admiration for each other. Gomez loves Morticia more than anything in this world."
How did you feel when you stepped into your costumes for the first time?Catherine says: "We didn't want to put Morticia in trousers just to contemporise her; we wanted to do the iconic look. So when I first put on the dress, hair and makeup, I was just so in it that I could have been Morticia at a petrol station!
Luis says: "Once all the pieces came together – the incredible suit, the teeth, the wig, the moustache – it just came so naturally. It was like I went through my own personal rebirth as Gomez."
What will Addams Family fans think?
Catherine says:-"They're going to love this series because it's brought the story into the 21st century and the family is dealing with issues that are relevant today. I also can't imagine how excited fans are to have a director like Tim Burton bring them the next edition of Addams Family adventures.
Luis reveals: "Times are different now, and the characters are different. We bring a whole new layer, plus it's Tim Burton. Fans are going to love our family!"
Do take a look at Luis and Catherine as Morticia and Gomez below...
Wednesday on Netflix cast — who else is starring
Other Wednesday stars include Gwendoline Christie (Brienne of Tarth in Game Of Thrones) playing Larissa Weems, principal of the supernatural school Nevermore Academy, who holds a long-time grudge against her former classmate Morticia Addams (Catherine Zeta-Jones, see above).
Issac Ordonez can be seen as Wednesday's brother Pugsley Addams, while Victor Dorobantu is the famously hairy and bespectacled Thing and George Burcea plays the family's overly tall servant Lurch.
Thora Birch (The Walking Dead) was playing Tamara Novak but left the show due to personal reasons. Tamara is a staff member at Nevermore Academy with a focus on botanical classes who's also Wednesday's "dorm mother."
Christina Ricci, who played Wednesday Addams in the film franchise, has been signed up to play Marylin Thornhill, while Uncle Fester is played by Fred Armisen.
Mank star Jamie McShane is playing Sheriff Donovan Galpin, who's always had an issue with Nevermore Academy plus a long-held vendetta against former student there Gomez Addams. Hunter Doohan of Your Honor fame plays the Sheriff's son Tyler Galpin, a local who becomes good friends with Wednesday Addams. Tyler has a troubled relationship with his father.
The local therapist in Jericho is Dr. Valerie Kinbott, played by Riki Lindhome (Knives Out). She takes a particular interest in her newest patient Wednesday Addams.
As for the students at Nevermore Academy, Joy Sunday (Dear White People) plays popular student Bianca Barclay, who comes from a long line of Sirens with a mesmerizing power to persuade. Percy Hynes White (The Gifted) is charismatic and supernaturally artistic student Xavier Thorpe, who comes from a wealthy family thanks to his celebrity psychic father. Georgie Farmer (Treadstone) is Ajax Petropolis, a shy and awkward Nevermore Academy student who's also a Gorgon. He's very anxious about looking anyone in the eye.
Moosa Mostafa from Nativity Rocks! plays quirky student Eugene Ottinger who is president of the school's bee-keeping club. Emma Myers (Girl in the Basement) stars as Enid Sinclair, Wednesday's Californian roommate at Nevermore Academy who hails from a pack of San Francisco Werewolves. Naomi J. Ogawa (Skylin3s) is playing vampire Yoko Tanaka, one of the cool kids at Nevermore Academy. Hunter Doohan as Tyler Galpin.
Also look out for Tommie Earl Jenkins (Mayor Walker), Iman Marson (Lucas Walker), William Houston (Joseph Crackstone), Luyanda Unati Lewis-Nyawo (Deputy Santiago), Oliver Watson (Kent), Calum Ross (Rowan) and Johnna Dias Watson (Divina).
Where Wednesday on Netflix is set
Netflix has announced that in Wednesday the Nevermore Academy — a very unique boarding school — will be set in deepest New England.
Wednesday on Netflix — director Tim Burton
Although director Tim Burton is a household name when it comes to movies, this is his first directorial foray into television. However, he's more than used to dealing with dark material having directed Batman (1989) Edward Scissorhands (1990), Corpse Bride (2005) and Alice Through the Looking Glass in 2016. He's also behind Sleepy Hollow and Charlie and The Chocolate Factory with Johnny Depp, Beetlejuice and Miss Peregrine's Home for Peculiar Children.
More about The Addams Family show and other TV adaptations
Starting life as a cartoon strip, drawn by illustrator Charles Addams, the family was first brought to life on screen in a regular sitcom The Addams Family that ran from 1964 until 1966. This starred Lisa Loring as Wednesday alongside Carolyn Jones, John Astin and Jackie Coogan.
Following on from the 1960s show, two animated series featuring the quirky family aired in 1973 and 1992. The live-action series The New Addams Family ran from 1998 to 2001, starring Glenn Taranto and Ellie Harvie. 2019 saw another animation The Addams Family, with Charlize Theron and Snoop Dogg lending their voices. There was also a Broadway and West End musical of the show in 2010.
More about Netflix's Wednesday