'The North Water' — release date, cast, first look pictures, trailer and all about the new Arctic thriller
Our guide to Arctic seafaring thriller The North Water on BBC2 and AMC+, starring Jack O'Connell, Colin Farrell and Stephen Graham.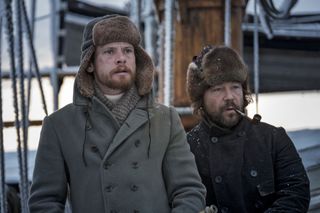 (Image credit: BBC/See-Saw Films)
Based on a bestselling novel, The North Water arrived on AMC+ in the US back in July and now can be seen by British viewers on BBC2 from September 10. It has all the ingredients of a cinematic epic, plus there's a top cast that includes Jack O'Connell, Stephen Graham, Colin Farrell and Peter Mullan. All are high-calibre actors who choose great projects, so it's fair to say The North Water has really got us buzzing with anticipation.
Ian McGuire's dark, twisted novel (opens in new tab) takes us into the bloody world of whale harpooning...this of course was long before the days of Greenpeace! The fiver-parter is set aboard a whaling ship, the Volunteer, working the Arctic waters in the late 1850s. Soon however it becomes a story of rivalry, murder and a huge battle against nature.
Here's everything you need to know about The North Water, and do have a look at its great selection of first look pictures too…
The North Water release date
The North Water is a five-part series that begins in the UK on BBC2 on Friday September 10 at 9.30pm with episodes then shown weekly on BBC2. Directly after the first BBC2 episode, all five episodes will become available on the streaming service BBCiPlayer so you can binge watch everything. The drama has already been shown in the US, having arrived on AMC+ on July 15 2021.
Is there a trailer for The North Water?
The BBC hasn't yet released a trailer for The North Water, as the drama won't be shown until this autumn on BBC2 and BBC iPlayer. But, as the series premieres on AMC+ in the US first, we can now watch the American-released trailer here:
What is the plot of The North Water?
The North Water follows Patrick Sumner, a disgraced ex-army surgeon whose reputation is in tatters after an incident in India. In 1859 he signs up to be ship's doctor on the Volunteer on its whaling expedition to the Arctic. On board, he has to pit his wits against both the harsh elements and the violence of the crew.
Then deep into the journey, the body of a murdered cabin boy is discovered, and Patrick is forced to act. But he needs to watch out for Henry Drax, a harpooner and brutal man. Soon Patrick becomes aware of the true nature of the expedition and a confrontation between the two men erupts. In the middle of the Arctic, there's nowhere to hide...
The North Water cast — Jack O'Connell on playing Patrick Sumner and Arctic filming challenges
In The North Water, Jack O'Connell plays Patrick Sumner, an ex army surgeon who was injured in the siege of Delhi. He signs up as ship's doctor on the Volunteer, a whaling boat heading for Greenland and on which violence is the norm. Jack made his name in hedonistic teen drama Skins, then did TV series such as The Runaway. He's also starred in hit movies such as Unbroken, Starred Up, '71 and Eden Lake. He's also among an all-star cast an upcoming BBC1 drama SAS: Rogue Heroes.
"It was a very harsh environment indeed, but it had to be," Jack recently revealed. "I don't think any of the characters we're playing have an easy time of it.
"So, for me it was an absolute pleasure to have that factor of the character already taken care of. Just being able to react to what we're dealing with.
"The funny thing was, in order to fake it there might be a tendency to overcompensate when, really, when you're out there it's not always freezing because you're busy and you're layered up, you're dressed for it. You're staying active so you're not always freezing to death because it doesn't work like that—it does if you've got nothing to do and your ship is stowed, and your rations are running out, and in our case in the story the ship had sunk.
"But it helped focus those moments to only when it was completely necessary and not just have a bunch of actors really try to demonstrate how cold the Arctic is for five hours."
"We knew it was going to be dangerous. There's no way of completely eradicating danger. We had no signal, no internet. Everyone subscribed to it because of the personal challenges. We took an old-school sailing ship which had an engine but could also double as our mid-19th century whaling vessel, so we were very lucky to be able to do that, because we were pretty exposed to all the elements of that environment. When we got on board our set, which was this old-school ship, the Activ, which we called the Volunteer, that was great, just to get on it and get an idea of what it was like to live on there. Colin sailed on her overnight, so we were all picking his brains to figure that out. We were all up for it."
The North Water cast — Colin Farrell on playing killer harpoonist Henry Drax
Colin Farrell is playing the savage harpooner Henry Drax, who barbaric behaviour is no better at sea than it was on land.
"Drax has no redeeming qualities whatsoever," says Colin. 'He's does have human traits, but he's more like an animal."
The North Water is the first production other than documentaries to be filmed in the Arctic region which Colin reveals was quite tough for the actors. "We were about 500 miles from the North Pole', he says. "We spent five weeks on boats without being on dry land and we were dressed neck to ankle in layers because it was so cold. It was such an honour to be in a place that very few people see. It was incredible and life-changing. I don't think I came back the same person."
Colin's career went on an upward trajectory since he started out in Ballykissangel back in 1998-1999 which led to roles in hit films such as Minority Report and Phone Booth. Since then he's been in numerous Hollywood movies, including Horrible Bosses, In Bruges, Saving Mr Banks and the hit TV series True Detective.
The North Water cast — Stephen Graham on playing Captain Brownlee
Stephen Graham plays Captain Brownlee, who lost his last ship and crew.
"He's a man of integrity," says Stephen "He's a whaler by trade, it's in his blood. The character we created was that his dad was a whaler so he was always going to be a whaler. He always wanted to captain a ship and he did, and his first ship set sail and sank, so after not doing it for a while he comes back to captain The Voyager.
"I thought that the script was fantastic, the character was great. Colin's fantastic, he's a wonderful actor. I've always admired and looked up to him. And Jack O'Connell, who I've known from when he first started on This is England. I've watched his career flourish, he's a marvellous actor."
Back in 1999 Stephen played Lee Sankey in Coronation Street and has gone on to become a hugely prolific actor. He's appeared in the This Is England series and played Detective Superintendent Dave Kelly in the ITV series Little Boy Blue. He starred in the 2019 series The Virtues, White House Farm, and Save Me. In Line of Duty he played doomed undercover cop John Corbett. This year he's been in BBC1 prison drama Time, alongside Sean Bean.
The North Water cast — Sir Tom Courtney as Baxter
Also starring in The North Water is Sir Tom Courtenay as Baxter, who is a Hull Ship Owner.
"It's kind of fun to play something that is the complete opposite of me," laughs Sir Tom. Somebody very sure of himself, who has money and I suppose enjoys the power that it brings. Despite being somebody who is not at all like myself, I did find it helpful to use the Hull accent, because I was brought up near the fish dock there. Now the fishing industry in Hull is deceased, and of course they weren't fishing for whales then, they were fishing for Garden Haddock. I think the Hull accent does help me with that feeling of getting into the character of Baxter."
The North Water cast — who else is starring
In The North Water you should also look out for Peter Mullan as the Priest, plus Sam Spruell and Roland Møller as crewmen Cavendish and Otto.
Peter Mullan says: "Well, the audience is introduced to my character, who lives in this cabin with Anna, but not in the romantic sense as he is a priest after all, she instead looks after him. He lives here and he works to define Sumner, played by Jack O'Connell. Jack's a sweetheart. We have a really nice time. We have a good laugh. And then, when we turn over we do all of that serious stuff."
Sam Spruell says: "I play Michael Cavendish who is the first mate of the ship. He, like a lot of the guys in the series is an alpha male, but actually Andrew and the story of The North Water seem to be more interested in things about these men that aren't alpha - the more emotional side of these characters or the more obvious psychological flaws in their armour, so to speak. I love my character actually. I think Cavendish is funny and optimistic, but he's also cruel and self-centred. One thing about him that seems very clear is that he really wants the character Henry Drax to be his best friend."
The North Water locations and settings
The action in The North Water starts in Hull where the whaling industry is under threat, as paraffin and coal oil are replacing whale oil. The ship then sails to the Arctic, which is where most of the filming took place. The crew shot on the frozen seas north of the Svalbard Archipelago and sailed as far as 81 degrees north to film sequences in the pack ice. This is the furthest point north it is believed a drama series has ever filmed before. The North Water is made by See-Saw Films for the BBC and is adapted and directed by Andrew Haigh.
The North Water novel
Ian McGuire's book, about a doomed whaling voyage, was released in 2016 and was long-listed for the Booker Prize. It told the story of how brutal violence broke out between two desperate men against the backdrop of the death of Hull's whaling industry. The novel was also featured in the New York Times' 10 best books of 2016 list. English author Ian McGuire is also a lecturer in American literature and creative writing and wrote Incredible Bodies (opens in new tab)in 2006 and The Abstainer (opens in new tab) in 2020.
Get the What to Watch Newsletter
The latest updates, reviews and unmissable series to watch and more!
TV Content Director on TV Times, What's On TV and TV & Satellite Week
I'm a huge fan of television so I really have found the perfect job, as I've been writing about TV shows, films and interviewing major television, film and sports stars for over 25 years. I'm currently TV Content Director on What's On TV, TV Times, TV and Satellite Week magazines plus Whattowatch.com. I previously worked on Woman and Woman's Own in the 1990s. Outside of work I swim every morning, support Charlton Athletic football club and get nostalgic about TV shows Cagney & Lacey, I Claudius, Dallas and Tenko. I'm totally on top of everything good coming up too.