Doctor Who season 14: everything we know so far
Doctor Who season 14 is Ncuti Gatwa's first full series as the Fifteenth Doctor.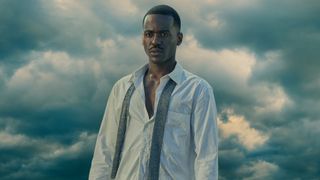 (Image credit: BBC Studios)
Although Doctor Who season 14 is still a way off (it's currently slated to air in 2024), we're not above doing some time-traveling of our own and looking forward to what's to come in Doctor Who's future, as it's looking very bright already!
Excitement is definitely building for Doctor Who's return this autumn, as David Tennant is returning to the show as the 14th Doctor to star in the three Doctor Who 60th anniversary specials airing this November.
At the same time, we're also being drip-fed new bits of information about Doctor Who season 14, which will be the first proper installment in the franchise since the Flux saga in 2021.
We've gathered together all the major updates we've had about the forthcoming series below, including the latest info about Ncuti's Doctor, his new companion and all the casting info we've heard about Doctor Who season 14 so far...
Doctor Who season 14 release date
Beyond knowing that Doctor Who season 14 is coming at some point in 2024, we don't really have a clear idea of when the new series will hit our screens.
The most recent update we've had on the series came when it was revealed that filming for series 14 was officially underway as of December 5.
💙💙➕🎥 Filming has officially begun today for the next series of #DoctorWho! pic.twitter.com/amlk9ULoCeDecember 5, 2022
Doctor Who season 14 cast
Naturally, the top name here is Sex Education star, Ncuti Gatwa as the 15th Doctor. We'll be getting our first taste of Ncuti's take on the Doctor in 2023 (as he is set to take over the role for this year's festive special), but Doctor Who season 14 is going to be his first full series at the helm.
When he was first announced as The Doctor, (opens in new tab) Ncuti said in a statement: "There aren't quite the words to describe how I'm feeling. A mix of deeply honoured, beyond excited and of course a little bit scared. This role and show means so much to so many around the world, including myself, and each one of my incredibly talented predecessors has handled that unique responsibility and privilege with the utmost care.
Ncuti continued: "I will endeavour my utmost to do the same. Russell T Davies is almost as iconic as the Doctor himself and being able to work with him is a dream come true. His writing is dynamic, exciting, incredibly intelligent and fizzing with danger. An actor's metaphorical playground. The entire team have been so welcoming and truly give their hearts to the show. And so as much as it's daunting, I'm aware I'm joining a really supportive family. Unlike the Doctor, I may only have one heart but I am giving it all to this show."
Recently, we also learned the identity of two more stars who will be appearing in the Whoniverse in 2024. Jemma Redgrave and Aneurin Barnard were confirmed for Doctor Who season 14 in early January.
Jemma is reprising her role as Kate Lethbridge-Stewart, the head of UNIT, and will once again by assisting the Doctor in whatever way she can against the new alien threats we'll be seeing in the next series.
Excitingly, Jemma's return as Kate Stewart came with the reveal that UNIT (the Unified Intelligence Taskforce) would be returning as a presence in the new series as well after previously being shuttered in-universe due to budget constraints.
Comparatively, we know precious little about Aneurin Barnard's role, save for his name: Roger ap Gwilliam, a name Davies later clarified the meaning of on Instagram (opens in new tab). Sharing the casting announcement, he wrote: "ap is Welsh for 'son of'".
The only other piece of info that we've had about Aneurin Barnard's character is that the 1899 star's character has been described as "mysterious". How will they factor into the forthcoming Doctor's life?
On January 20, the BBC confirmed that Anita Dobson and Michelle Greenidge would also be part of the season 14 cast. There's even more mystery surrounding their roles in the show, as we don't even have a name to go off yet!
Image 1 of 2
Of course, we can't forget the fact that we're also getting a new companion to accompany Ncuti on his travels through time and space. Below you can find everything we know about her right now.
Who's the new Doctor Who companion?
The next Doctor Who companion was revealed during Children in Need 2022 on Friday, November 18, 2022. During the show, the TARDIS appeared on stage, and we learned that Coronation Street star Millie Gibson was taking on the role after she stepped out of it!
Millie's companion is called Ruby Sunday. As with many other reveals about the show's future, not much else is known about Ruby right now. As and when we get more details about her character, we'll be sure to include them here. For now, you can watch Millie's reveal from the Children In Need show below:
What else do we know about the new series?
In a recent issue of Doctor Who Magazine (opens in new tab)(#585, released in December 2022), returning showrunner Russell T. Davies confirmed that the new series will only be eight episodes long, though it will be accompanied by a festive special, and has indicated that the festive specials will continue for the foreseeable future, revealing that he was already working on the script for 2024!
By the sounds of things, we won't have as long to wait between seasons, either, as Davies also claimed the plan for the show going forward is to have annual, mainline seasons. "It takes a while to get the empire in shape, but that's a serious plan: annual Doctor Who, no gap years, lots of content, on and on", he said.
Earlier in the year, we also learned that there had been a big shake-up for viewers as it was revealed that Doctor Who has found a new streaming home (opens in new tab). Disney Branded Television and the BBC revealed they'd struck up a new deal to try and maximize the sci-fi show's global popularity.
Starting with the upcoming specials, new episodes of Doctor Who will air exclusively on Disney Plus outside of the UK (where Doctor Who will continue to air on the BBC and BBC iPlayer).
Is there a trailer for Doctor Who season 14?
No, not yet, and with filming only getting underway in December 2022, we don't think we'll see footage from the new series anytime soon, especially since Ncuti does appear in the teasers for the 60th anniversary miniseries coming later this year.
Perhaps we'll get a teaser trailer for the new series once the 60th anniversary specials have aired?
Get the latest updates, reviews and unmissable series to watch and more!
Staff Writer at WhatToWatch.com
Martin is a Staff Writer with WhatToWatch.com, where he produces a variety of articles focused on the latest and greatest films and TV shows.
Some of his favorite shows are What We Do In The Shadows, Bridgerton, Gangs of London, The Witcher, Doctor Who, and Ghosts. When he's not watching TV or at the movies, Martin's probably still in front of a screen playing the latest video games, reading, or watching the NFL.
Thank you for signing up to Whattowatch. You will receive a verification email shortly.
There was a problem. Please refresh the page and try again.