Grantchester season 7 — US release date, interviews, trailer, plot, episode guide and all about the 2022 series
Grantchester season 7 sees Robson Green and Tom Brittney return.
(Image credit: ITV)
Grantchester season 7 arrives on PBS Masterpiece in the US with plenty of baffling new cases for DI George "Geordie" Keating (Robson Green) and Reverend Will Davenport (Tom Brittney) to join forces and solve.
Season 7 is set in summer 1959, just before the Swinging Sixties gets underway. As well as murders and mayhem for Geordie and Will to investigate, the pair face some turmoil in both their personal lives. This season also sees its star, Tom Brittney, make his Grantchester directorial debut — as he steps behind the camera to helm episode three of the show.
"I'm thrilled to be back on set with my Grantchester family and back in our happy place," reveals Tom. "I'm also absolutely over the moon to be given the opportunity to direct an episode of this series, it's been a life ambition of mine and I can't wait for the audience to see it (and also I can finally order Robson about!)."
Robson Green posted that it was "Great to be back in the world we all refer to as our 'HAPPY PLACE.' This new series is the best yet and is a testament to the outstanding creative team that makes this extraordinary, likable, charming, and entertaining tale what it is... class!"
So here's everything you need to know about Grantchester Season 7...
Grantchester season 7 release date
Grantchester season 7 is a six-parter that premieres in the US on PBS Masterpiece from Sunday 10 July 2022 at 9 pm/8 pm c. New episodes air weekly into August. This season was shown in the UK earlier in 2022, episodes are now available on the ITV Hub.
Is there a Grantchester season 7 trailer?
ITV released a trailer for Grantchester season 7 showing Geordie, Will and the gang back together again. Take a peek below.
What happens in Grantchester series 7
Grantchester season 7 starts in the long hot summer of 1959 when wedding season is in full swing in the Cambridgeshire village. As the Reverend Will Davenport unites happy couples in holy matrimony, Detective Inspective Geordie Keating is busy as ever investigating a range of local murder cases.
With a new decade just around the corner, the question of what the future holds is on everyone's minds, not least Will's. However, before the 1950s roll over into the Swinging Sixties there are some crimes to solve and some life life-changing decisions to be made that might change life in Grantchester forever.
Who's in the Grantchester season 7 cast?
Grantchester series 7 has Robson Green returning as DI George "Geordie" Keating. Tom Brittney is back again playing his sleuthing sidekick Rev Will Davenport.
Other regulars include Tessa Peake-Jones who returns as Mrs Chapman, while Al Weaver is Leonard Finch, Kacey Ainsworth is Geordie's wife Cathy Keating, Oliver Dimsdale plays Daniel Marlowe, Nick Brimble is Jack Chapman, Melissa Johns is Miss Scott and Bradley Hall is Larry Peters.
Interview with Robson Green on Geordie's woes in Grantchester series 7
Robson Green says: "Geordie is lost at the beginning of this series, he no longer has the safety net of family. He is detached from Cathy and the kids and he's living with Will at the Vicarage, also feeling lost there and like a fish out of water. There's a lot of scope for odd couple behavior.
Tom is definitely Jack Lemmon and Geordie is Walter Matthau. The situation Geordie is in lends itself to lots of levity but he is a shadow of his former self. He's back to square one and almost a bachelor again and realizes he has to try and get Cathy back. It's a very simple tale for Geordie — a long time ago he met the love of his life in Cathy, then he lost her and now he has to try and win her back. The one person Geordie seeks advice from, who he shouldn't seek advice from is Will. There's a funny irony being played out throughout the series. Geordie also gives Will relationship advice when his own marriage is falling apart. There's a lovely line that sums it up for Geordie when he says "It's not the notches on your bed Will but the miles on your clock and you've never got out of the driveway." That sets up the dynamic between the two of them.
Will is pursuing Maya, which turns out to be problematic. As well as Will putting himself in jeopardy, this could jeopardize Geordie's life and career."
On Geordie's relationship with Cathy, Robson adds: "Although they're separated, Geordie is the eternal optimist! He calls this a 'blip' in the relationship which happens to a lot of couples, they go through their ups and downs and they have to be worked at, which is how he sees it. Geordie is quite deluded when it comes to his relationship with Cathy, he thinks she's just going to come back but the more time he spends away from her, the more detached they become and Geordie becomes more of a stranger, not only to Cathy but to their children as well.
Everything that anchored Geordie and gave him his sense of worth and belonging and his reasons to carry on is disappearing. Geordie's love for Cathy is as strong as it ever was but she has moved on, she's liberated and found a new life and new freedom. She now has control over her own life which used to be dictated to by Geordie's work and by Geordie himself, to a certain extent, and Cathy is enjoying all of these changes and this evolution. Geordie not only loses a sense of family and Cathy but also a sense of himself. This is recognized by Will and Bonnie and everyone else around him and they are all trying to get Geordie and Cathy back together but they, themselves, are the only ones that can do this."
Interview with Tom Brittney
Tom Brittney says: "Will is very happy in his work and his life in Grantchester but he realizes that something is missing and he wants some excitement. He introduces Geordie to the underground world of Jazz clubs and whilst they're there Will meets someone that changes his life in a lot of ways, for good and for bad.
"This series really tests Will's romantic life and relationships. A person comes into his life and causes a lot of problems because when Will falls in love, he falls hard. Then someone else comes along, who Will wasn't expecting and they throw a spanner into the works and he has a real dilemma on his hands of what to do. He needs to choose between following his head or his heart.
Tom was delighted to be directing an episode for season 7: He says: "It was amazing! It was one of the most fun experiences I've had on a set, it's something I've always wanted to do since I was young. I finally got a chance to do it. I couldn't have asked for a better cast and crew to work with, they're all my best friends and my family and we all really helped each other through the experience. The Executive Producers were always on hand if I needed help with anything. I was worried beforehand that I might not know what I was doing or that I might have been in too deep but I never felt like that but it all went a lot smoother than I'd anticipated."
Grantchester Season 7 guest stars
This season of Grantchester features a number of special guest appearances, including former Call The Midwife and Ghosts star Charlotte Ritchie as Cathy's niece Bonnie who arrives in episode 2. Also look out for Ellora Torchia, Emma Cunniffe, Janie Dee, Philip Whitchurch, Rowena King, Anna Wilson-Jones, Michael D. Xavier and many others.
Charlotte Ritchie told us how she really loved Bonnie's blonde hair: "I loved it! I wanted to go in that direction for the character because she's kind of sunny. I went from really dark hair to really, really blonde and I think it looks great. I just love the bouncy curls too, I think they say a lot about her character."
Grantchester series 7 episode guide
Here's our episode guide for Grantchester season 7.
Episode 1
It's a sweltering summer in 1959 and Rev. Will Davenport (Tom Brittney) has a lot of weddings to preside over. One bride is Adele Fitzgerald (Anna Wilson Jones) who lives in a stately home with her spinster sister Maude (Emma Cunniffe).
When the body of their errant brother Lord Edmund is found on the estate, Will joins DI George Keating (Robson Green) to investigate all the possible family secrets and discover if it could be murder. It brings Geordie into conflict with his new boss DCI Elliot Wallace (Michael D Xavier) and DC Larry Peters (Bradley Hall).
As Will and Geordie investigate the Fitzgerald family history they find themselves looking into Edmund's own romantic past. Could a story of lost love hold the clue to his killer?
It looks like romance might also be on the cards for Will when he meets an enigmatic woman at a jazz club, while Geordie, currently staying at the vicarage in Leonard's old room, has a plan to win back estranged wife Cathy and return to the family home. But are both men headed for happy-ever-after or heartbreak?
Episode 2
Ghosts star Charlotte Ritchie joins the series playing Cathy's niece Bonnie. Geordie and Cathy's separation continues to cause tension in Grantchester and Geordie is surprised to learn that Cathy has invited her niece Bonnie to stay, to help look after the children while she's working.
While Bonnie is doing her best to remain impartial in her aunt and uncle's acrimonious split, she finds herself ferrying the children between their estranged parents. When she meets Will, the two of them quickly discover that they can confide in each other.
As for the case this week, Will and Geordie investigate when businessman Lester Carmichael is found dead, with a very unusual neck wound. He ran a cleaning goods company with his wife Melanie, but he was also a regular visitor to a local brothel. So, did his wife have anything to do with his killing?
Episode 3
Mrs Chapman (Tessa Peake-Jones) is in turmoil following her shock diagnosis and starts behaving very out of character — getting drunk and using crude language. In a tender moment with Leonard (Al Weaver), Mrs C claims the Lord is punishing her for an event in her past, that she has kept secret... until now.
Will (Tom Brittney) is still tormented by his forbidden love for Maya (Ellora Torchia) and when a vagrant is found dead in the doorway of Leonard's café, Geordie suspects this murder could be connected to two previously unsolved cases, Is there a killer out there targeting the homeless?
Episode 4
A local electrician and member of Will's congregation Neil Hughes is found murdered just before a church fundraising event. As Will and Geordie investigate the gossipy world of the church Missionary Circle, Will realizes Neil was far from the upstanding pillar of the community he first thought, as it emerges several of the congregation could have wanted Neil dead.
Meanwhile, Will and Bonnie hatch a plan to get Geordie and Cathy back together... with disastrous consequences!
There's chaos at the vicarage as ever-reliable housekeeper Mrs Chapman has gone AWOL. She's failed to deliver the dozen cakes she promised the Missionary Circle charity auction and she's left the house without wearing her girdle!
Later, Leonard Finch is hosting a poetry recital at the new cafe, which has attracted a number of guests. But Mrs C causes a stir when she openly criticizes poetry and heckles a performer. Leonard pulls Mrs C aside and says he knows she's acting up because she hasn't yet told her husband Jack and Reverend Will Davenport about her recent cancer diagnosis. Can Leonard give her the courage?
Episode 5
As Geordie and Cathy continue to live separate lives, the detective is clearly struggling without his beloved wife. Geordie had expected Cathy to have him back home by now but they seem further apart than ever. That is until Cathy organizes a protest at Swinnertons over pay and Geordie is called to the scene. There, Cathy provokes her husband into arresting her! In custody, Cathy and Geordie discuss their relationship, and Cathy reckons they should stop focusing on the past and create new memories if their marriage is to have any future. Can they reunite?
Meanwhile, Reverend Will Davenport is dealing with matters of the heart. After rejecting Bonnie's advances, Will patches things up with her by saying he's not looking for romance... with anyone. But then Maya turns up at the vicarage and reveals she's broken off her engagement to police boss Elliot and asks Will to run away with her. Will makes a decision about the future he thinks he wants — but how many hearts will he break in the process?
Episode 6
Will Davenport felt guilty after Cathy's smitten niece Bonnie caught him with his secret "other" woman, Maya. As Grantchester season 7 concludes, the Reverend finds himself making a life-changing decision. Will assures Bonnie his relationship with Maya was a mistake — but when Bonnie reveals she plans to return home, he doesn't exactly convince her to stay. Later, Bonnie calls round to tell Will how she feels about him and, when he doesn't answer the door, she leaves, feeling rejected, unaware he's in grave danger. As Bonnie waits at the station for her train, can Will get to her before it's too late?
Despite putting his heart and soul into the new poetry cafe, Leonard Finch boldly declares he wants to give it up as he's found his true calling, helping Grantchester's vagrant community after another homeless man is found dead. DI Geordie Keating realizes he may have sent the wrong man to prison for the murders and that the real killer could still be at large and on his way to the vicarage…
More Grantchester
Get the What to Watch Newsletter
The latest updates, reviews and unmissable series to watch and more!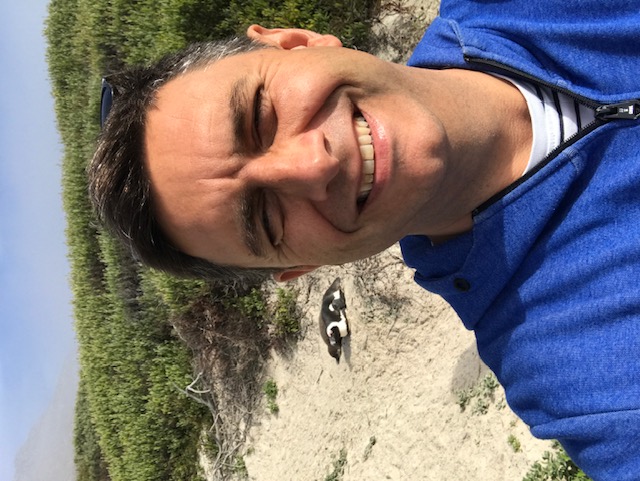 TV Content Director on TV Times, What's On TV and TV & Satellite Week
I'm a huge fan of television so I really have found the perfect job, as I've been writing about TV shows, films and interviewing major television, film and sports stars for over 25 years. I'm currently TV Content Director on What's On TV, TV Times, TV and Satellite Week magazines plus Whattowatch.com. I previously worked on Woman and Woman's Own in the 1990s. Outside of work I swim every morning, support Charlton Athletic football club and get nostalgic about TV shows Cagney & Lacey, I Claudius, Dallas and Tenko. I'm totally on top of everything good coming up too.