James Norton: Why I had to leave Grantchester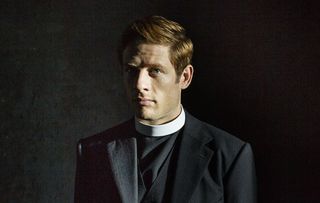 (Image credit: Photo by Nick Briggs)
The favourite to play Bond on bowing out of the popular ITV drama...
All good things must come to an end, but TV Times felt a huge pang of sadness when we heard James Norton would be leaving Grantchester at some point during the new series. There just aren't enough jazz-loving, crime-solving vicars on telly these days…
So what will become of restless Sidney Chambers? The love of his life, Amanda (Morven Christie) is out of the picture for good, and village life feels claustrophobic and tedious.
https://player.vimeo.com/video/309463989
We meet his replacement, charming chaplain Will Davenport (newcomer Tom Brittney, below) in episode one tonight, but it won't be till later in the run that he takes over in the parish, and at the side of DI Geordie Keating (Robson Green).
There's drama, romance and a few tears in store for Sidney before he bids farewell… here Grantchester star James Norton tells us all
James, why are you saying goodbye to Grantchester, which returns tonight?
James Norton: "It's been such an emotional decision, I've loved this job so much and I owe the show an enormous amount. Robson has been the best partner in crime both on and off screen, it's no secret that we have the most amazing bromance! When Sidney's storyline with Amanda (his on-off girlfriend) was tied up and he choose the church over her, it seemed like that was the natural conclusion to his story.
"And I just felt like it was time to give someone else a turn – if you want to carry on learning you've got to take the plunge. Sally Wainwright is writing a third series of Happy Valley and I'm starting to venture into film, so it feels like the right time to challenge myself. I fancy an adventure – I'd love to spend a bit more time in New York or LA, I'm open to opportunities."
What are your earliest memories of working with Robson?
James: "Robson has always been so warm and generous with his time and we've laughed so much together. I remember the very first scene, I was absolutely terrified. Robson had just come back from Thailand so he was looking incredibly bronzed and film-starry, and I was standing there in my dog collar!"
How does it feel handing the baton over to Tom Brittney, who plays new chaplain Will Davenport?
James: "I'm incredibly jealous of him! I genuinely believe he is the perfect person to join the show, he's a lovely man and really humble. I remember having the same feelings to start with, wondering how to front a show. I'd done Happy Valley, but that's Sarah Lancashire's show really, so it was a hugely daunting prospect, but Tom will love it."
Your dad pops up as an extra in every job you do – did he have the chance to sneak in a final appearance in Grantchester?
James: "Yes, in fact this is a bit embarrassing: we've got a scene where there's a big outdoor fete and not only is my dad coming, but my mum and my two aunts as well! They've been begging me the whole time, 'Please can we?' So my Aunt Bridget and Aunt Alison are going to be people visiting the fete.
Have you pinched a momento from set?
James: "Embarrassingly I actually stole Sidney's watch last series and then this year they had to ask me to bring it back! They also gave me a couple of dog collars which I don't know what on earth I'll ever do with…"
What can you tell us about Sidney's exit storyline?
James: "I had a couple of light-hearted conversations with the producers offering my absurd, far-fetched versions of his exit, but inevitably they weren't picked up! I don't think it's a surprise that Sidney finds himself entangled in a complicated romantic mess again.
"There's an evangelical preacher from Alabama, Rev Nathaniel Todd, played by Paterson Joseph, who comes to Cambridge for a fundraising tour, along with his amazing daughter Violet who is a force of nature. They arrive and stir everything up. Violet is a formidable woman with an incredible sense of humour and understandably he becomes intoxicated by her. But I definitely can't tell you how Sidney leaves!"
Grantchester is on ITV tonight at 9pm.
Get the latest updates, reviews and unmissable series to watch and more!
Thank you for signing up to Whattowatch. You will receive a verification email shortly.
There was a problem. Please refresh the page and try again.