Sarah Lancashire reveals her favourite TV role — and plans for return of Last Tango In Halifax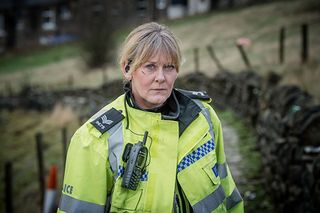 (Image credit: BBC/Red Productions/Ben Blackall)
After acting through the grim battles of cop Catherine Cawood in Happy Valley, Sarah Lancashire (opens in new tab) may be able to look forward to a bit of love and happiness in her role as widowed Caroline in Last Tango In Halifax (opens in new tab).
More than nine million viewers were gripped by Sarah's portrayal of tough but troubled cop Catherine Cawood in the BBC1 drama Happy Valley (opens in new tab).
Sarah as Sergeant Catherine Cawood in Happy Valley
Now Sarah, 51, will return to Yorkshire's Calder Valley later this year to film the fourth series of Last Tango in Halifax .
And, despite the huge of Happy Valley, Sarah says her role as Caroline in Last Tango is her favourite TV role.
Newly-wed lesbian headmistress Caroline was widowed in the last series after her heavily pregnant partner, Kate (Nina Sosanya (opens in new tab)), was killed.
But sources claim that while she will be seen "coming to terms" with the loss of her partner, she could also find a new love, reports The Mirror.
Creator Sally Wainwright (opens in new tab), who also wrote Happy Valley, admitted having regrets about killing off Kate - but felt it was the best way to develop the emotional lives of the remaining characters.
And an insider revealed: "There is a feeling that Caroline has been through the mill long enough. She deserves a little bit of happiness.
Widowed Caroline with baby Flora in Last Tango In Halifax
"It was cruel in many ways that just when she had come out as a middle-aged lesbian and found love that it was taken from her.
"The new series will see her coping with the aftermath of her loss — but also gradually re-building her life.
"It would be nice for her to find new love - I'm sure viewers wouldn't begrudge her a little happiness.
"But the biggest love in her life is Flora, the daughter that she had with Kate, who she is now bringing up on her own. Love for Flora keeps her going."
Sarah won a BAFTA for her portrayal of Caroline and revealed it is her favourite role.
Sarah won a BAFTA in 2014 for her role in Last Tango In Halifax
She admitted committing to a fourth series was "the easiest decision" she has ever made and added: "As an actor you can wait an entire career to be involved in a project like this."
Sarah, who was hugely popular as Racquel in Coronation Street (opens in new tab), added: "I've never had a response quite like it. I have had more fan mail for this than anything else.
"I still get letters now from people in this country and abroad who are women who have come out later on in life."
Last Tango in Halifax, which also stars Nicola Walker (opens in new tab), Anne Reid (opens in new tab) and Derek Jacobi (opens in new tab), started in 2012 and attracted 8.5million viewers.
There's good news for fans of Happy Valley, too — despite reports, Sarah hasn't ruled out returning for a third series.
It won't hit the screens until late 2017 or early 2018 at the earliest, as Sally Wainwright is busy working on a drama about the Bronte sisters and Last Tango.
A BBC spokeswoman said: "Filming on series four of Last Tango will begin later this year and all the regular cast are returning."
Thank you for signing up to Whattowatch. You will receive a verification email shortly.
There was a problem. Please refresh the page and try again.