Jack Lowden: 'War and Peace is lots of boys chasing girls chasing boys chasing girls'! (VIDEO)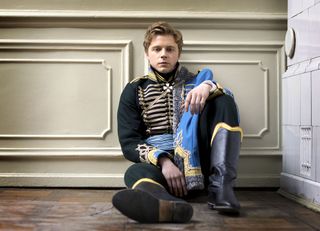 (Image credit: BBC/Mitch Jenkins)
War and Peace star Jack Lowden says the adaptation of Leo Tolstoy's novel has a universal theme – 'lots of boys chasing girls chasing boys chasing girls'!
Not only is his character, Nikolai Rostov, something of a 19th century Russian player, his dad, Count Ilya, mum, Countess Natalia, and sister, Natasha (portrayed by Adrian Edmondson, Greta Scacchi and Lily James) are a fun-loving bunch of eccentrics!
Jack revealed: "The Rostovs are one of the three main families in War and Peace. They're one of the more bohemian, easy-going families. Very generous – too generous!"
Speaking about his character, Jack said: "Nikolai is very headstrong. He goes off to war because that's his dream, and there are big consequences for him. He's got a huge amount of flaws. Huge!
"He really grows up through the whole thing, and quite horrific circumstances."
Speaking further about the Rostovs Jack, who also starred in Mrs Biggs and Wolf Hall, imagined: "It's the kind of family everybody has a friend who comes from a family like that, and you're always desperate to spend an evening in their house, because everything's a bit odd and unorthodox and fun. So that's very much what the Rostovs are like.
"And then you throw them into a war and you get a very different angle."
But what does the war mean for his romantic entanglement to distant cousin, Sonya? Jack hinted Nikolai may not be as devoted to Sonya (Aisling Loftus) as she is to him: "He is overcome with that whole thing of finding someone he really likes, but not wanting to settle down too quick. That's quite a theme in the whole thing with everyone. It's a lot of boys chasing girls chasing boys chasing girls!
"Tolstoy really covered everything!"
For the full interview, watch the video above. "]
For more from the cast of War and Peace see our videos with: James Norton, who plays Prince Andrei Bolkonsky here Lily James, who plays Natasha Rostova here Aneurin Barnard, who plays Boris Drubetskoy here
Get the latest updates, reviews and unmissable series to watch and more!
Thank you for signing up to Whattowatch. You will receive a verification email shortly.
There was a problem. Please refresh the page and try again.