The Gold cast: who's who in the true crime drama
The Gold cast includes names like Hugh Bonneville, Jack Lowden and Dominic Cooper.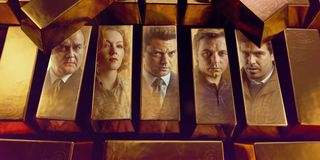 (Image credit: BBC)
New BBC One series The Gold is the crime drama that's got everyone talking.
Based on the jaw-dropping real-life story of the Brink's-Mat robbery, which took place on November 26, 1983, it explores how a gang of six armed men managed to steal gold bullion worth £26 million.
Labelled as the 'crime of the century', the infamous heist had controversial ramifications, in London and abroad, which were felt for decades to come.
The Gold is written by Neil Forsyth (Eric, Ernie & Me) and directed by Academy Award-winning Aneil Karia (The Long Goodbye) along with Lawrence Gough (Snatch, Misfits), and boasts a stellar cast, made up of acclaimed actors from stage and screen.
So, without further ado, let's meet the stars of the show...
Who's who in The Gold cast...
Huge Bonneville stars as Brian Boyce
Much-loved British actor Hugh is taking on the lead role of Chief Superintendent Brian Boyce, the real-life Met detective who headed up the investigation into the Brink's-Mat robbery. Highly respected in his workplace, Boyce was specially requested by his superiors to take charge of the case.
Hugh describes his character as a 'man of principle', revealing: "Without him (Brian) at the helm, the investigation might have gone in a different direction. He was determined to solve this crime through dogged police work."
Prior to filming, the actor was fortunate enough to have lunch with the real Brian Boyce, who is now retired from the force, and learnt about his approach to policing and pivotal role he played in the gold theft investigation.
In his later life, Boyce was involved in the Stephen Lawrence inquiry.
Where else have you seen Hugh Bonneville?
Hugh Bonneville is one of the country's biggest talents and has starred in blockbuster movies such as Notting Hill, Iris and the Paddington films.
He's probably best known for his role as Robert Crawley, Earl of Grantham, in the ITV smash hit series, Downton Abbey. The popular period drama depicts the lives of the aristocratic Crawley family, and Hugh won the hearts of fans around the world for his portrayal of the kind-hearted patriarch. Downton aired for six series, and is now a successful film franchise.
Most recently, Hugh has starred in the Netflix slasher movie I Came By. He's married to wife Lucinda "Lulu" Evans, and the couple live in West Sussex with their teenage son, Felix.
Jack Lowden as Kenneth Noye
Scottish-born star Jack Lowden plays the notorious villain of the piece — Kenneth Noye.
The London criminal, who worked as a police informant in his younger years, was recruited by the Brink's-Mat robbery gang to help with the disposal of the gold bullion.
Unlike the others, Noye had particular expertise in dealing with the precious metal, and after obtaining a share of the loot, he melted it down and mixed it with copper coins to disguise its origins.
Eventually he was informed upon, and confronted by undercover officer DC John Fordham, who he shot dead in his garden. Incredibly, Noye was found not guilty for the killing, but in 1986, he was given 14 years for handling stolen gold.
Where else have you seen Jack Lowden?
Jack Lowden was born in Chelmsford, Essex, but grew up in the Scottish village of Oxten.
His career began on the stage, and in 2014 he won a prestigious Olivier Award for his portrayal of Oswald in Richard Eyre's adaptation of Ghosts.
His breakthrough screen role came two years later in the BBC miniseries War & Peace, which he starred in alongside Kit Connor.
Jack has proven himself to a versatile talent — he played an RAF fighter-pilot in Dunkirk, a plantation owner in The Long Song, and a wrestler in the 2019 film Fighting With My Family.
He's currently is starring in Apple TV+ series Slow Horses.
Dominic Cooper plays Edwyn Cooper
Mamma Mia! star Dominic Cooper play a corrupt solicitor and businessman Edwyn Cooper.
He was one of the individuals who became tangled up in the various scams by the Brink's-Mat robbers to hide and invest the money they made from the stolen gold bullion.
Where else have you seen Dominic Cooper?
London born actor Dominic rose to fame for his role in the Alan Bennett screen play The History Boys, which he starred in alongside a certain James Corden. The production premiered at The National Theatre in May 2004 to critical acclaim, and Dominic then went on to star in the movie adaptation.
His film CV makes for impressive reading — he's starred in Captain America: The First Avenger, Sense & Sensibility and My Week With Marilyn. He also wowed fans with his portrayal of James Bond author Ian Fleming in the Sky series Fleming.
Charlotte Spencer as Nicki Jennings
Charlotte, aka Charlie Spencer, plays the part of bright young police detective Nicki Jennings, who is a member of Brian Boyce's investigating team.
Eager and quick-to-learn, Jennings works alongside her fellow officers to try and discover the identities of the Brink's-Mat gang of thieves.
Where else have you seen Charlotte Spencer?
Rising talent Charlotte, aka Charlie Spencer, is best known for the playing the female lead in The Living and the Dead and her role as Esther Denham in the ITV/BritBox period drama, Sanditon.
Charlie was born and raised in Harlow, and at age 11, she successfully auditioned for a place at the Sylvia Young Theatre School. A year later she made her acting debut, playing Jane Banks in the musical Mary Poppins.
Her other acting credits include Les Misérables, Line of Duty, Glue, Us, The Duke and Dark Shadows, alongside Johnny Depp.
She's also had success as a voice actor, playing the character of Nettle in the 2018 BBC series Watership Down.
Who else stars in The Gold?
As well as four incredibly strong leads, The Gold also has an amazing cast of supporting characters. In fact, there's over a hundred named roles in the six-part drama.
Some of the other stars include Black Mirror actor Tom Cullen, who plays criminal associate John Palmer. Former Doctor Who Peter Davidson takes on the part of Assistant Commander Gordon Stewart of the Met Police.
Mission: Impossible's Sean Harris is Gordon Parry, a cronie of Kenny Noye, while Chernobyl star Adam Nagaitis portrays the role of Micky McAvoy, one of the Brink's-Mat's gang of six robbers.
Also, Ruth Bradley (Guilt, Ted Lasso) is Isabel Cooper, the wife of dodgy brief Edwyn, and Nichola Burley (Behind Her Eyes) plays Kenny Noye's wife, Brenda.
The Gold is a six-part drama that starts in the UK on BBC One on Sunday, February 12 at 9 pm — episodes run weekly on Sundays. It will also be released as a box set on BBCiPlayer.
Get the What to Watch Newsletter
The latest updates, reviews and unmissable series to watch and more!
Laura has been a journalist for over a decade, writing about soaps, TV entertainment, fashion, beauty, and food. After graduating from university, she started her career working at a national soap and TV magazine. During her seven-year stint there she joined the cast of Emmerdale for a tour around the famous village, partied with soap stars at awards bashes, interviewed her acting idol David Suchet, and sat in the front row of Strictly Come Dancing.
Her heart lies with the soaps, and her all-time favourite character has to be EastEnders' Pat Butcher - no one rocked a big earring quite like her. She's also a huge fan of detective crime dramas, particularly old school Inspector Morse, Endeavour, and adaptations of Agatha Christie's Marple and Poirot. When she's not writing, she loves a spot of second-hand shopping and going on adventures with her young son.