Ginny & Georgia season 2 ending explained: why did Georgia get arrested?
Plus, do Ginny and Marcus wind up together?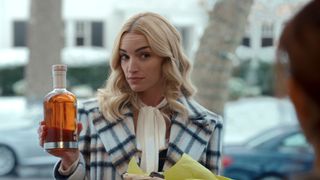 (Image credit: Courtesy of Netflix)
NOTE: this post contains spoilers for Ginny & Georgia.
For those that thought season 1 was a roller coaster ride, Ginny & Georgia season 2 somehow had even more plot twists. From the re-emergence of Austin's (Diesel La Torraca) dad Gil (Aaron Ashmore) to the revelation of even more murders committed by Georgia (Brianne Howey) to Ginny's (Antonia Gentry) overall emotional turmoil, the last 10 episodes of the series have been quite intriguing to watch.
So how did the season end and what does it mean for the show going forward? Read on to find out. By the way, check out who is in the new episodes in our Ginny & Georgia season 2 meet the cast piece.
Who Did Georgia marry?
At the end of season 1, fans saw Georgia get engaged to Mayor Paul Randolph (Scott Porter). However, their romance wasn't exactly love at first sight, as she was very much still head over heels for Zion (Nathan Mitchell) while Joe (Raymond Ablack) was absolutely smitten with her. Going into season 2, many viewers understandably had their doubts Georgia and Paul would actually say "I do."
However, as the new episodes played out, the relationship between the two seemed genuine. She even told him her entire sordid past to him, which for her, being honest is a bigger deal than saying the "three little words."
Even though Paul was taken aback by Georgia's confessions and unappreciative of their timing, he couldn't imagine marrying anyone else. So the two go hitched. Unfortunately, their blissful wedding day was interrupted.
Why did Georgia get arrested?
That interruption came during a lovely moment at Georgia's wedding reception as she was dancing with her new husband. The police walked in and slapped cuffs on the Southern Belle, arresting her for murder. But whose, considering she's managed to rack up a body count?
Well, Georgia was arrested specifically for murdering Cynthia's (Sabrina Grdevich) husband Tom Fuller. Now to be fair, Tom was home receiving hospice care and she smothered him with a pillow as a mercy killing. After she and Cynthia became genuine friends and the latter talked about how hard it was to be in a situation where your husband is non-responsive and dying yet being unable to try to move forward with him technically being alive, Georgia thought by helping Tom transition into the afterlife she was doing her buddy a favor. We're not sure Cyntha will be showing much gratitude when she finds out what Georgia did though.
At least Georgia knows a good defense attorney to help her fight the charges if there is a season 3 (we're talking about Zion's new girlfriend).
Do Ginny and Marcus get back together?
One of the most heartwrenching things to watch in season 2 was the breakup of Ginny and Marcus (Felix Mallard). The teenager was simply gutted when her boyfriend broke up with her at the school play and rightfully entered a bit of a funk. However, as she began to gain more insight into the fact that Marcus had been suffering from depression and that his ending things was really about his mental health and not a lack of love for her, she started looking at her romantic situation differently.
In the last episode, while Marcus was sulking in his bed, Ginny showed up with the promise of wanting to be there for Marcus as a friend as he battles his depression. The two even shared laughs, prompting viewers to think they may be on the path to reconciliation.
Sadly, the two never officially become an item again. Even though he shows up for Ginny at Georgia's wedding and they admittedly are still in love, they aren't back together.
Ginny & Georgia season 2 is currently streaming on Netflix.
Get the latest updates, reviews and unmissable series to watch and more!
Terrell Smith has a diverse writing background having penned material for a wide array of clients including the federal government and Bravo television personalities. When he's not writing as Terrell, he's writing under his pseudonym Tavion Scott, creating scripts for his audio drama podcasts. Terrell is a huge fan of great storytelling when it comes to television and film. Some of his favorite shows include The Crown, WandaVision, Abbot Elementary and Godfather of Harlem. And a fun fact is he's completely dialed into the TLC 90 Day Fiancé universe.
Thank you for signing up to Whattowatch. You will receive a verification email shortly.
There was a problem. Please refresh the page and try again.