Meet the Ginny & Georgia season 2 cast: who's who in the hit Netflix drama
Get to know the mother and daughter duo, along with the other characters in their orbit.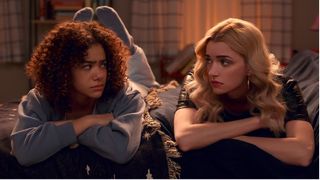 (Image credit: Netflix)
Just like that, Ginny & Georgia is back with season 2. The popular Netflix series about a mother and daughter trying to navigate the complexities of their own lives while trying to explore their changing relationship with one another is in full swing again with 10 brand-new episodes. But just who are the main players and the actors that portray them?
Take some time and get acquainted with the Ginny & Georgia season 2 cast.
Brianne Howey as Georgia
In the series, Georgia pretty much serves as the nucleus for most of the drama and chaos. Although she has the best intentions to be a loving and protective mother to her kids, she doesn't always go about it in the best of ways. Additionally, while she is able to use her looks and charm to fool people into thinking she is the epitome of perfection, Georgia hasn't managed to fool those closest to her, especially Ginny.
Georgia is played by Brianne Howey. Howey has previously been in shows like Batwoman, The Passage and Dollface.
Antonia Gentry as Ginny
Georgia's teenage daughter Ginny exudes an impressive amount of maturity, but is still a kid trying to figure out what she's doing with her life. She recognizes the mistakes her mother has made and despite trying her best to fight becoming like Georgia, she sees glimpses of her maternal figure within. Even with Ginny trying to determine who she is, she always makes time to play defacto second parent to her little brother Austin.
Portraying Ginny is Antonia Gentry. For Gentry, Ginny & Georgia is her most notable role, but she's also been in Raising Dion and Candy Jar.
Diesel La Torraca as Austin
Austin is the baby of the Miller crew and his innocence is often protected at the hands of both Georgia and Ginny. He has largely just had to deal with "everyday" kid issues and hasn't fully been made aware of all the family drama. With that being said, Austin is without question the glue that holds the Millers together.
Diesel La Torraca plays Austin and he's previously been in La Brea and Little Monsters.
Jennifer Robertson as Ellen
Ellen is the kind-hearted and fun bestie of Georgia. Georgia doesn't really have many girlfriends, if any, and yet Ellen was drawn to her from day one. Ellen is also the mother of Marcus and Maxine.
Ellen is played by Jennifer Robertson. While Robertson has been in projects like Hello, Goodbye and Everything in Between and Single all the Way, she's best known for playing the role of Jocelyn in the hit series Schitt's Creek.
Felix Mallard as Marcus
Marcus is the brooding, yet charming boy that managed to capture Ginny's heart. While he often revels in the role of the outsider in school, he and Georgia have been able to connect on a level that is a bit adorable in the name of teenage love.
Felix Mallard stars as Marcus. Mallard has also been in Zoey's Extraordinary Playlist, Locke & Key and Neighbours as Ben Fitzgerald.
Sara Waisglass as Maxine (Max)
Maxine is this incredible ball of personality and energy who was eager to befriend Ginny. She made sure Ginny got acclimated to their high school and town, and even took Ginny into her solid crew of friends, affectionally called MANG. Unfortunately, one of Max's less redeeming qualities is that when she feels wronged, as she did with Ginny at the end of season 1, she takes a "scorched-earth" kind of approach to feel vindicated.
Portraying Max is Sara Waisglass. The young actress has been featured in Holly Hobbie and October Faction.
Scott Porter as Paul
The town mayor has so far come off as the good guy next door, who has always gone by the book and done what he thought was morally right. However, as the newly engaged fiancé of Georgia, viewers will soon see how squeaky clean he actually is as her secrets come to haunt the couple.
Scott Porter is in the role of Paul. Porter has previously starred in Why Women Kill and Friday Night Lights.
Raymond Ablack as Joe
Joe is without a doubt the character viewers root for. He owns the local Blue Farm Cafe where Ginny picked up a job. He also has a huge crush on Georgia, but despite all the opportunities to tell her that he's liked her since they met as teenagers, he's yet to do so. Chalk his inaction up to being too nice and not willing to yell "pick me, Georgia."
Raymon Ablack plays Joe, and he's really made an impact in Hollywood over the past few years. He can be spotted in Nurses, Maid, Boyfriends of Christmas Past and Love in the Villa.
Chelsea Clark as Norah
Norah is the "N" of the friend group MANG. She's not the type to make waves and can at times appear as Max's follower. However, there are occasions she proves she is her very own person.
Chelsea Clark stars as Norah. Clark's other acting work includes Degrassi: Next Class, Kung Fu and Ezra.
Katie Douglas as Abby
Abby is the "A" in MANG. She can be a bit jealous and vindictive, but as she opens up about her life at home and her struggles to come to terms with who she is, her flaws become a bit more understandable.
Abby is played by Katie Douglas. Douglas has previously been featured in Mary Kills People and Raising Expectations.
Nathan Mitchell as Zion
Zion is Ginny's dad and arguably the love of Georgia's life. Given his charming demeanor and good looks, it's not hard to see why Georgia continues to have a thing for him. Unfortunately, he and his ex don't always bring out the best in one another.
Nathan Mitchell plays the adult version of Zion. Mitchell is best known for playing Black Noir in The Boys.
Aaron Ashmore as Gil
Gil is Austin's father and a thorn in Georgia's side. He is manipulative, a bit selfish and overall, he's trouble!
Joining season 2 as Gil is Aaron Ashmore. Ashmore has also starred in Skymed, Locke & Key and Killjoys.
Nikki Roumel as Young Georgia
Young Georgia is nothing if not a survivor. In spite of the awful circumstances hurled her way at a young age, she's managed to use her savvy way of thinking to make it from day to day and to elevate her position in life.
Starring as Young Georgia is Nikki Roumel. Roumel has previously been featured in Holly Hobbie and Designated Survivor.
Ginny & Georgia season 2 is now streaming on Netflix.
Get the latest updates, reviews and unmissable series to watch and more!
Terrell Smith has a diverse writing background having penned material for a wide array of clients including the federal government and Bravo television personalities. When he's not writing as Terrell, he's writing under his pseudonym Tavion Scott, creating scripts for his audio drama podcasts. Terrell is a huge fan of great storytelling when it comes to television and film. Some of his favorite shows include The Crown, WandaVision, Abbot Elementary and Godfather of Harlem. And a fun fact is he's completely dialed into the TLC 90 Day Fiancé universe.
Thank you for signing up to Whattowatch. You will receive a verification email shortly.
There was a problem. Please refresh the page and try again.