Lockwood & Co. season 1 episode 2 recap: Less money, more problems
Lockwood & Co. needs Lucy, but does she need it?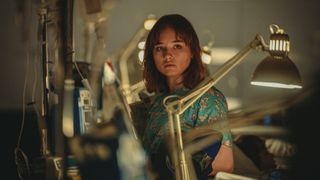 (Image credit: Parisa Taghizadeh)
NOTE: This post contains spoilers for Lockwood & Co. season 1 episode 2, "Let Go Of Me."
After opening with a bang, Lockwood & Co. continues its journey into the world of the supernatural to see its main characters try to solidify their bond while investigating the murder of a rising star in order to put a ghost to rest.
Let's see how Lockwood & Co.'s second episode dives deeper into its haunted world.
One ring to connect them all
This episode picks up right where we left things off in Lockwood & Co. episode one, with Lucy knocked out on the ground of the burning property of Mrs. Hope. She is still holding the ring she took of the dead body her and Lockwood found in a wall of the house, and it allows her to have a vision of the Visitor.
Taken to the hospital by the Department of Psychical Research and Control (DEPRAC) while Lockwood seems nowhere to be found, Lucy decides to leave before the doctors give her the all clear and stumbles upon a room filled with teenagers who are in the same state as Norrie.
Back at the Lockwood & Co. agency/house, Lucy finds out George has been doing lots of research on the Hopes' case and discovered that the ghost who attacked them is a murder victim named Annabel Ward. George notices that Lucy is acting strangely and questions her sanity when he finds her taking a bath fully dressed, but he doesn't know yet that Lucy is carrying around Annabel's ring.
That ring is the Source of Annabel's apparitions and it allows her to show up in Lucy's room in the middle of the night. Lucy alerts Lockwood (who came back to the house after being confronted by DEPRAC, more on that soon) and George, who want to contain the Source and destroy it, but she convinces them to let her connect with Annabel one more time to try and figure out what happened to her, and how to help.
As she connects with the ghost of Annabel, Lucy learns that the latter was murdered by a lover who choked her to death. The trio then decides to try to find her murderer and solve this case. A visit to the British Archives allows them to learn that Annabel dated her Hamlet co-star Hugo Blake and that he likely is responsible for her death.
An agency in trouble
While Lucy was taken to hospital after the fire, Anthony Lockwood was being interrogated by Inspector Barnes at DEPRAC and given a £60,000 fine for the damages to Mrs. Hope's house. All in all, Barnes is not impressed with Lockwood's antics and does not like the fact that he runs an agency without adult supervision. Later on, the inspector puts more pressure on Anthony's shoulder when he calls him to order that he fires Lucy as she is not fully trained and hiring her in the first place was illegal.
After coming home, Lockwood finds out the press is blaming him and his "rogue" agents for the fire and that they are having lots of client cancellations. He eventually tells Lucy and George about the fine and wants to solve Annabel's case in order to improve the agency's image and hopefully make enough money to pay the debt they owe.
But when Lockwood does a TV interview about the case, he doesn't make any friends. On one hand the interview angers DEPRAC who doesn't like the fact that Lockwood dragged them down for never doing anything about the case before. On the other hand, Lucy gets mad at Anthony because he named her to the press, something she had specifically asked him not to do.
Growing tensions
While George and Lucy got to bond over pizza, sharing information about their respective pasts and getting to know each other better, tensions increased between Lucy and Lockwood. He apologizes for the interview but does not understand how betrayed she feels. Things get worse when DEPRAC comes knocking at the door to force Lucy to confront Annabel's potential murderer, her former lover Hugo Blake. Barnes wants her to use her connection with Annabel to prove Blake's guilt but she cannot do it. The inspector then tells Lucy to leave London and return to her hometown, arguing that Lockwood is a charlatan who took advantage of her talent.
It is not the first time Lucy is warned about Lockwood. Earlier at the British Archives, she and her teammates had a run-in with Quill Keeps, another ghost hunter who seems to have very little regard for Lockwood. So after what happened at DEPRAC, Lucy tells Lockwood she wants to quit, angry he referred to her as an "asset" and appears to only want to use her. Anthony doesn't want her to leave and explains how much he needs her on the team and how he is ready to bend the rules to keep her on. After promising he will never lie to her again, the two head back to the house only to find an intruder has gotten in and attacked George.
As Lockwood fights the intruder with his rapier, Lucy frees George from his binds but the three do not get to identify the culprit before they jump out of a window. George assumes they were here for the ring, most likely sent by Hugo Blake to retrieve it as it is evidence against him, but Lucy reveals that she has been holding on to that ring all along.
Who was this intruder coming after Annabel's ring? Find out more in the next episode of Lockwood & Co.
Lockwood & Co. is now streaming on Netflix.
Get the What to Watch Newsletter
The latest updates, reviews and unmissable series to watch and more!
Marine Perot is a freelance entertainment writer living in London. She has been writing about television for 10 years, which led us to work with various publications including Paste Magazine, Radio Times, Konbini, Giddy, and more. Her favorite shows include Lost, Outlander, Game of Thrones, and The Haunting of Hill House. When not writing, Marine enjoys going on adventures with her corgi and reading a good book.