Mayans M.C. season 5 episode 1 recap: EZ needs some help
The leader of the Mayans is in need of allies, and fast.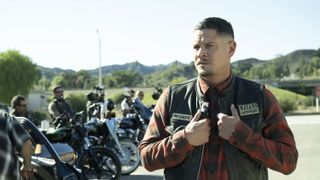 (Image credit: Prashant Gupts/FX)
Note: this post contains spoilers Mayans M.C. season 5 episode 1, "I Hear the Train A-Comin."
Mayans M.C. is back with a somber start to its final season. The season 5 premiere picks up after the fallout of the warehouse fire, as all the clubs have to adjust their strategies, allegiances and expectations.
Things open with Tito getting a brutal beat down by members of the Sons of Anarchy while volatile Sons president Isaac Packer (JR Bourne) looks on gleefully. When Tito's unconscious and half-dead, Packer calls a halt to the assault and urinates on Tito's motionless body.
EZ (JD Pardo) and Sofia (Andrea Cortés), meanwhile, share an intimate moment before EZ has to focus on how he's going to fix the club's problems. Meanwhile, at Angel (Clayton Cardenas) and Adelita's (Carla Baratta) house, the morning starts with Angel changing Maverick and getting some quality time with his son.
When Angel gets to the club the tension is thick. EZ asks if Angel has anything to say to him, which throws Angel off. EZ was waiting for Angel to say "Happy Birthday." The other club members did when EZ walked in, but Angel had forgotten it was EZ's birthday.
There's no time for festivities though. EZ is there for a war council. The Sons are attacking other clubs who have allied with the Mayans and EZ is about to lose the pipeline he created for Soledad (Selene Luna). He's going to need another solution quickly to keep it from falling apart.
But first EZ knows he has to make the Sons answer for the attack on Tito. At a crowded underpass an RV is blocking the road. It's an ambush. Men in black hoodies with serious firepower attack the Sons members who are escorting a black truck packed with weapons. The men steal the truck and blow up the RV.
We then check in with Hope (Vanessa Giselle), who goes to her dealer under the guise of scoring but really to steal from him. Leticia (Emily Tosta) is there too. They're hoping to score enough cash to get caught up on the rent that Coco left unpaid, but the dealer doesn't have enough. They need more than $13,000 and have a week to come up with it before they are evicted.
Back at the Mayan's club, they're unloading the crates of weapons they stole, but EZ tells them to load them back up again except for a few crates. He's going to take them to Soledad as a peace offering, hoping to repair relations with the cartel.
Soledad is not impressed. She leaves Miguel (Danny Pino) to deal with EZ after warning him not to mess up again. Miguel points out that the guns captured by the Mayans are outdated and of no use to the cartel, which has state of the art weaponry and technology. EZ has got to up his game or the Mayans are going to be friendless and unable to fend off attacks from the Sons and the rest of the clubs vying for top position.
The surviving Sons return to Packer and tell him about the ambush. He is thrilled that Mayans are finally fighting back, giving him a worthy enemy.
EZ and some of the Mayans search out information on what other clubs are running heroin through California. After hearing about a new club called Broken Saints, EZ and some of the others ride out to Salton Sea to try and strike a deal with them. EZ also sends someone to the prison to talk to Creeper (Joseph Raymond Lucero) and see if he's heard anything.
The Broken Saints are an all-female club who live off the grid rescuing the lost. The leader isn't inclined to deal with EZ but does tell him they've had run-ins with Iron War, a club of cops and law enforcement that controls 100 miles of territory around the border. She tells EZ after the last hit the members of Iron War all left grinning, with their mouths slit into Joker-esque smiles. The Broken Saints just want to be left alone, but now that they've struck first blood with Iron War they might not be able to stay out of the fray.
Later that night, Angel and Felipe (Edward James Olmos) talk about the importance of family and fatherhood. Felipe tells Angel he has to be a better father than Felipe was so Maverick will have more choices than they had. Angel puts his feelings aside and takes Maverick to meet his uncle EZ as a birthday gift. Despite the trouble between them, the two brothers have a meaningful family moment.
There is a quiet interlude for others too. Hope and Leticia bond, while Obispo (Michael Irby) goes on a date with Maggie (Presciliana Esparolini). But those moments of peace don't last, as we head to the prison.
As the prisoners are brought back for a search when visiting hours are over, Creeper is attacked and falls to the floor, bleeding out from many stab wounds. One of the guards has the telltale smile that marks him as one of the members of Iron War that the leader of Broken Saints mentioned.
EZ is under a lot of pressure to find a way to restore the Mayans influence and find alliances. If he can't do that, the club will be crushed between the cartel and the Sons of Anarchy.
New episodes of Mayans M.C. season 5 premiere Wednesday at 10 pm ET/PT on FX and streaming the next day on Hulu. Read the Mayans M.C. season 5 episode 2 recap here.
Get the What to Watch Newsletter
The latest updates, reviews and unmissable series to watch and more!
Sonya has been writing professionally for more than a decade and has degrees in New Media and Philosophy. Her work has appeared in a diverse array of sites including ReGen, The Washington Post, Culturess, Undead Walking and Final Girl. As a lifelong nerd she loves sci-fi, fantasy and horror TV and movies, as well as cultural documentaries. She is particularly interested in representation of marginalized groups in nerd culture and writes reviews and analysis with an intersectional POV. Some of her favorite shows include Game of Thrones, The Walking Dead, The Handmaid's Tale and The Sandman.