The Last Of Us stars Pedro Pascal and Bella Ramsey on Joel and Ellie's 'very deep love'
Pedro Pascal and Bella Ramsey on their starring roles in the epic adaptation of the bestselling video game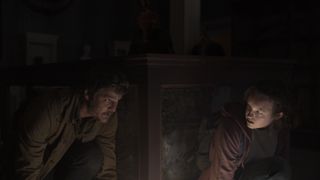 (Image credit: © 2023 Home Box Office, Inc. All Rights Reserved.)
The TV adaptation of the bestselling videogame The Last Of Us stars Pedro Pascal and Bella Ramsey as gruff survivor Joel and his rebellious charge Ellie — despite the show's scary subject matter, the pair admit that they spent a lot of their time on set helpless with laughter!
The Last Of Us is set in a post-apocalyptic future where a mutant fungus has infected huge swathes of humanity, turning people into crazed zombie-like creatures, and the few who remain uninfected live under military rule. When Joel is asked to escort Ellie across the country on a mission of vital importance, the two are initially wary of each other, but the duo soon develops a powerful friendship.
It was nearly a case of life imitating art for Pedro and Bella, who gleefully reveal that they skipped straight past their alter-egos' initial animosity stage and quickly became close pals while filming. We caught up with them to find out more...
Pedro Pascal and Bella Ramsey interview for The Last Of Us
You were both previously in Game Of Thrones, but you didn't share any scenes together. Did you know each other before you started on The Last Of Us?
Bella: "We did not know each other! I'd heard of you, but we'd never met."
Pedro: "My head was well-squished by the time you showed up." [Pedro played the ill-fated Oberyn Martell, who perished in the eighth episode of season four, on Game Of Thrones.]
Bella: "It was! Yeah, the first time we met was on set — I'd turned up to have my hair chopped off, and you'd just been filming, and it was this very brief meeting. We'd messaged a bit before, but it was cool — and then after that, the second time we met was when we were filming together.
Pedro: "It was great to come from the same world, not only of Game Of Thrones, but of HBO. I felt like if it weren't for those two things, we wouldn't be together on this project. I wonder if it was strategic on the part of Craig [Mazin, co-creator] and Neil [Druckmann, co-creator] to not force us to get to know each other beforehand, because it was such a great way for the characters to make their way towards each other in the story."
What did you enjoy about the evolution of Joel and Ellie's relationship in the show?
Bella: "I really like how their relationship developed. How Ellie loves to make Joel laugh mirrored in real life how much I liked to make Pedro laugh. I think their relationship is special — they're sort of mirrors of each other, and they clash so much at the beginning because of that, because they're both so stubborn and so reluctant to open up to one another, but then as time progresses and they become each other's only grounding element of the world around them, I think those mirrors actually become windows, where they can really see each other for the first time, and experience a very deep love, essentially."
Pedro: "Yeah, and it was so parallel for us to start this experience together, shooting in Alberta, Canada for a year of a beloved original source material, and the size of something like Game Of Thrones except instead of 30 principal characters there are two, and sort of approaching each other with expectation and shyness, then going into the reluctant union that exists between the two characters. The gradual bond, and ultimately getting into a place where one can't live without the other, was just a perfect set-up."
How familiar were you with the game before you got into this project?
Bella: "I had heard of it — it was one of the only video games that I had heard of apart from, like, Call Of Duty and Fortnite, so it was cool when I got the email through. I was like 'ooh, The Last Of Us, I recognise this!', but I'd never played it, I didn't have a PlayStation, I wasn't a gamer. But I was immediately thrust into the world of it and found out what a great impact it had had."
Pedro: "I hadn't heard of it when I got the job, but I learned very quickly. I remember calling my sister to tell her about the possibility of being cast in this, and she was in the car with my nephews, who are teenage boys — I think you know where this is going! I was like, 'there's this job, it's based on a video game, it's called The L—' and I didn't even get the a-s-t out before my nephews were like, 'The Last Of Us?!' They really freaked out, and I understood immediately: okay, this is a big deal, and I hope I get it."
What were some of the most memorable moments from filming?
Bella: "Ah! We would laugh."
Pedro: "We would get the giggles."
Bella: "A lot."
Pedro: "We would get the giggles in a horrific way. It was primarily Bella's fault."
Bella: "I actually disagree, I think it was your fault, you were aware that I was a giggler and you really made the most of it."
Pedro: "No, you were aware that I couldn't resist the contagiousness of your giggling, and yet you still were incapable of controlling yourself, knowing what it would do to me!"
Bella: "Right, okay, yeah, I can't fight that." [chuckles]
Pedro: "I guess we have some unresolved issues around that."
Bella: "We're working on it in couple's therapy!"
The world of the game has been recreated in incredible detail. What were the sets like to work on?
Pedro: "I've never done anything that incorporated the elements like this, utilising location the way that we did — we were on real mountains in real snow, in real prairies and real rivers. The production design was insane — they did entire blocks of downtown cities, Bella, do you remember?"
Bella: "Yeah!"
Pedro: "They would literally dress and decorate portions of an active city to make it look like the real apocalypse, it was insane."
Bella: "It was crazy, we'd be in these high-rises that had just been broken down into this apocalyptic wasteland. It was so cool!"
Get the latest updates, reviews and unmissable series to watch and more!
0
Staff Writer for TV & Satellite Week, TV Times, What's On TV and whattowatch.com
Steven Perkins is a Staff Writer for TV & Satellite Week, TV Times, What's On TV and whattowatch.com (opens in new tab), who has been writing about TV professionally since 2008. He was previously the TV Editor for Inside Soap before taking up his current role in 2020. He loves everything from gritty dramas to docusoaps about airports and thinks about the Eurovision Song Contest all year round.
Thank you for signing up to Whattowatch. You will receive a verification email shortly.
There was a problem. Please refresh the page and try again.