Holby's Carli Norris: 'I probably couldn't go back to Hollyoaks, but EastEnders... never say never!'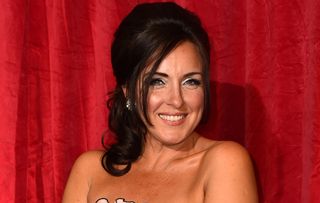 (Image credit: PA Archive/PA Images)
Currently playing Fran in Holby, Carli Norris has also starred in Hollyoaks and EastEnders and she isn't ruling out another switch
What's On TV caught up with Holby City's Carli Norris to find out how her character really feels about the death of Jasmine.
She also reveals the consequences Fran faces after admitting to Jac that she was involved...
As Fran is arrested and gets ready to bow out of Holby, is this the perfect time for another soap switcheroo? Carli isn't saying no...
How is Fran feeling in the aftermath of Jasmine's death? "Absolutely devastated. She obviously didn't mean for that to happen at all. She didn't want to hurt anyone, she just wanted to drive Jasmine away and, in her mind, she was really putting the point across. It's not until they bring Jasmine onto AAU that she realises what's happened and she's absolutely devastated. That's the last thing she wanted. And she's more terrified as well of Jac not liking her, 'cause she's done something so terrible."
When Jac finally finds out the truth and the two of you have a showdown, Fran gets arrested! Do you think that's the right outcome for the story? "I think she should have come clean as soon as she saw Jasmine coming into AAU, but she's terrified. I think she's gone through enough... in her life anyway and she obviously, seriously needs some form of counselling because of what happened to her, she's obviously not over it, even now, but she is the only one who was there with Jasmine, and she virtually admits to that.
"But I don't think arresting her is quite the way forward. I think offering her a full-time job back at Holby under the guidance of Jac Naylor would be an excellent idea!
So you reckon Fran should go back to Holby… sounds like you had a lot of fun there? "I have to say that working on Holby was probably the best time that I've had filming a long-running drama. The crew are incredible, every single person. It's a very fast turn-around, there are a lot of crew, sometimes you're working on two different sets on the same day and it is like a really lovely family. And the cast, so many of them have remained such close friends."
You're no stranger to continuing drama having been in EastEnders (Belinda) and Hollyoaks (Martha), too. Could we see you return to either of those shows? "The possibility of going back to Hollyoaks, the rest of my family have gone, so I probably wouldn't do that. As far as EastEnders goes, as long as there are people in my family there and there's always a connection, then there's always a possibility that Belinda could go back – she only went to Italy... Never say never."
Holby City continues on Tuesdays at 8pm on BBC1
Get the latest updates, reviews and unmissable series to watch and more!
Thank you for signing up to Whattowatch. You will receive a verification email shortly.
There was a problem. Please refresh the page and try again.