Holby City's David Ames: 'Dom takes a massive medical risk!'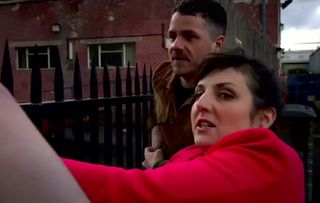 (Image credit: BBC)
Still reeling from his recent Hepatitis C diagnosis, Dr Dominic Copeland is faced with a dilemma when a desperate patient needs his help...
Holby City star David Ames talks Dom's health concerns and matters of the heart...
How is Dom feeling about his Hepatitis C diagnosis?
"Hepatitis C comes with such a stigma and although that stigma has lessened over the last 10 to 20 years, it still comes with this feeling of being dirty, which is what a lot of people tend to feel. So, emotionally, he's very up in the air. He needs to feel a little bit of security and love and, luckily, he has that someone in the form of Lofty."
This week, Lofty's arranged a Mexican night in for him and Dom. Why isn't Dom up for it?
"Dom's not in the right frame of mind. Dom's Hep C diagnosis has had a massive impact on his work, because he can't deal surgically with patients with open wounds, and on his love life, because he just doesn't feel sexy. So he's dealing with a lot of emotional vulnerability."
Why does Dom struggle so much to let Lofty in when he's feeling like this?
"Dom really wanted this fresh, new, wonderful relationship with Lofty but, from the get-go, it feels like they've had to face hurdle after hurdle - and this seems like such an enormous one to try and get over. Dom doesn't feel deserving of Lofty."
In this episode, Dom meets Shannon, who is impaled on some railings. Dom cuts his hand on some barbed wire but, as Shannon bleeds out, she begs him to stop the bleed with his bare hands…
"Dom knows he's taking a massive medical risk with Shannon but he's able to save her life. In turn, she's given him a feeling of worth, which is what he needed."
Later, as Shannon confides in Dom about an unrequited love, does Dom realise just how lucky he is to have Lofty in his life?
"When Dom hears about how Shannon is having to fight for someone's love, he wonders why he's pushing Lofty away, who's trying so hard to help him. After a string of awful relationships, Dom's being given the chance to be with someone who's absolutely nothing like the others he's dated."
Holby City continues Tuesdays at 8pm on BBC1.
Get the latest updates, reviews and unmissable series to watch and more!
Thank you for signing up to Whattowatch. You will receive a verification email shortly.
There was a problem. Please refresh the page and try again.