Holby's Jaye Jacobs: 'Donna Jackson has some skeletons in her closet!' (VIDEO)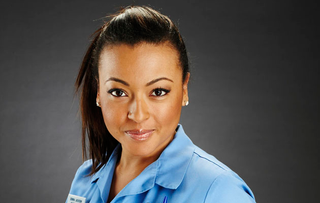 Donna Jackson is BACK! She's been away from Holby since 2011 but Jaye Jacobs reckons that, although her character has matured: 'She's the same Donna Jackson'...
Holby City fans will be delighted to learn that Donna Jackson, played by Jaye Jacobs, is back!
After six years away from the show, Jaye returns to our screens as Donna on June 27.
Speaking to What's on TV, Jaye admitted she was very keen to rejoin the show. She said: "I just missed her because she's such a floored, quirky, mental character."
Jaye added that while Donna has had some time away to mature, "she's still just Donna Jackson".
Donna's return to Holby is a bit of a mystery to begin with. Jaye said: "She comes back and she's in money, which is very unlike Donna thus far. So you don't actually know why she's back straight away, it takes about six to eight episodes for the whole story to become clear."
Whatever the reason for her return, she's sure to bring some drama with her, as Jaye admitted: "She does have skeletons in her closet... definitely in terms of where she's been for the past six years, she's been gone for quite a long time."
Predictably, Donna remains close with Ric Griffin who has always been a fatherly figure to her. Jaye said it was nice for Donna to have this immediate connection to come back to.
But although Donna and Fletch, played by Alex Walkinshaw, are working together on AAU the two don't really get on. Jaye said: "He's ward manager on AAU, she was ward sister, she wants to get on with everyone. She's just like: 'I'm back, I'm home' but she does it in her own way, so she tramples on a few toes."
Eagle-eyed TV viewers may remember that Alex and Jaye worked together in Waterloo Road, playing husband and wife, Jez and Sian Diamond. Jaye dismisses any speculation of romance between the two, saying: "That's already been explored!"
Jaye might have been away for six years but she said settling back in with the cast and set was easy. She said: "It is kind of home."
We can't wait to see her get stuck back in to all the action!
Watch Donna's return to Holby City on Tuesday June 27 at 8pm on BBC1.
Interview by Victoria Wilson.
Get the What to Watch Newsletter
The latest updates, reviews and unmissable series to watch and more!