New Holby star Don Gilet: 'Jesse works hard... and plays harder!'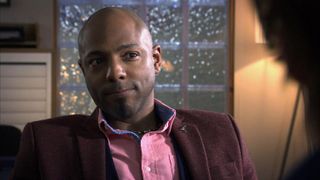 Best known as EastEnders murderer Lucas Johnson, actor Don Gilet is now all about saving lives...
Tell us about your new character in Holby City, consultant anaesthetist, Jesse Law...
"Jesse comes in very confident, cocky and sure of himself; no one likes a show-off but he's a highly skilled anaesthetist, so he can put his money where his mouth is. He loves his job, loves people and loves life - he likes to work hard and play even harder!"
How does Jesse know Holby boss Guy Self?
"Guy and Jesse go way back, when Guy spotted his talent and became his mentor. They've got a lot in common, they're the best of mates and they're very similar in the way they work; they're not afraid to take risks and be pioneers. So, Guy does bend the rules to get Jesse a job at Holby, but he was his wingman for years and knows he can do it."
Jesse's appointment next week doesn't go down too well with Guy's deputy Serena Campbell though, does it?
"Serena's unimpressed when she discovers that, in his last job, Jesse got a little too close to a patient. Jesse's not a bad guy but being loveable and charming has got him into a bit of trouble in the past."
Jesse then fails to win over Serena when they disagree over the best course of treatment for a patient...
"Because he's so passionate about his job and wants to help people, Jesse does get fired up when Serena tries to prevent a risky operation. He feels there's often too much bureaucracy blocking things - if there are lives at stake he'd rather just skip protocol and get his hands dirty."
Jesse reveals another side to his personality when he scares Dr Arthur Digby into helping with the tricky procedure...
"This is Jesse's way of coaxing Arthur out of his shell to find out what he's made of. The lengths Jesse goes to might suggest he's mentally unstable but there's method in his madness. He's just playing with Arthur - but there's a fine line between mischievous and dangerous..."
You're best known for playing evil Lucas Johnson in EastEnders. What's it been like going from playing a serial killer to someone who helps save lives?
"Lucas was convinced he was doing God's work, whereas Jesse believes in himself and his skills, not in a higher power. Luckily, no one ever thought I was a real serial killer, though I do wonder whether someone might now think I'm a real doctor and expect me to save their life!"
Holby City continues on Tuesdays at 8pm on BBC1.
Get the latest updates, reviews and unmissable series to watch and more!
Thank you for signing up to Whattowatch. You will receive a verification email shortly.
There was a problem. Please refresh the page and try again.