Hollyoaks' Chelsee Healey: 'I was made up when I found out I was going to be a McQueen!'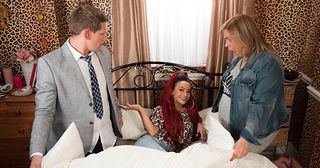 Former Waterloo Road and Casualty star Chelsee Healey tells Soaplife about her role as the newest – and loudest – member of the McQueen clan!
The newest member of the McQueens is Goldie, who's as gobby as they come and carrying a lot of baggage, as Chelsee Healey explains to Soaplife...
Why does Goldie pitch up in Hollyoaks now? "In her eyes, Myra [Nicole Barber-Lane] is rich. Her sons have been taken away from her and she needs a home so she can get them back."
What's Goldie like? "She's very gobby, but she's loving with it and she'll do anything for her family. She has a warm side, but she'll also do whatever it takes to get money, even if that means breaking the law."
She should fit right in then! What is her relationship to Myra? "She's a distant cousin and she's from the same side of the family as Reenie [Zoe Lucker]."
What can you tell us about her sons? "They're twins called Hunter and Prince [Theo Graham and Malique Thompson-Dwyer] and they're 15. I know, it doesn't seem possible! Goldie is 29 and she had the boys at 13. Playing a mum to two big lads feels really strange."
How does she get on with Myra? "Myra looks down her nose at Goldie and she's annoyed when she turns up. She doesn't want her in the house and she even marches her to the bus stop. But she finds a way of getting round her."
But she quickly gets on the wrong side of Cindy (Stephanie Waring)… "She's caught robbing her shop. She doesn't clash with everybody, though. A lot of people warm to her. Goldie and Mercedes [Jennifer Metcalfe], for example, get on really well."
How do you feel about being in Hollyoaks? "I was in it years ago. I only did one episode as Danny Valentine's ex-girfriend, Michelle [in 2008], but back then I wished I could stay because I enjoyed it so much. I was made up when I found out I was going to be a McQueen!"
Is Goldie here to stay? "Well, she's definitely going to be around for a while to cause some trouble around the village."
Hollyoaks, Channel 4
Get the What to Watch Newsletter
The latest updates, reviews and unmissable series to watch and more!