Jazmine: Hollyoaks lesbian sex scenes were 'awkward'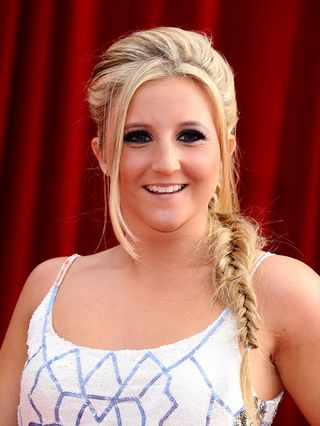 Hollyoaks actress Jazmine Franks has said scenes where Esther takes things to the next level with girlfriend Tilly were awkward to film.
The soap star's character Esther Bloom has recently got together with Tilly Evans, played by Lucy Dixon, but says the scenes where they decide to sleep together were tough to get through.
She said: "It is quite nervewracking. You go to set and you're not that bothered about it, but when you have to climb on to the bed...
"It's also a room full of people, it's not just me and her. You've got the crew around you and it's like 'Argh this is really awkward'. But you just have to go for it. If you feel awkward you have to do take after take after take so it's best to just go for it and get it done in one or two takes."
However, Jazmine said she was fine with the kissing scenes as they had actually started two years ago, when Esther and Tilly first looked set to become an item in Hollyoaks.
She said: "We're so comfortable around each other so now it's like we're used to doing it, we're used to doing kissing scenes and stuff. But the first time I met Lucy was on our way down to Abersoch [where Hollyoaks filmed holiday episodes on location in North Wales] about two years ago and I literally met her on the coach down there and within a couple of hours we were kissing on the beach, it was the first scene we did together.
"It was kind of good because it threw us in at the deep end. We were both nervous so I think they got that nervous energy and it was Esther's first kiss as well. At the time I was like 'How have you done this?' But it came across on the screen so well because I was absolutely petrified."
Jazmine and Lucy also appear in an episode of Hollyoaks Later together when Esther and Tilly take a spooky 18th birthday trip away.
Get the latest updates, reviews and unmissable series to watch and more!
Thank you for signing up to Whattowatch. You will receive a verification email shortly.
There was a problem. Please refresh the page and try again.