Daddy's Home 2 | Mark Wahlberg and Will Ferrell's comic chemistry still raises a smile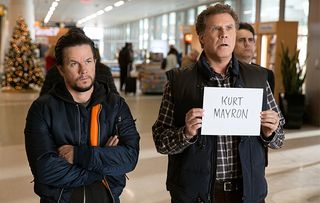 (Image credit: © 2017 Paramount Pictures. All)
More Daddies. More Problems.
The 2015 comedy Daddy's Home concocted good-natured fun out of the clash of a very wimpy Will Ferrell with a macho Mark Wahlberg, spinning chucklesome slapstick japes from Ferrell's meek Brad Whitaker becoming the stepfather to the two children of Wahlberg's rugged Dusty Mayron, his new wife's estranged ex.
Sequel Daddy's Home 2 strives to double down on the mirth by introducing a second pair of chalk-and-cheese father figures – Brad's even more mild-mannered retired mailman dad Don, played by John Lithgow, and Dusty's ex-astronaut father Kurt, played with bristling alpha-male swagger by Mel Gibson.
The first film ended in harmony with Brad and Dusty becoming friendly co-dads, but the arrival of the mean and sarcastic Kurt immediately injects a note of discord. Appalled that his son has become a 'progressive, sensitive, child-first parent', he's eager to stir things up between Brad and Dusty. And he more than gets his chance when the entire blended family, including wives Sara (Linda Cardellini) and Karen (Victoria's Secret model Alessandra Ambrosio), plus an assortment of kids, heads off to a New England cabin for the Christmas holiday.
The ensuing vacation provides ample opportunity for slapstick disaster, with Ferrell's clumsy wuss taking most of the pratfalls, whether falling foul of a voice-activated shower or an out-of-control snowblower. His co-stars are also perfectly cast, although some viewers may feel that Gibson's Hollywood pariah status gives a little too much edge to his character.
Even so, he brings just the right touch of sourness to offset the prevailing sweetness, while Ferrell and Wahlberg's comic chemistry never fails to raise a smile.
Certificate 12A. Runtime 100 mins. Director Sean Anders
Daddy's Home 2 available on Blu-ray, DVD & Digital from Paramount Home Entertainment.
https://www.youtube.com/watch?v=2Pj110aafms
Get the latest updates, reviews and unmissable series to watch and more!
Thank you for signing up to Whattowatch. You will receive a verification email shortly.
There was a problem. Please refresh the page and try again.