Hammer Volume One: Fear Warning | Blu-ray release – Powerhouse release a quartet of classic chillers in HD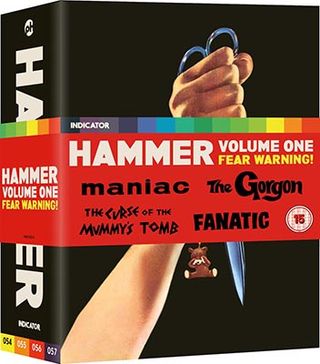 Just in time for Halloween, four 1960s classics from Hammer gets their first-ever UK HD blu-ray restorations (region free) from Indicator/Powerhouse.
Whether it's a madman brandishing a welding torch (Maniac, 1963), a mythical monster whose looks can kill (The Gorgon, 1964), an ancient royal with diabolical powers (The Curse of the Mummy's Tomb, 1964), or a mad woman wielding a pair of scissors (Fanatic, 1965), this set has something to unease everybody.
Containing exclusive extra features (see below), this Limited Edition box set is published in a limited, numbered edition of 6000 units.
MANIAC (world premiere) • White Hot Terror: Inside Maniac • Hammer's Women: Nadia Gray • Trevor Wrenn (focus puller) and Ray Andrew (clapper) on Maniac • Alternative Venhanza Diabolica Spanish opening and closing title sequence • Trailer
THE GORGON (UK premiere) • Hammer's Women: Nadia Gray • Focus Puller Trevor Wrenn and Clapper Loader Ray Andrew on Maniac • The Gorgon audio commentary with Samm Deighan and Kat Ellinger • The Gorgon introduction by actor and filmmaker Matthew Holness (2017) • Hammer's Women: Barbara Shelley (2017) • The Gorgon Comic-Strip Adaptation • Heart of Stone: Inside The Gorgon
CURSE OF THE MUMMY'S TOMB (UK premiere) • Hammer's Women: Jeanne Roland • Interview with Michael McStay (2017) • The Curse of the Mummy's Tomb Super 8 Version • Blood and Bandages: Inside The Curse of the Mummy's Tomb
FANATIC (world premiere) • Hammer's Women: Tallulah Bankhead • David Huckvale on composer Wilfred Josephs • Fanatical Detail (2017): continuity supervisor Renée Glynne and second assistant director Stuart Black recall the making of Fanatic • Playwright Matthew Lombardo on Tallulah Bankhead • Die! Die! My Darling!: alternative presentation of Fanatic • House of Horror: Inside Fanatic
Get the latest updates, reviews and unmissable series to watch and more!
Thank you for signing up to Whattowatch. You will receive a verification email shortly.
There was a problem. Please refresh the page and try again.