Ludwig (1973) | Dual format release – Luchino Visconti's opulent epic gets a 4k restoration release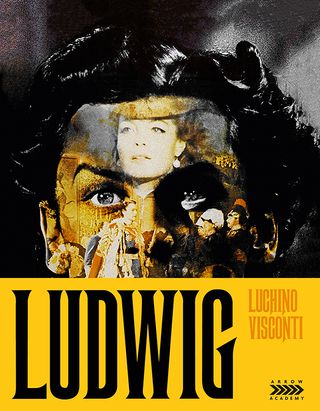 In 1864, 18-year-old Ludwig II (Helmut Berger) ascends the throne of Bavaria. From the beginning, his passionate patronage of the composer Richard Wagner (Trevor Howard) angers state officials. After a scandal, involving Wagner and his mistress Cosima von Bulow (Silvana Mangano), breaks, Ludwig is forced to expel them from Munich.
Under pressure to marry, the latently homosexual king, whose only close woman friend is the Empress Elizabeth of Austria (Romy Schneider), agrees to an arranged wedding with his cousin Sophie (Sonia Petrovna). However, the strain of this relationship and the war with Prussia causes Ludwig's behaviour to become increasingly bizarre...
With a string of masterpieces behind him – including Ossessione, Senso, The Leopard and Death in Venice – director Luchino Visconti turned his attentions to the bizarre reign King Ludwig II of Bavaria with this lavish 1973 historical drama.
While it may not be quite in accordance with all the known facts, Visconti mounts his epic of 19th century decadence on such an opulent scale – including gorgeous photography and Oscar-nominated costume design – that it needs to be seen in its entirety to admire its dazzling stature (the new Arrow Academy release features the full version over five parts, but also the theatrical cut).
Helmut Berger certainly cuts a tragic figure as the mad, melancholy king and there are excellent contributions from both Romy Schneider (reprising her Elisabeth of Austria characterisation from the classic Sissi trilogy) and the ever-reliable Trevor Howard, as well as superb cameos from one-time Bond villain Gert Fröbe, John Moulder-Brown (The House That Screamed) and Silvana Mangano (Death in Venus).
Ludwig is presented by Arrow Academy in its complete form in accordance with the director's wishes in 4K restoration from the original film negative and features the English-language soundtrack for the first ever on home video. READ MORE HERE (opens in new tab)
Thank you for signing up to Whattowatch. You will receive a verification email shortly.
There was a problem. Please refresh the page and try again.