The Wonderful Worlds of Ray Harryhausen on Blu-ray for the first time in the UK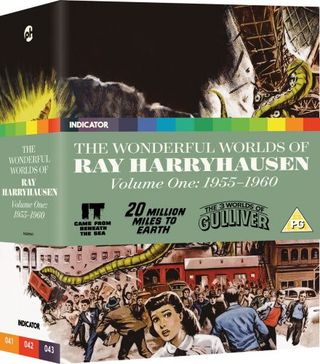 Powerhouse Films are releasing three fantasy classics from special effects titan Ray Harryhausen for the first time on Blu-ray in the UK (available 25 September). Containing a wealth of new and archival extras – including exclusive new interviews with director Joe Dante, SFX maestro Dennis Muren, and Aardman Animation co-founders David Sproxton and Peter Lord – this Limited Dual Format Edition Box Set is a must-have for your cult film collection.
First up is a colorised version of 1954's It Came from Beneath the Sea starring Faith Domergue, Kenneth Tobey and Donald Curtis. One of the first films to feature Harryhausen's special effects puppet animation, this classic sci-fi thriller uses them most impressively, while creating a tangible atmosphere of fear and chaos when a giant octopus emerges from the Pacific to wreak havoc on San Francisco.
A fun offering from the height of the 1950s monster movie boom is the second feature, 20 Million Miles to Earth, starring William Hopper (from TV's Perry Mason) and Joan Taylor. Directed by Nathan Juran (TV's Lost in Space) it features a scaly, clawed alien from Venus which doubles its size every 24 hours...
In 1960's The Three Worlds of Gulliver, Kerwin Mathews gets to be a big man in a little world and a little man in a big world in this appealing version of Jonathan Swift's classic. Harryhausen conjures up some cute special effects for the little Lilliput and big Brobdingnag sequences.
INDICATOR LIMITED EDITION SPECIAL FEATURES: • HD restorations of It Came from Beneath the Sea and 20 Million Miles to Earth • 4K restoration from the original camera negative of The 3 Worlds of Gulliver • Original black and white and alternative, authorised colourised versions of It Came from Beneath the Sea and 20 Million Miles to Earth • Mono and 5.1 surround sound audio options • It Came from Beneath the Sea and 20 Million Miles to Earth audio commentaries about the colorised versions with Ray Harryhausen • New interview with filmmaker Joe Dante • New interview with SFX maestro Dennis Muren • New interviews with Aardman Animation's David Sproxton, Peter Lord and Dave Alex Riddett • Archival documentaries, interviews and featurettes • Original trailers and promotional films • Isolated score on The 3 Worlds of Gulliver by Bernard Herrmann • Promotional and on-set photography, poster art and archive materials • Booklet with essays from Kim Newman, Dan Whitehead and Charlie Brigden, and film credits
Get the latest updates, reviews and unmissable series to watch and more!
Thank you for signing up to Whattowatch. You will receive a verification email shortly.
There was a problem. Please refresh the page and try again.