X500 | Three teenage outsiders struggle to find their place in a disorienting world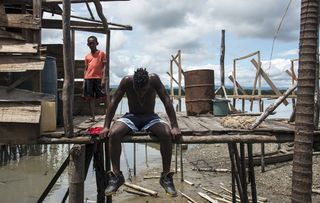 (Image credit: © Visit Films)
Three Outsiders. Three Countries. One True Self.
Colombian-born, Canada-based filmmaker Juan Andrés Arango Garcia's compassionate, documentary-style coming-of-age drama X500 (X Quinientos) shows three teenagers in different parts of the Americas struggling to find their place in a disorienting and often violent world. Arango cuts back and forth between their stories, which each involve migration, bereavement, and the enticements and perils of gang life.
Former stowaway Alex (Jonathan Diaz Angulo) returns from the US to Buenaventura, Colombia, intending to become a fisherman like his father. Instead, he ends up ferrying the victims of the murderous local ganglord for disposal in the nearby mangrove swamps while trying to prevent his impressionable younger brother from being sucked into the gang.
Gentle David (Bernardo Garnica Cru) also finds it hard to avoid involvement with a barrio gang after he moves to Mexico City following his peasant father's death but discovers a different kind of tribal belonging as a Mohican-sporting punk.
Motherless Filipino Maria (Jembie Almazan) seemingly has a far easier passage when she goes to live with her grandmother in Quebec, but she too falls in with a delinquent crew, drawn to them out of a mix of grief, rebelliousness and alienation.
Throughout, Arango films with the eye of a sympathetic anthropologist, immersing us in his protagonists' lives and inviting us to join the dots between them.
Certificate 15. Runtime 107 mins. Director Juan Andrés Arango Garcia
X500 debuts on Sky Cinema Premiere on Wednesday 16 August.
https://www.youtube.com/watch?v=8jZMpAJCvJk
Get the latest updates, reviews and unmissable series to watch and more!
Thank you for signing up to Whattowatch. You will receive a verification email shortly.
There was a problem. Please refresh the page and try again.