Kara Tointon: 'I'm really sad about the end of Mr Selfridge. I wish we were making more'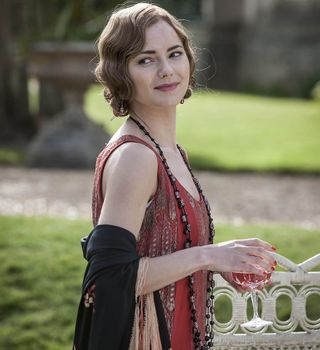 Ex EastEnders star Kara Tointon tells Soaplife why she's loving being back on ITV as Harry's eldest child Rosalie in Mr Selfridge (continues Fridays)...
The new series has moved on nine years on from the last one, right?
"Yes. We're now in 1928 and I'm loving the costumes more. We're at the climax of the crazy 1920s flapper era. Having said that, Rosalie's become fairly conservative in her choice of clothes. She dresses quite plainly. Rosalie's now the mother of a nine-year-old daughter and in charge of her father's household. She's stronger mentally, too – which she needs to be as a newspaper reporter has sold a salacious story about her absent husband's philandering ways!"
Rosalie's dad is no saint, either, with his womanising and gambling…
"She's very worried. Harry's [Jeremy Piven] business empire is starting to crumble and she's not at all happy about the amount of time her father is spending with the outrageous Dolly sisters, but she recognises Harry's weaknesses. She feels protective towards him."
How do you feel about this being the last series of Mr Selfridge?
"Really sad. I wish we were making more. Mr Selfridge has become staple weekly viewing in January and February. The writers have been really clever in not ending it on a low point – as it would be if they documented Harry Selfridge's life right to the end. He died a relative pauper in 1947."
What are you up to next?
"I don't know yet. I'd like to do some theatre. I'd love another period drama, too. They open up a whole new world and, as soon as you're in costume, you're in character. I don't know if people talked more slowly in the past, but I certainly feel I can take more time over things in a period role."
You've appeared on TV in lots of shows – most recently, The Sound of Music Live!. What are you recognised for most?
"The documentary I did about my own dyslexia a few years ago. And Strictly Come Dancing – although people usually say, 'I loved you in Dancing on Ice!'"
What about Dawn Swann from soap EastEnders?
"Not so much Dawn these days, but I don't think that's surprising – it is six years since I left."
Mr Selfridge, ITV.
Get the latest updates, reviews and unmissable series to watch and more!
Thank you for signing up to Whattowatch. You will receive a verification email shortly.
There was a problem. Please refresh the page and try again.