Katherine Kelly: 'It's nice to play someone in my own accent in Happy Valley – I never get to do that!'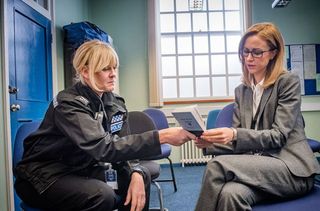 Super-busy Katherine Kelly has barely been off our screens over the last couple of months. And there's much more to come...
Katherine, 36, showed off her song and dance prowess as Baroness Schraeder in ITV's The Sound of Music Live at Christmas, is currently starring as Lady Mae in the final run of Mr Selfridge, has just appeared as Detective Jodie Shackleton in Happy Valley, and will also play a civil servant alongside Hugh Laurie in BBC1 spy drama The Night Manager later this month.
And as she tells TV Times, she couldn't be happier…
You must be exhausted! Do you enjoy the variety of all these roles?
"I love it. I am so different in all of them and I love the variation and the new challenges; that is what attracts me, doing something different to what I have done before."
Were you fan of the first series of Happy Valley?
"Of course! I watched it while I was on maternity leave [her daughter, Orla, is two next month] having my year away and being a mum in Melbourne [husband, digital analyst Ryan Clark is Australian]. I love [Happy Valley writer] Sally Wainwright's stuff.
"She always writes about where she is from in West Yorkshire and that is where I am from, too, so it resonates with me and means a lot. Her scripts are like reading a novel; they are such page-turners. She is a genius. I did The Last Witch with her for Sky Living a few years ago and got to know her well and I'd always jump at the chance to work with her again."
What do you like about playing Jodie?
"Sally wrote the role for me and I played upper-class characters for the majority of last year so it's nice to play somebody middle class and to do something in my own accent again, I never get to do that! Jodie is very studious; she originally trained as a lawyer so she knows the legal system and is good at making sure they get convictions and she is a calm interviewer, she doesn't throw her weight around. She is quite geeky, too, even though she'll have a cigarette out on the fire escape!
Have you enjoyed all the research involved in playing a detective?
"It was fascinating. I had never done a cop show before and when we were doing our CID training we worked with detectives in Halifax. They said that there are so many cop shows, but that Happy Valley was the most truthful and the closest to what it is really like to work in a force. We also have a police advisor on set all the time too. Sally's priority is to make the series as close to real life as possible. She doesn't want it to be flashy because that's not the way it is."
Jodie's heavily involved in searching for a serial killer after Catherine Cawood (Sarah Lancashire) found a body in the first episode, but their relationship got off to a tetchy start, didn't it?
"Yes! Jodie is an inspector so she is a rank higher than Catherine and that doesn't go down well. Jodie's father is high up in the police force, too, and Jodie is young to be a DI so there is always that question of whether she got there by her own merit. She's also by-the-book and a box-ticker too, which is irritating to Catherine because she works on instinct."
Have you enjoyed working with Sarah and is her post-Corrie career an inspiration?
"I think she is amazing, she is a national treasure and probably one of our finest actresses, she is so versatile and brilliant and a great person. But I go with my own gut; I have never been somebody who has followed a path of what other people do. I have only been out of Corrie for four years, too, so I wouldn't dare to make that comparison and put myself on the same pedestal as Sarah Lancashire!"
Is it tough juggling your work with being a mum to Orla?
"I'm lucky to have a great support network with my husband and my mum and dad and sister and we have a part-time nanny who used to be Frances O'Connor's nanny. Frances [who played Rose Selfridge in Mr Selfridge] was one of the first people I told when I was pregnant and she said, 'Right, let's get you sorted'. When I am not working I want Orla with me all the time though."
You spend a lot of time in Australia, do you get recognised much there?
"No, if somebody comes up to me in Australia it is usually somebody from Britain. They often don't spot me though because I always look so different because I'm always dyeing my hair so people are never sure it's me. Even in London, you should see the way I walk around, I look a state!"
Mr Selfridge is coming to an end next month, will you miss playing Lady Mae?
"Oh she has been a ray of light this series because it will be a very sad ending for Harry [Jeremy Piven]. It has been really enjoyable to do and I will miss it and the cast and crew. Also it has been a challenging part and something that's far away from me.
"But I like that it's finishing as well because we always knew they were only going to do four series. We tend to bleed things dry or you find out that something's finished after you've shot the last one and you feel you've not finished it properly, but with this, we've always had that endpoint to aim for so there's nothing sad about it."
Get the latest updates, reviews and unmissable series to watch and more!
Thank you for signing up to Whattowatch. You will receive a verification email shortly.
There was a problem. Please refresh the page and try again.